Remount Ranch near Cheyenne

With the recent success of the motion picture, "Flicka", filmed in part near Sheridan,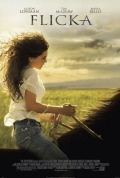 Wyoming, there has been a resurgence of interest in the Remount Ranch near Cheyenne.  It was at this ranch where its owner wrote the original book, "My Friend Flicka", in 1941.  Mary Sture-Vasa, who used the pen name Mary O'Hara, created the life of a young boy and his horse on the high plains of Wyoming.  Made into the first Flicka movie in 1943, it brought world fame to the Remount Ranch, now a National Landmark.


In 1886, Thomas Gunston came from England to raise cattle and horses and founded the ranch.  It's said the infamous Tom Horn was Gunston's friend and often stayed there.  According to the History of the Remount Ranch web site, "Today, a portion of a horsehair bridle made for Gunston by Tom Horn hangs in the bar of the ranch house."


Over the years, many families called the Remount their home, but it was Helge and Mary Sture-Vasa who named the Remount Ranch in the 1930s.  It was the ranch's historic role in exchanging horses with the U. S. Cavalry on their way to and from Cheyenne's Fort Russell. These traded animals were called remount horses.  But it was Mrs. Sture-Vasa authoring "My Friend Flicka" as well as her other best-selling books, "Thunderhead", "The Green Grass of Wyoming", and "Wyoming Summer", all written at the ranch, that truly established its reputation.


In 1946, the Remount was turned into a Guest Ranch and many celebrities stayed there.  Among the many notables were radio personality Arthur Godfrey, and entertainers, the McGuire Sisters and Pat Boone.  It was Cheyenne's place for special occasions, birthdays and anniversaries, or for an elegant location to dine.


Today, as a working cattle ranch with hundreds of Texas Longhorns, the recent Flicka movie shines the spotlight on the history and experiences of the Remount Ranch.