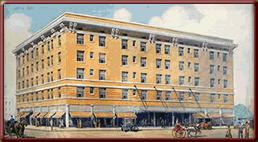 When the Plains Hotel first opened its doors in 1911, it boasted bathrooms in nearly every room and telephones in all rooms. After extensive remodeling in 2002, it now boasts a bathroom in every room and high speed Internet service in nearly all rooms.
For many years the Plains was the largest and most opulent hotel in the region. It included (and does to this day) a long hallway christened Peacock Alley. No one knows why it received this name when the hotel first opened, but in the 1940s the name fit to perfection.
Peacock Alley is a wide walkway that connects the lobby of the hotel to Capitol Avenue. People would use this walkway to make their way from dinner at the Plains to the Capitol Avenue Theater north of the Majestic Building. It is wide enough that it was lined with chairs and spittoons during the 1936 remodeling and used as a lounge in the evenings and a coffee shop in the mornings.
In the 1940s, United Airlines established a stewardess training school at an old hangar at the airport. In the evenings, the students and their instructors would relax at the Wigwam Lounge just off Peacock Alley. Any educated guesses about who else may have started hanging out in the Lounge and Alley? Yep, Cheyenne's young men, drawn like bees to honey. Visualizing the actions of young men around beautiful young women, it seems that Peacock Alley finally lived up to its name.