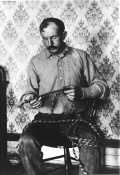 Tom Horn, the last man legally hanged in Cheyenne, died on November 20, 1903. His hanging, however, did not end the mystery of who actually shot and killed Willie Nickell, a 14-year-old boy.
Before coming to Wyoming, Horn worked as a stage driver in New Mexico Territory, an interpreter for the Army, a deputy sheriff, and a detective for the Pinkerton Agency in Denver.

In 1892, Horn came to Wyoming as a stock detective for large ranchers, commonly known as cattle barons. The Spanish-American War interrupted his service, and Horn left Wyoming to serve ac chief packer, a major position in the Army.
After the war, Horn returned to his former job as a stock detective. He brought in a number of rustlers only to have lenient judges fine them and release them.
On July 18, 1901, Willie Nickell was shot and killed northwest of Cheyenne. The young boy was found on his family's sheep ranch with a stone placed beneath his head. This was a reputed Horn trademark.

The Nickell's next door neighbors, the Millers, were likely suspects, and had demanded they move away with their sheep.


The county commissioners hired a deputy U.S. marshal to investigate the crime, operating out of his jurisdiction as a federal official. The deputy, Joe LeFors, cast about in vain attempts to land on the killer. Early in 1902 he tricked Tom Horn into making a series of remarks while he was drunk, that were secretly recorded and later used as a confession in his trial.

Horn went on trial in Cheyenne on October 10, 1902. One physician testified that Horn could not have killed Nickell because the bullet used in the murder was of a larger caliber than used in Horn's gun. Testimony assured the jury that Tom Horn could not have ridden all the way to the Nickell ranch and back in the time he was out of town. However, public opinion was firmly against Horn and the two-week trial ended in a verdict of "Guilty of murder in the first degree." Historians still debate the guilty verdict.

There was doubt cast upon Horn's guilt, however, when hearsay evidence, not allowed in the trial, was printed in the local newspapers.  It seems Vic, the 15-year-old son of the Miller family, admitted to at least two people that he'd gotten into an argument with Willie that day and shot him.
Horn was hanged in the courtyard of the Laramie County court and jail complex, in the center of the block on Eddy (now Pioneer) between 19th and 20th Streets.

Horn asked his friends Frank and Charlie Irwin to sing "Life is Like a Mountain Railroad" (sometimes stated as "Life's Railway to Heaven.") before he was hanged. Rumor had it that this request was to cover any last-minute admissions Horn might make about influential men who may have hired him as a gunslinger.

J. Julian, the same man who designed the Capitol building, invented the gallows. The gallows was later used for executions at the historic old penitentiary in Rawlins until the gas chamber was put to use in the 1930s.
Sources:
Thanks to Chip Carlson, noted Tom Horn historian

Richard T. Ammon, local historian, 2006.

Centennial Historical Committee, Cheyenne, The Magic City of the Plains (Cheyenne Centennial Committee: Cheyenne, Wyoming) 1967.
Adams, Judith, Cheyenne, City of Blue Sky, (Windsor Publications, Inc.: Northridge, CA) 1988.
Flynn, Shirley E., Let's Rodeo, Vol. 1, (Wigwam Publishing Co.: Cheyenne, WY) 1996.
Gast, Doris Shannon, The Story of Wyoming, (Douglas Enterprise: Douglas, WY) 1938.
Downtown Development Authority, "Cheyenne Historic Downtown Walking Tour," (Beierle/Bricher-Wade) 1998.