Who is That Bucking Bronco on the License Plate?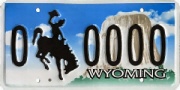 The rousing game of "License Plates" in the backseat will probably be interrupted by, "Dad, who is that bucking bronco on the Wyoming license plate?" Well, for all you parents who would still like to be considered omniscient by your children, the horse is purported to be the famous Steamboat. The rider is widely believed, particularly in the town of Lander, to be Landerite Albert Jerome "Stub" Farlow. Not only is Steamboat depicted on the license plate, but he is also the logo for the University of Wyoming. Cowboys named him Steamboat because his snort sounded more like a steamboat whistle than a horse. Owned by C.B. "Charlie" Irwin, Steamboat was a star in bucking bronco contests from 1901 until 1914.
Charlie Irwin isn't as well known around the world as Buffalo Bill, but he and his brothers had a Wild West show that rivaled his competition's. He was also a prosperous rancher, one of the founding fathers of Cheyenne Frontier Days, a movie producer, a racehorse breeder, a lobbyist for the Union Pacific Railroad, and a champion steer roper. And all this with only a fifth grade education.
Charlie rode in Cheyenne Frontier Days beginning in 1900 and won the steer roping championship in 1906. One of the memorable stories about Charlie happened in 1909. He was in the stands at Frontier Days and happened to be sitting by a woman. When a cowboy drew a horse named Sabile in the bronco-busting contest, Charlie commented that he would bet anyone $500 that the cowboy wouldn't last three jumps. The young woman next to him took him up on the bet, which Irwin lost. Come to find out, the cowboy was Tom Mix, and the young lady was Olive Stokes, a.k.a. Mrs. Tom Mix.
Charlie was a good friend to the Sioux. They returned the warm feelings, and when his only son was killed in a roping accident, 100 Sioux mourned in front of the Cheyenne funeral home and wailed through the night at his grave after he was buried.
When Charlie campaigned for governor, he used the slogan, "Popular government at popular prices." His friend, Will Rogers suggested the slogan. In fact, Rogers wrote about Irwin in several of his syndicated columns.
Charlie had many famous friends and acquaintances including: Blackjack Pershing, Charlie Russell, Will Rogers, Buffalo Bill Cody, President Teddy Roosevelt, and outlaw Tom Horn. In fact, one of Irwin's claims to fame is that he and his brother sang the eulogy at Tom Horn's hanging. Rumor has it that the singing was intended to cover up any last-minute identification of accomplices that Horn might be moved to make.
Sadly, Irwin died in an automobile accident in 1934 when he was 59 years old. He had one of the biggest caskets and one of the biggest funerals ever held in Cheyenne. The casket had to be specially built to house his 5'4", 400-450 pound frame. Thousands stood in line for three hours to file past his casket.
Charlie Irwin and Steamboat will always be remembered. Charlie is an honoree in the Pro-Rodeo hall of fame, and Steamboat was inducted in 1979.