For more information contact: arren Rudloff 778-3133
For immediate release July 8, 2014
Visit Cheyenne Unveils
New Outdoor Adventure Campaign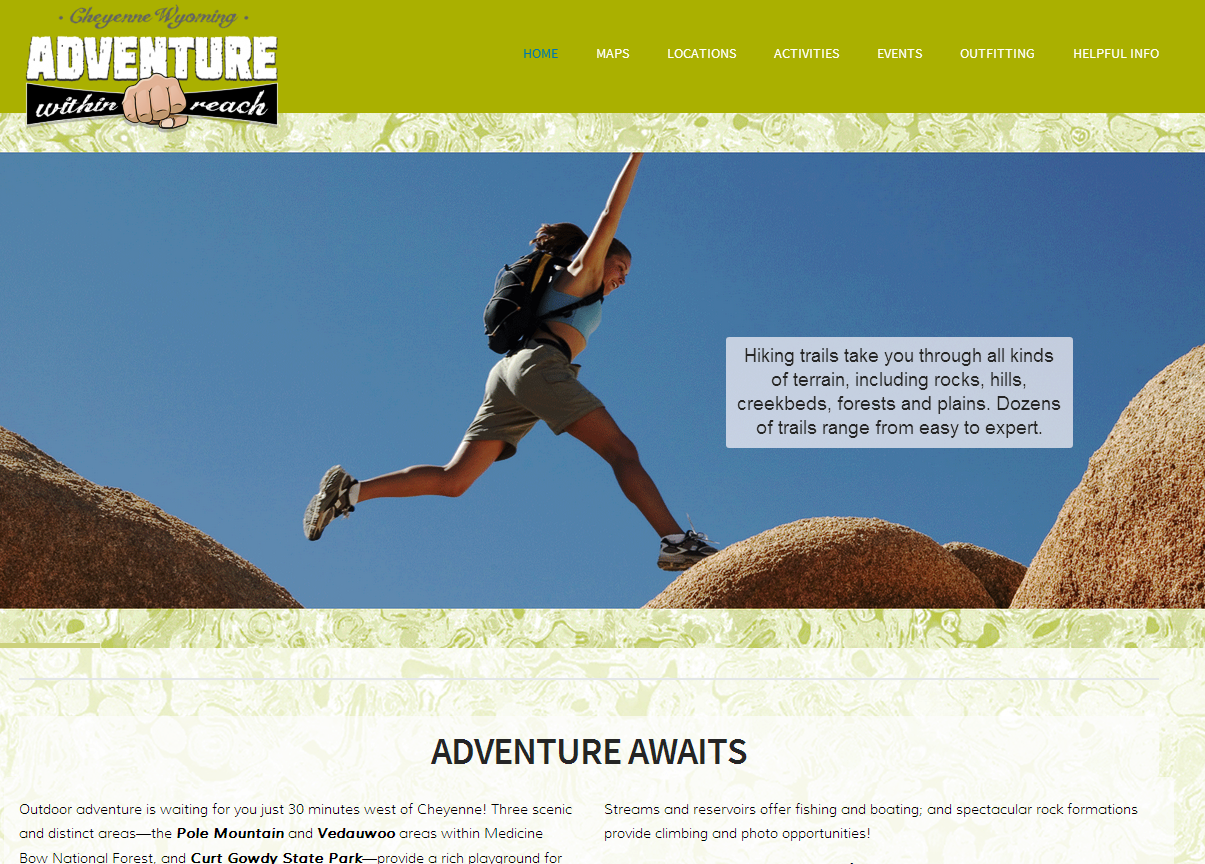 Visit Cheyenne has unveiled a new promotional push to highlight the recreational opportunities west of Cheyenne in Curt Gowdy State Park and Medicine Bow National Forest. These activities include hiking, mountain biking, camping, bouldering, cross-country skiing, snowshoeing, and more. The campaign includes a new brochure entitled Cheyenne Adventure Within Reach, a new website (CheyenneOutdoors.org), and a new public relations effort about the area.
"We have great recreational amenities within 30 minutes of Cheyenne, and we're trying to ensure that both visitors and residents know about them," said Darren Rudloff, CEO of Visit Cheyenne. "This is a concerted effort to provide comprehensive information across all agencies and jurisdictions."
The campaign includes several elements:
1) Cheyenne Adventure Within Reach brochure: The brochure describes the nearby recreational opportunities and is available at the Depot Visitor Center, I-25 State Welcome Center, the WY State Museum, Curt Gowdy State Park, area bike shops, and Sierra Trading Post. Click here for a PDF of the brochure.
2) Website: The new website provides an interactive map, calendar of events, and deeper information than the brochure (www.CheyenneOutdoors.org), and
3) Publicity Efforts: Visit Cheyenne has been promoting the adventure opportunities to travel writers aggressively. So far, the effort has led to coverage on the Mountain website (mountainonline.com) and in Money magazine (July). Another feature on Curt Gowdy State Park is scheduled for AAA's Via magazine this fall.
Wyoming State Parks has been a full participant in these efforts to promote Curt Gowdy State Park and its amenities. "Curt Gowdy State Park is a mountainous area that offers activities ranging from a national mountain biking destination to a regionally recognized back country archery course," Wyoming State Parks, Historic Sites and Trails Administrator Domenic Bravo said. "What once was primarily an area for camping and fishing is now a mecca for outdoor enthusiasts. A new LEED Gold Standard Visitor Center makes Curt Gowdy State Park a recreational venue that tourists and residents alike need to experience."

- end-