Event Information
The Cheyenne Marathon "Run the Legend" route is being re-designed.  
Marathon Start Time:  6:30 a.m.
Relay Start Time:  6:30 a.m.
Half Marathon Start Time:  6:30 a.m.
10k Start Time: 9:00 a.m.
The route is very close to final.
  The sequence is:
Depot to Capitol
Capitol to Pershing
Capitol/Pershing to Base Gate
Base 5
Base Gate to Randall/Depot
This constitutes the first half of our marathon and it must be precisely 13.1 miles.  It is close but yet to be certified.
The second half of our marathon is as follows:
Depot through Holiday Park to Rollins
Rollis to Pershing and Evans
Pershing/Evans to Yellowstone and Greenway
Yellowstone/Greenway to Powderhouse and Gardenia
Powerhouse/Gardenia to Yellowstone/Storey
Yellowstone Storey to Kennedy/Central
Yellowstone Central to Kennedy Central
Kennedy/Central to 8th and Central
8th and Central to Capitol
Capitol to Depot
The Cheyenne Marathon "Run the Legend" Virtual Race is a great opportunity for those of you that are not able to travel but still want to participate.
WHAT IS A VIRTUAL RACE? A virtual race is a race that can be run (or walked) from any location you choose. You can run, jog, or walk on the road, on the trail, on the treadmill, at the gym or on the track (or even at another race). You get to run your own race, at your own pace, and time it yourself. Run on your own, or with friends! Your medal will be shipped directly to you.  
1  Send us a screen shot of your fitness tracker or post it our social media:   #runthelegend
2.  Shirts, bibs and medals will be shipped to the address you enter on this registration page for an added $15.00 shipping fee. 
3.  No cancellations or refunds.  Virtual runners are not able to "place". 
4.  Registration fees apply (plus an additional $15 shipping fee)
Aid Stations
Aid stations will be located at the following intersections: 
TBA
Registration Expo
Race packet pickup will be on Saturday, September 14, at the Depot Plaza .  The Depot Plaza (also the finish line for all events) is located at 121 W. 15th Street.
Registration closes at Noon, Friday,  September 13th 2019.  No registrations will be accepted after that time (no day of registration).  
Finish Line After Party
TBA
Transportation
TBA
In addition, there are 2 free City Garages and several parking lots near the Depot Plaza (finish line).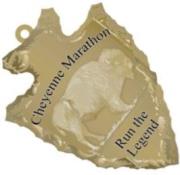 Funds raised go to the Cheyenne Kiwanis Club community budget to be used to fund various community based programs and requests.