Register Here
Event Information
Full Marathon and Four Person Relay registration closes Saturday, August 31, 2019 at 11:59pm
½ Marathon and 10K registration closes Friday, September 13, 2019
Race Day Times
Marathon Start Time: 6:30 a.m.
Relay Start Time: 6:30 a.m.
Half Marathon Start Time: 7:00 a.m.
10k Start Time: 9:00 a.m.
Route
The first half starts at 15th and Carey, heading east to the Depot then turning left on Capitol. The first half ends at Lincolnway and Capitol.
The second half is the perfect loop, starting and ending at Lincolnway and Capitol.
Here is the run sequence for the attached files.
First half
1--Depot to Capitol
2--Capitol to Pershing
3--CareyPershing to Base Gate
4--Base 5
5--Base Gate to Randall and Depot.
Second Half
6--Depot through Holiday Park to Rollins
7--Rollins to Pershing & Evans
8--Pershing & Evans to Yellowstone and Greenway
9--Yellowstone & Greenway to PowderhouseGardenia
10--PowderhouseGardenia to YellostoneStorey
11--StoreyYellowstone through Kennedy to Central
12--Kennedy and Cenral to 8th and Central
13--8th and Central to Capitol
14--Capitol to Depot
Virtual Race Race
The Cheyenne Marathon "Run the Legend" Virtual Race is a great opportunity for those of you that are not able to travel but still want to participate.
WHAT IS A VIRTUAL RACE? A virtual race is a race that can be run (or walked) from any location you choose. You can run, jog, or walk on the road, on the trail, on the treadmill, at the gym or on the track (or even at another race). You get to run your own race, at your own pace, and time it yourself. Run on your own, or with friends! Your medal will be shipped directly to you.
1 Send us a screen shot of your fitness tracker or post it our social media: #runthelegend
2. Shirts, bibs and medals will be shipped to the address you enter on this registration page for an added $15.00 shipping fee.
3. No cancellations or refunds. Virtual runners are not able to "place".
4. Registration fees apply (plus an additional $15 shipping fee)
Registration Expo
Race packet pickup will be on Saturday, September 14, at the Depot Plaza from 10a-4p . The Depot Plaza (also the finish line for all events) is located at 121 W. 15th Street.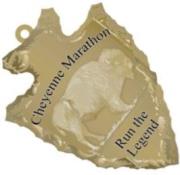 Hydration and Medical Stations
1. Downtown Depot -start and finish hydration stations
2. Gate 1 -will dual for entrance and exit of base hydration stations
3. On Base -since on base, they will be supplied by the base
4. Golds Gym -Pershing and Rollins
5. Livin' Well -Manewal and Yellowstone (5231 Yellowstone Rd.)
6. Western Vista -Story and Powderhouse (1215 Storey Blvd)
7. McCormick Jr. -6000 Education Drive: AMR located here
8. Botanic Gardens -710 South Lions Park
9. State Library -(central and 25) parking lot
MEDICAL stations:
1. Depot (start/finish) - Health Medical Institute (HMI), Dr. Washburn along with AMR staging
2. Warren Base, Gate 1, AMR Ambulance with First aid kit provided by HMI for Hydration station if AMR is called away
3. Botanic Gardens, South Lions Park, Medicap Pharmacy staffed
4. Manewal Drive and Yellow Stone Ave - Medicap Pharmacy staffed
5. Western Vista bank, Story and Prairie, Stitches Urgent Care RV unit staffed