Restaurant Week Menu
BREAKFAST
CHOOSE FROM:
Wild West Chimichanga – A king sized chimi, packed with potatoes, eggs and smoked pulled pork, deep fried and covered with homemade green chili and pico de gallo. $10

"Daddy of Them All" Bloody Mary - Topped with 'support beams' of kielbasa and pepperoncini, stuffed with bacon and topped with...??? A Cheeseburger. Oh yeah. $15

Non-alcoholic beverage.

DINNER
Choose any one of these appetizers
Haystack, Battered Shrooms, Brushcetta, or chips and queso
Choose any two entrees
Snake bite Kabob
Sagebrush Chicken
Blackened Chicken Alfredo
Salmon
Smokehouse Sampler: Ribs, briskit, and smoked kielbasa
Dessert
Strawberry Shortcake
$45.00/couple
Non-alcoholic beverage.
Lunch
CHOOSE FROM:

Old Faithful - Hickory grilled chicken breast, cobb smoked bacon, swiss cheese and fresh avocado, served with an herb aioli on toasted berry wheat bread, served with choice of side. $10
Chips and Queso - Fresh fried corn chips served with our homemade queso. $5
Rodeo Burger w/fries - Thick sliced bacon, Pepper jack cheese, Buckin' BBQ topped with our haystack onions. $10
Non-alcoholic beverage.

Prices do not include tax and gratuity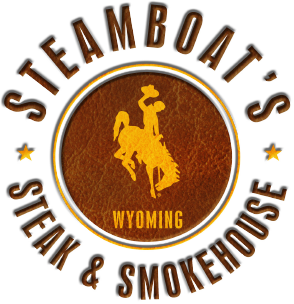 1947 Dell Range Blvd.
(307) 514-5937