Cheyenne Street Railway Trolley
A trip to Cheyenne is not complete without taking a ride on the Cheyenne Street Railway Trolley. Offering 90 minute "Wild West History Tours" year round, the trolley is the easiest way to immerse yourself in the rich history of Cheyenne. Learn about the city's most interesting sites and historic buildings with lively storytelling from the engaging drivers.
New this summer is the 90-minute Ghosts of the Wild West Walking Tour at 8pm on Saturday nights in June, July and August. Take a guided stroll around Cheyenne's historic downtown and learn about our most famous ghosts and the places they haunt.
In October, learn about the haunted history lurking in the shadows and during the holiday season, the best way to see all of Cheyenne's light displays is by hopping aboard and letting them do the driving.
Have a group outing to plan? Chartering a trolley is a great solution as well.
The Cheyenne Street Railway is handicapped accessible and offers a fun, historical time for all ages.
Departs from the Depot Plaza, across from the Wrangler building.

Saturday Evenings at 8pm in June, July and August
Starting at the Cheyenne Depot Main Entrance

Booked a charter?
To pay by credit card, please have your contract handy.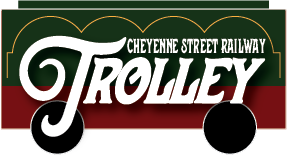 121 W. 15th St.

(307) 778-3133
Fully-narrated historic tours on the enclosed Cheyenne Street Railway Trolley. The tours may cover a lot of history during the time of the wild west. Some content may include outlaws, gunfights, saloons and brothels. Parental guidance is advised and…