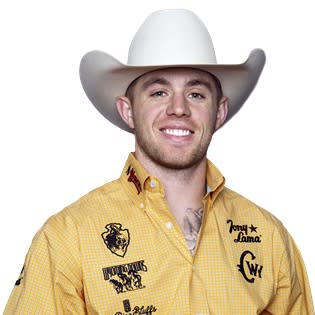 Brody Cress
Saddle Bronc Rider and Cheyenne Native Brody Cress
has been a rodeo standout for many years.
Visit Cheyenne has had a partnership with Brody since 2019,
and Brody proudly displays
Cheyenne branding on his clothing and truck.
Find Brody on Instagram @brodycresssaddlebronc
Shelby Smith
Shelby Smith is a Western fashion influencer
based out of Texas.
Partnered with Visit Cheyenne since late 2022,
Shelby represents the Visit Cheyenne brand at rodeos around the country.
Find Shelby on Instagram @southern_beauty113

Jon Goodman
Visit Cheyenne is proud to sponsor
Jon Goodman in the 2023 US Police and Fire Games.
Jon, who is a Cheyenne native, is a 5-Time National Champion
in Billiards and is proud to represent
Visit Cheyenne at the 2023 games.
(Photo Credit: Megan Nichols)