Learn the Legend
Cheyenne, Wyoming is the perfect family vacation spot, with activities for a broad range of interests and age groups. The Visit Cheyenne family travel guides, Lil' Shy Anne and Andy Lope (pronghorn antelope siblings) have compiled resources for families looking to Learn the Legend in a socially distant but full of fun way. Whether you are looking for an afternoon of exploring or lessons for learning, you've come to the right place!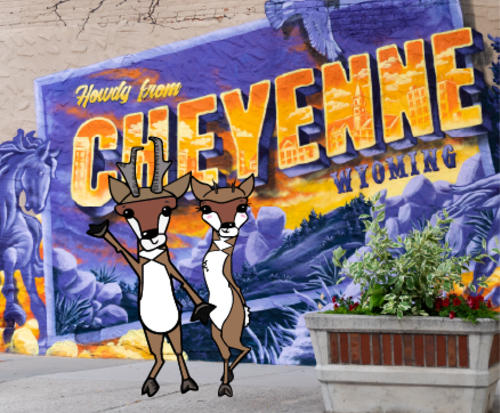 Travel doesn't have to be expensive... let us help you stick to a budget!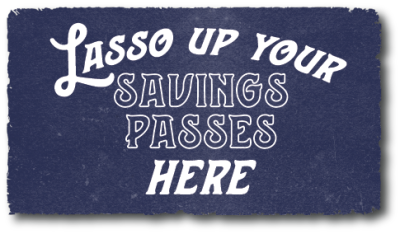 ---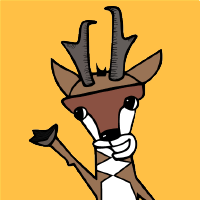 Explore the downtown area and learn fun facts about Cheyenne at your own pace - great for families with kids age 4-14!
Capitol Square
Each of these stops in the Capitol Square District of Cheyenne are FREE to visit! In addition, Wyoming State Parks has a "Be a Junior Historian" program with a mini-curriculum of questions to guide your visit to the Capitol, Historic Governor's Mansion, and Wyoming State Museum. (Hot Tip: The website states if you share answers with site staff, you receive a prize!) The locations are within easy walking distance of one another and each site offers additional learning opportunities…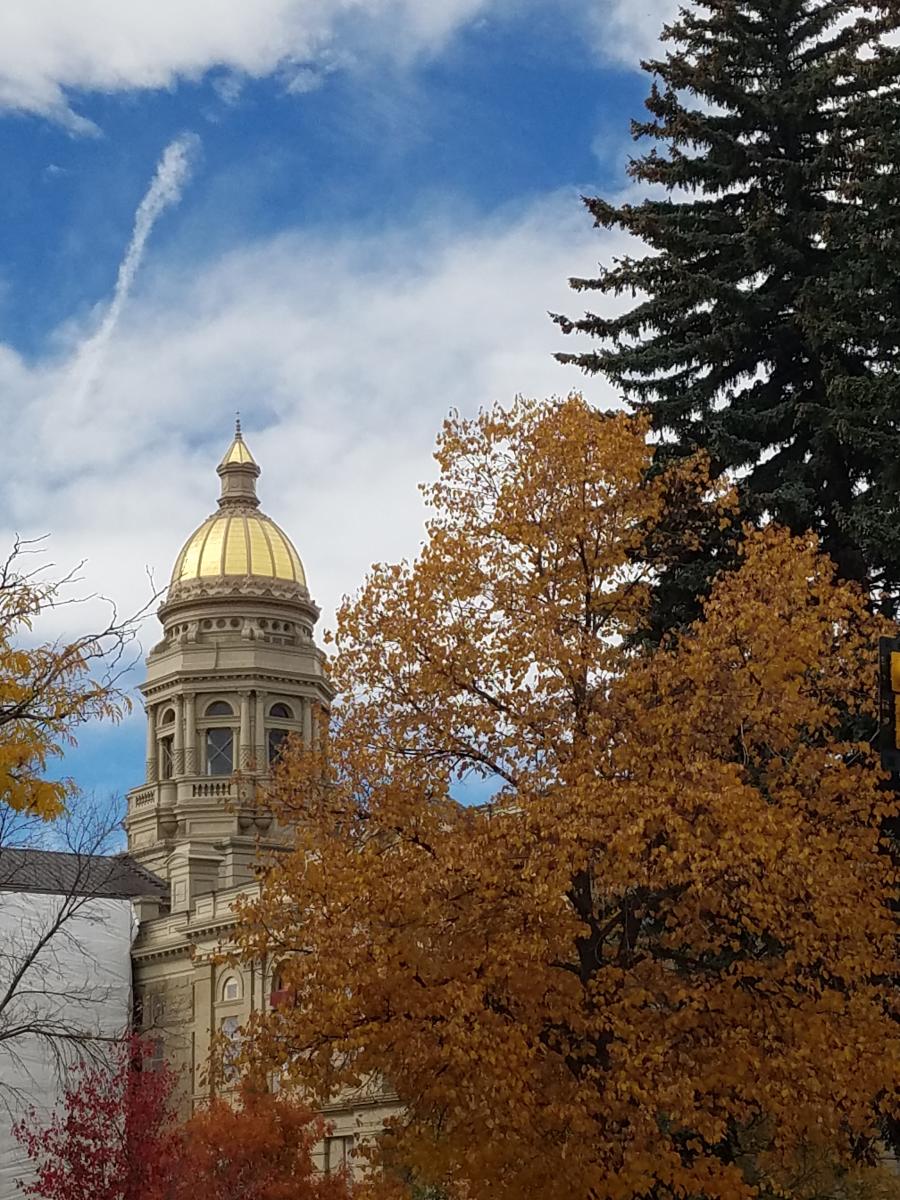 200 W 24th St, Cheyenne, WY 82001; (307) 777-5861
FREE
After a 4-year renovation, the People's House reopened July 2019. The building is open to the public Monday-Friday between 8 am-5 pm. Self-guided tours are available to download on their website or at check-in on the Capitol Avenue entrance of the building. For a group tour, call the number above.
300 E 21st St, Cheyenne, WY 82001; (307) 777-7878
FREE
The Historic Governor's Mansion was occupied by families of Wyoming's governors between 1905 and 1976 and the building has been converted into a museum highlighting the lifestyles of the various families who lived there over the decades. Whether you opt to wander the grounds in a self-guided tour or call ahead and make a fully-guided tour reservation, the docents onsite are very knowledgeable and passionate, ready to help the most inquisitive of minds.
wyoparks.wyo.gov/index.php/places-to-go/historic-governors-mansion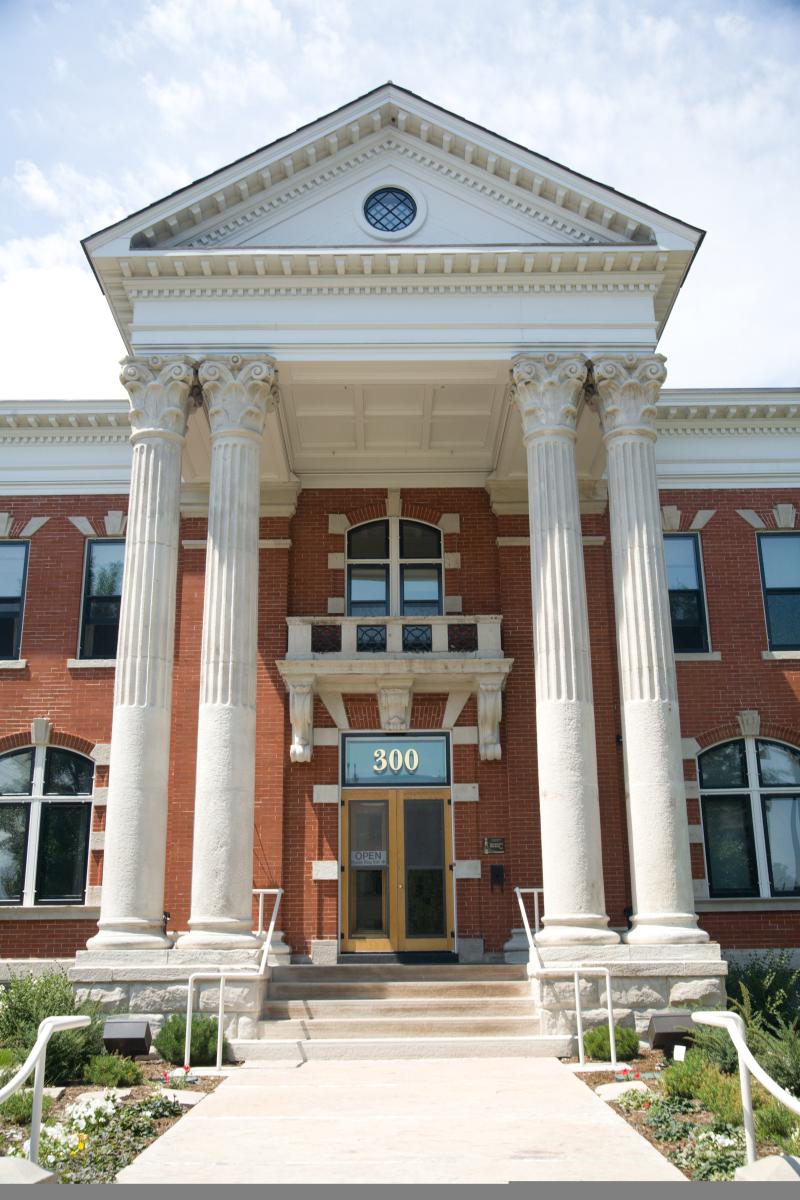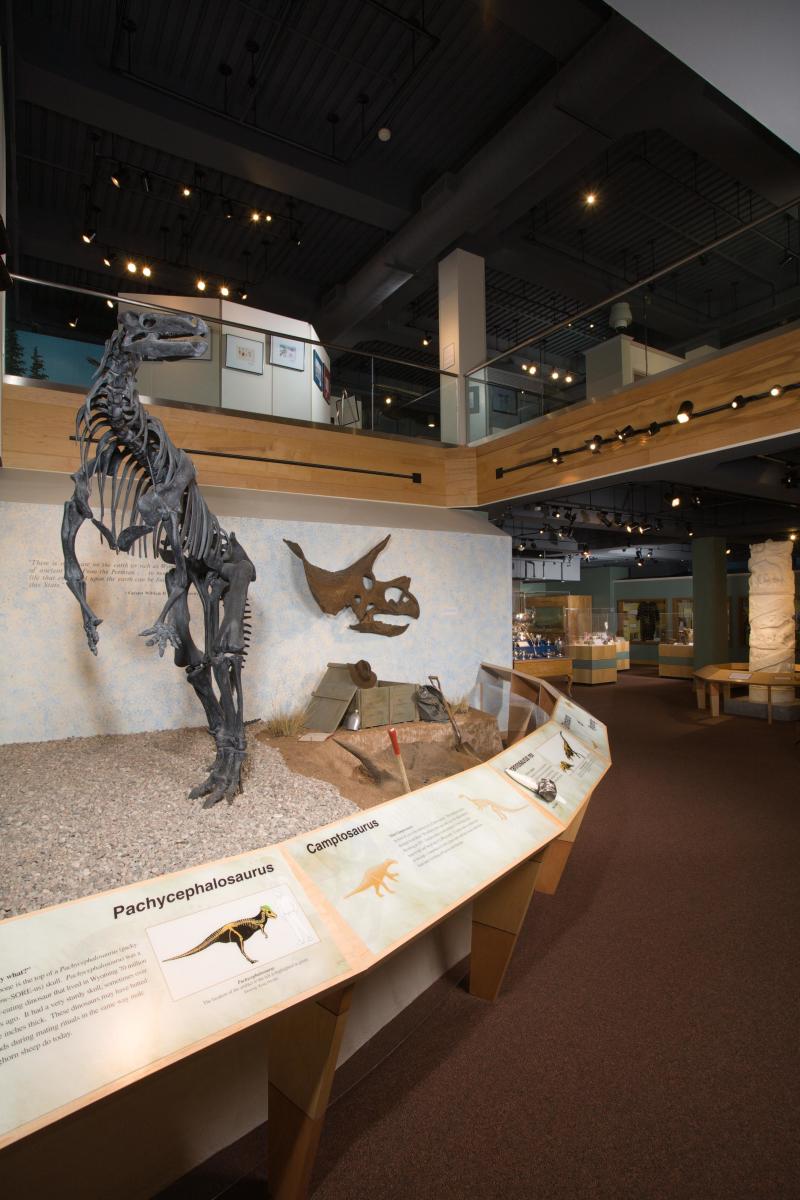 2301 Central Ave, Cheyenne, WY 82001; (307) 777-7022
FREE
The State Museum, home to natural and human history from all over Wyoming, is a natural choice for kid-driven trips. The dinosaurs and fossils draw a lot of attention, but your family will enjoy the rest of the exhibits as well. You'll find touchable, interactive engagements for children throughout the whole museum, including the "Hands-on Habitat" space where kids can crawl through prairie dog holes, roast s'mores around the campfire, and touch pelts and skulls of many animals that call Wyoming home. On the first Saturday of every month, the museum hosts Family Days, a completely free event series welcoming families to engage with a unique topic through crafts, activities, and games that inspire children to get creative and learn about the world around them.
Judicial Learning Center
The Wyoming State Supreme Court Building is home to the Judicial Learning Center. Visits to the physical location may be prescheduled by educators, but the website also teaches in an easy to understand way the "rule of law" and the judiciary system in Wyoming. Interviews with real judges, practice cases (putting the students in the judges' robes), and a breakdown of the where the district courts, all bundled into gorgeous, easy to interact with website.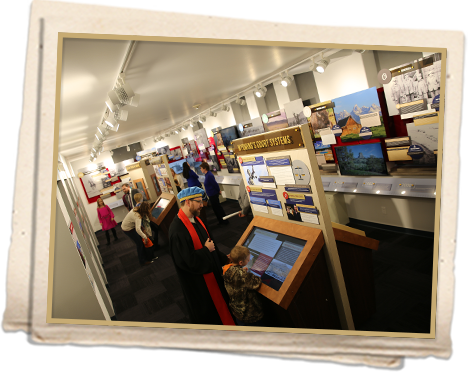 Wyoming Game and Fish & Wyoming State Parks
From September 1 thru August 30 of each year, Wyoming State Parks participates in the "Every Kid Outdoors" which admits current 4th grade students and their families into 400 national parks and millions of acres of Federal lands and waters, including all of Wyoming's State Parks! With both Curt Gowdy State Park and Quebec 01 State Historic Site just 30 minutes away from Cheyenne, they are a great option to incorporate into your journey! Don't have a 4th grader? Visit Cheyenne's Legendary Pass includes discounts at both State Park sites in Laramie county too!
The "Inspire a Kid, it's for life" initiative by the wildlife experts in the state has offered up many new resources to parents and kids alike. Featuring new themes each month, the department highlights critters native to Wyoming with activities, videos, and articles. There is also a quarterly digital magazine called Wild Times produced and distributed to inboxes and archived on their site, great for supplementing your wilderness adventures! If your students are goal-oriented, perhaps the Wyo 100 checklist would appeal to them. This list of 100 outdoor activities is an impressive compilation of inspiration for growing your kid into a competent and passionate outdoor enthusiast. Download or print it off for your trip to Curt Gowdy and knock some of those items off the list!
1264 Granite Springs Rd, Cheyenne, WY 82009; (307) 632-7946
Check website or visitor's center for current day-use fees. *Discount included in the Legendary Pass*
The state park 30 minutes west of Cheyenne is an outdoor escape for many in the region – miles and miles of hiking, biking, and horseback riding are available to visitors, as well as three reservoirs (Crystal, Granite, and North Crow) for water sports and fishing, camping, picnicking and wildlife viewing. The visitor's center at the main entrance of the park features a learning center and a great chance to pick up materials to learn more about the habitats and critters you will encounter in the park. The park perfectly pairs with the resources offered by Wyoming Game and Fish!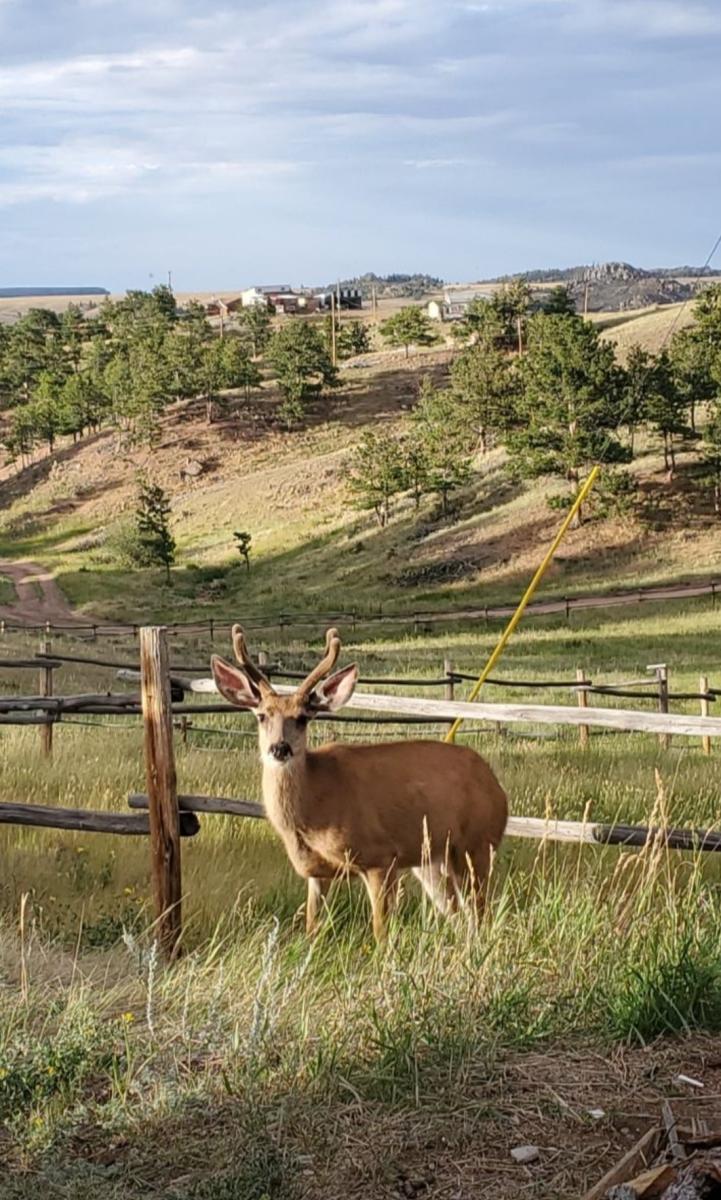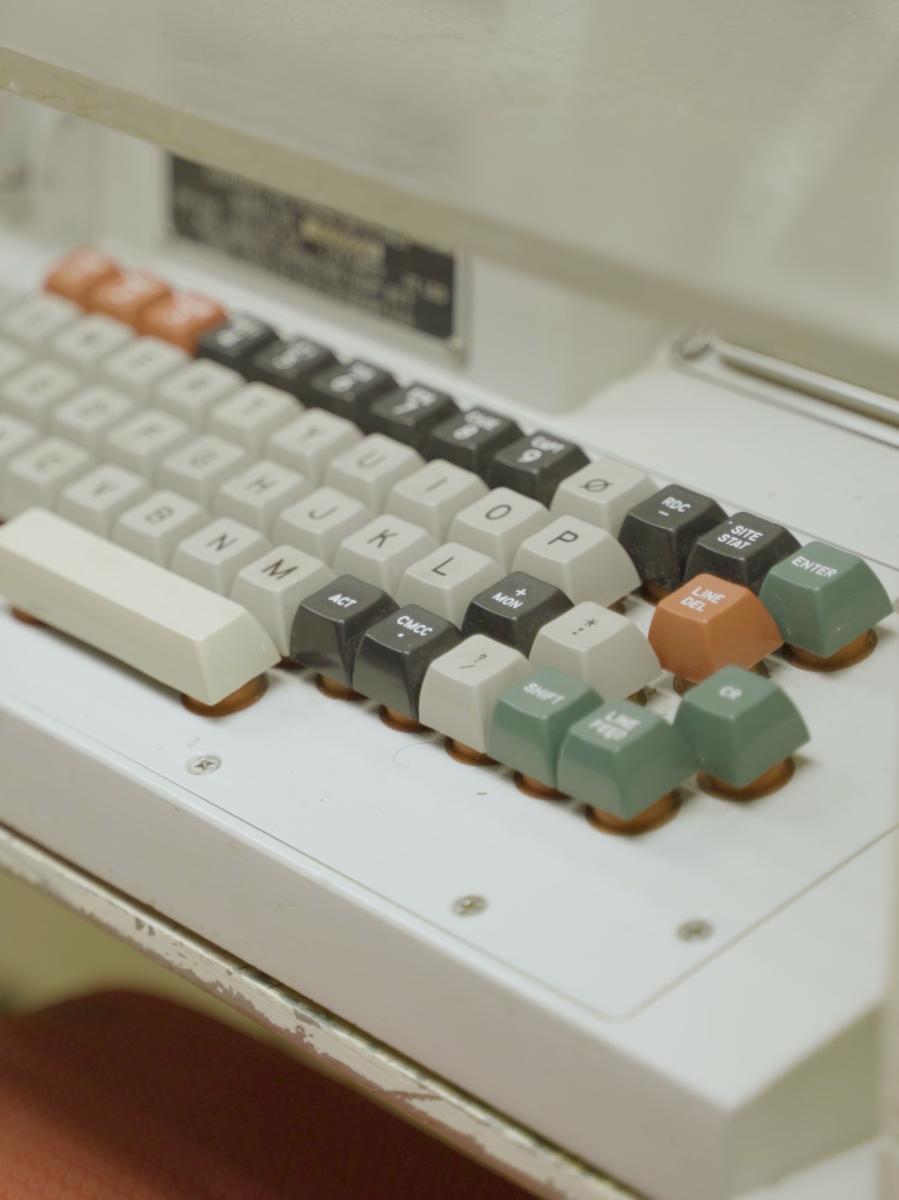 2025 Co Rd 238, Cheyenne, WY 82009; (307) 422-3425
Summertime only; Check for current entry fees. *Discount included in the Legendary Pass*
This remnant of the Cold War may seem like ancient history to today's students, but a visit to the newest State Historic Site is a great opportunity for a unique social studies class. Global relations, the role of the military, and how technology has changed will get students and adults alike talking. Above ground is an outdoor walking tour (keep your eyes peeled for pronghorn!) and horseshoe pits; indoors is a museum that covers the history of the Cold War and describes the lives of the Missileers and their support staff. The decommissioned launch facility used to be home to rotating shifts of Airmen, charged with the security of the United States 24/7. Every 30 minutes is a guided tour 60 feet underground, down into the capsule where the pair of Missileers ate, slept, and worked for 24-hour shifts, ready to launch dozens of nuclear missiles at a moment's notice. The only facility like this open to the general public in the world, the short drive north of Cheyenne is worth the effort!
Cheyenne Family Favorites
Take a tip from the local families and try out these favorite locales and free educational activities!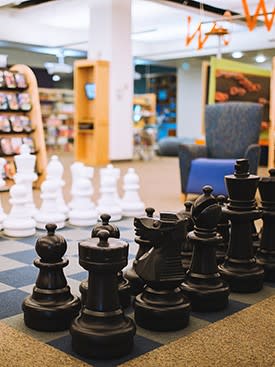 ...
2200 Pioneer Ave, Cheyenne, WY 82001; (307) 634-3561
FREE
A main player in the education of our youth, this award-winning library isn't just for residents. Laramie County Library (like the rest of the world) is reinventing itself in a CoVid environment, but free access to books is a top priority. A curbside service for book reservations is available Tuesday, Thursday, and Saturday (and you can still drop books in their drive-thru lane on the west side of the building). The events and programming has shifted to primarily virtual for the time being, but given their popular "seed library" and State Park backpack programs in the past, I have no doubt they will figure out how to springboard forward responsibly. Visit their website for the latest on what events are coming up next!
710 S Lions Park Dr, Cheyenne, WY 82001; (307) 637-6458
FREE
The Botanic Gardens is arguably Cheyenne's best free resource and attraction in town. Made up of three elements (the Grand Conservatory, the Paul Smith Children's Village, and the Gardens), the City of Cheyenne facility has been another leader in educational programs. Check their calendar of events for kids' activities, classes for all ages, and even a weekly meditation series!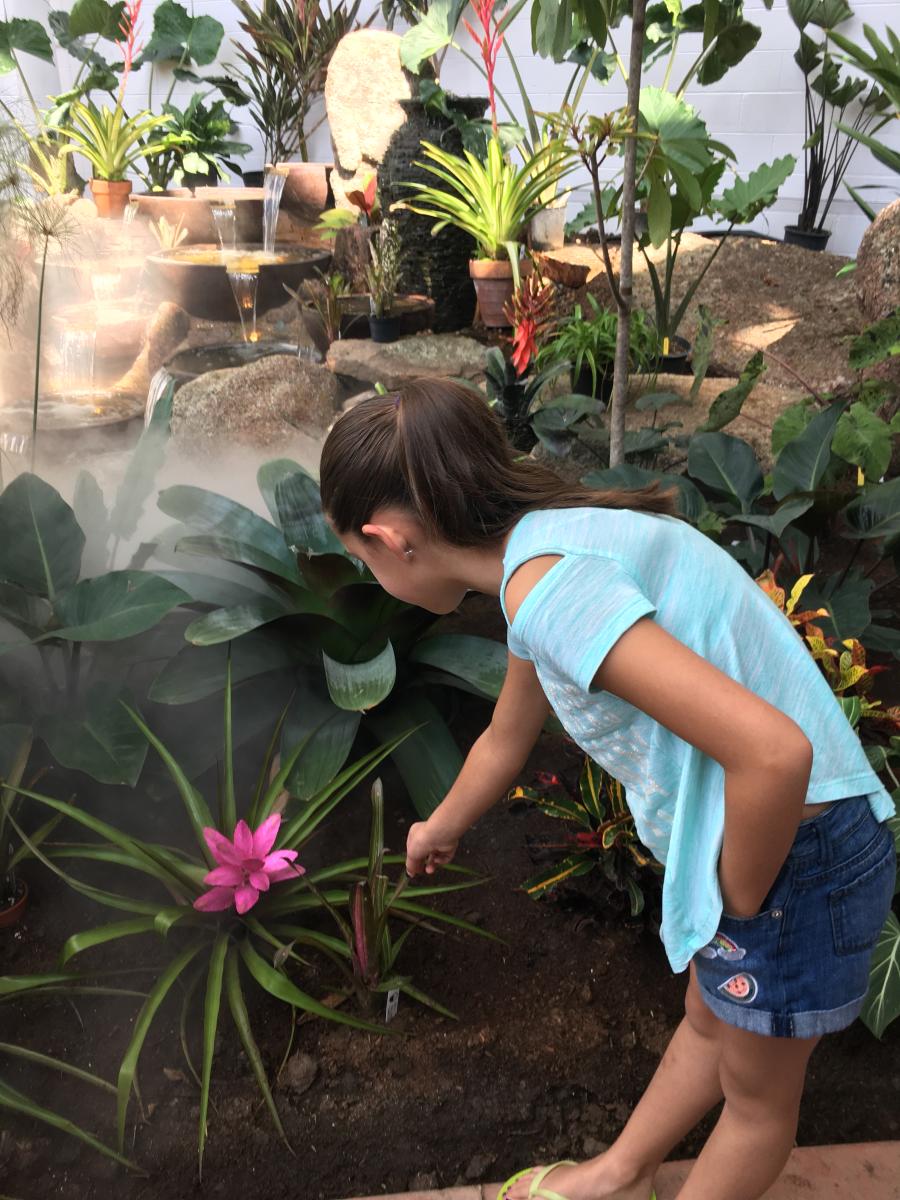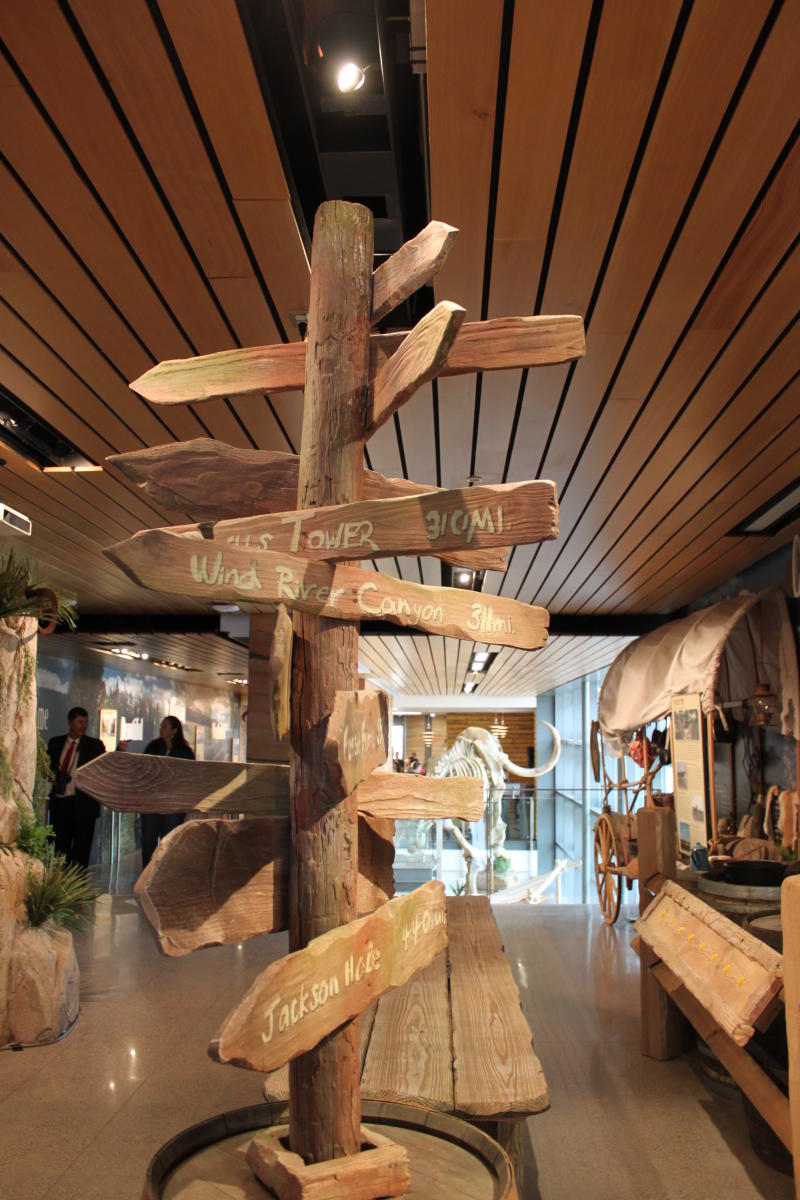 5611 High Plains Road Cheyenne, WY 82007
FREE
While technically a rest stop, this is destination-worthy of a stop for playing-while-learning opportunities. Check out a full-size mastodon skeleton or ask the front desk for a scavenger hunt list. Part museum, part playground, this rest stop is unlike any other you've been to- and if you look closely, you may spot wildlife out on the plains!
https://travelwyoming.com/industry/about/welcome-centers
Museums & More
More places to explore - Cowgirls and wagons and animals, oh my! Our museums offer a full-bodied context of the West. If you'd like to save money on entrance fees, check out the $25 Legendary Pass!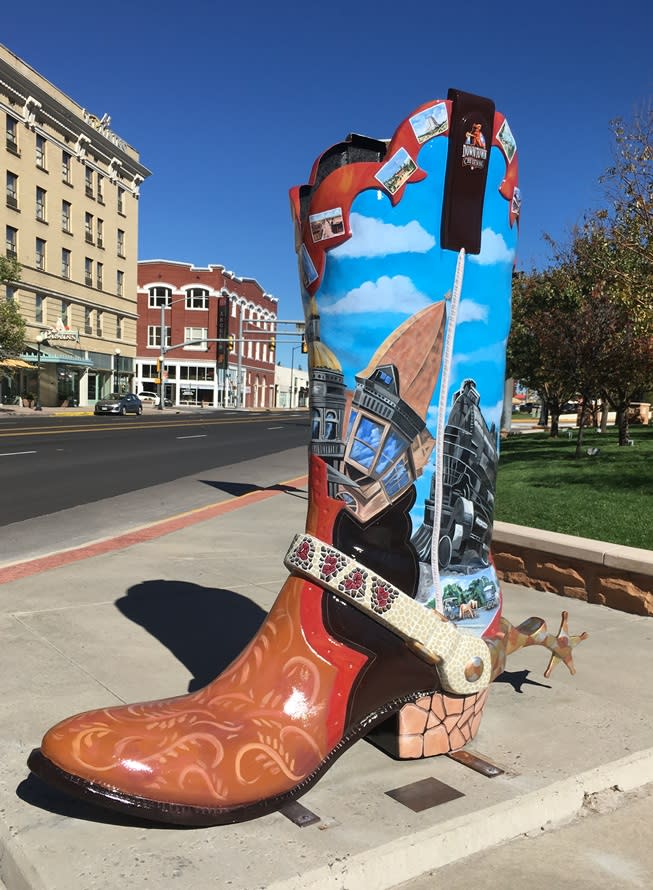 FREE
Much of the framework of Cheyenne, founded in 1867, is still visible today and Downtown Cheyenne has published a guide to allow you to walk in the steps of our founders throughout the heart of the city. The free booklet (available at the Visitor's Center in the Depot building or download it to your device) includes historical pictures and stories of days gone by, right where they happened. The tour can be divided into three sections, depending on how much time you have. Tour #3 takes you down to the Capitol Square district if you want to incorporate those stops into the walk as well.
121 W 15th St, Cheyenne, Wyoming, 82001; (307) 632-3905
*Included in the Legendary Pass*
When Union Pacific chose to put the rails of the Transcontinental Railroad through where Cheyenne stands today, the world was changed forever. Dig into the history of Cheyenne and the impact trains have had on the community over the last 150+ years – and check out the impressively detailed model train on the second floor of the museum. For the eagle-eyed in your group, there are three dinosaurs hidden in the display!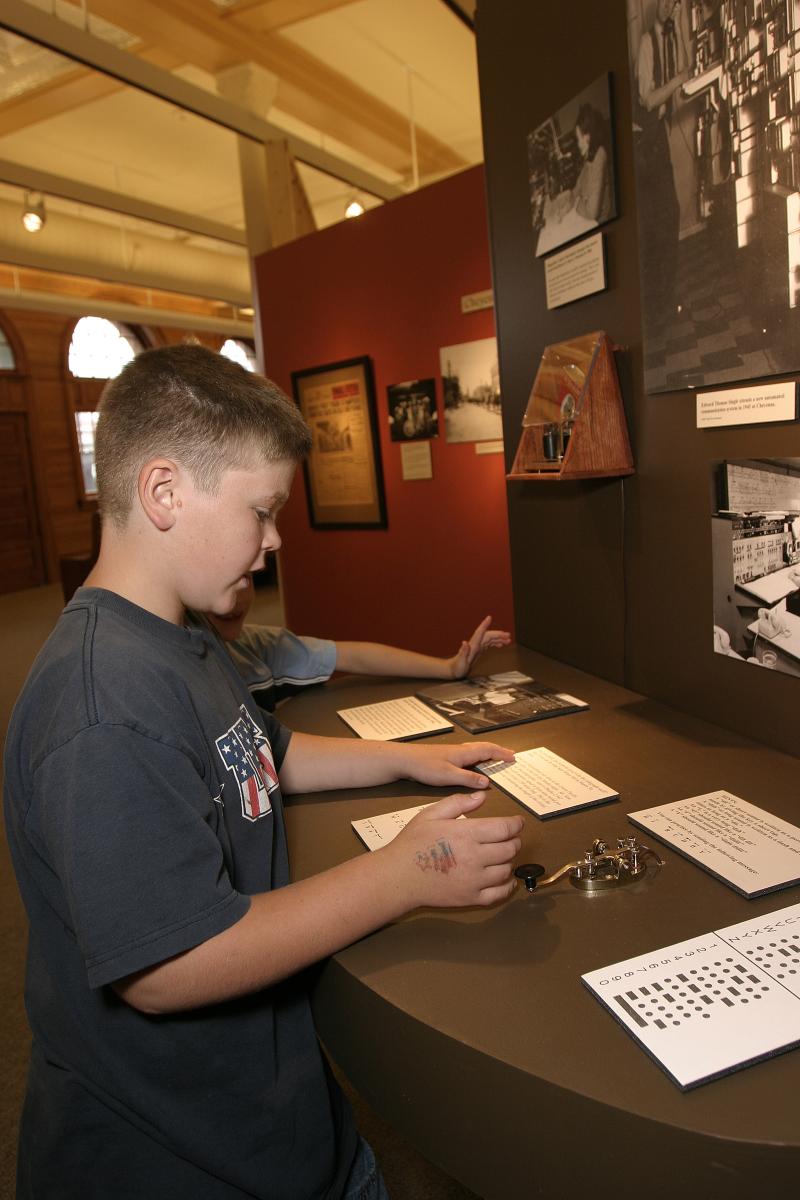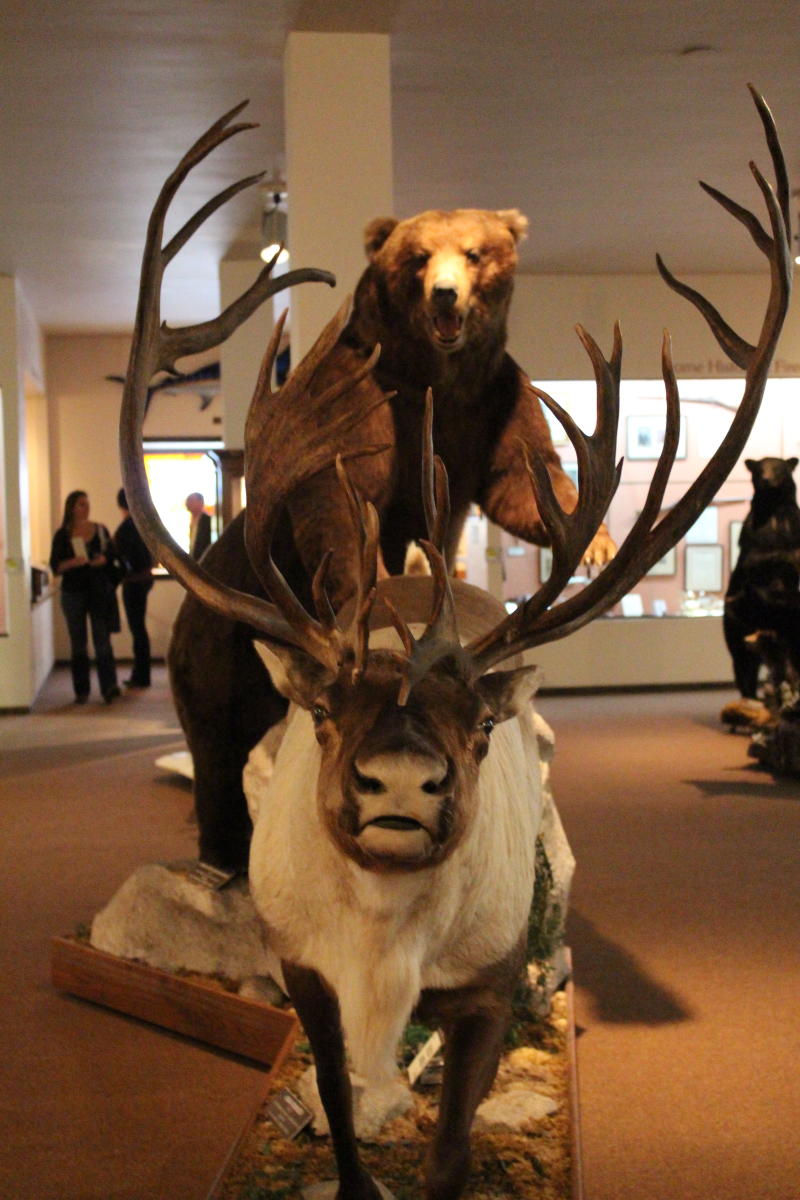 1714 Carey Ave., Cheyenne, WY 82001; (307) 635-7670
Summertime only; *Included in the Legendary Pass*
A blend of fine art and artifacts highlighting both Native American and Cowboy cultures of the early days, the Nelson family has gathered a collection to be seen. As a professional arts dealer, owner Bob Nelson has curated a fine collection – a hidden gem in downtown Cheyenne. Also included in your entry fee is access to the Military Memorial Museum located just across the street. Uniforms and military artifacts are on display and gets rave reviews from many Veterans who visit!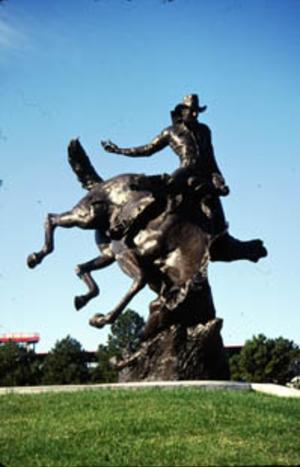 4610 Carey Avenue, Cheyenne, Wyoming, 82001; (307) 778-7290
*Included in the Legendary Pass*
The role of the cowboy in Wyoming is undeniable (we are the "Cowboy State" after all!) The Old West Museum follows the history of the cowboy and rodeo in Cheyenne – specifically centering around the "Daddy of 'em All," Cheyenne Frontier Days. The museum is home to dozens of original wagons and carriages from the early days of our town and has painstakingly refurbished them to drive them in the parades every year at Frontier Days. Make sure to ask for a scavenger hunt card at check-in! The museum hosts programming for both youth and adults throughout the year too, so keep an eye on the events calendar if you'd like to know if there's something coming up during your visit.
205 W 17th St, Cheyenne, WY 82001; (307) 638-4994
Summertime only; FREE
Wyoming is also dubbed the "Equality State," as Wyoming Territory was the first government to allow women the right to vote – 50 years before the rest of the United States ratified the amendment on a national level! The Cowgirls of the West Museum pays tribute to the spitfire and determination of the pioneer women in the early days of Cheyenne. A small army of historians and volunteers have compiled stories and artifacts to bring forth the woman's voice for public consumption, with knowledgeable volunteers on hand to elaborate and bring these women to life for visitors.
624 E Pershing Blvd, Cheyenne, WY 82001; (307) 432-0057
FREE
If you'd like to continue the military theme, the Wyoming National Guard Museum is a logical stop. While Cheyenne is home to F.E. Warren Air Force Base, it is also headquarters to Wyoming's Air National Guard and Army National Guard. The museum hosts the historical archives, including film, video and various artifacts; they even have a plane, a tank, and a missile launcher on the grounds!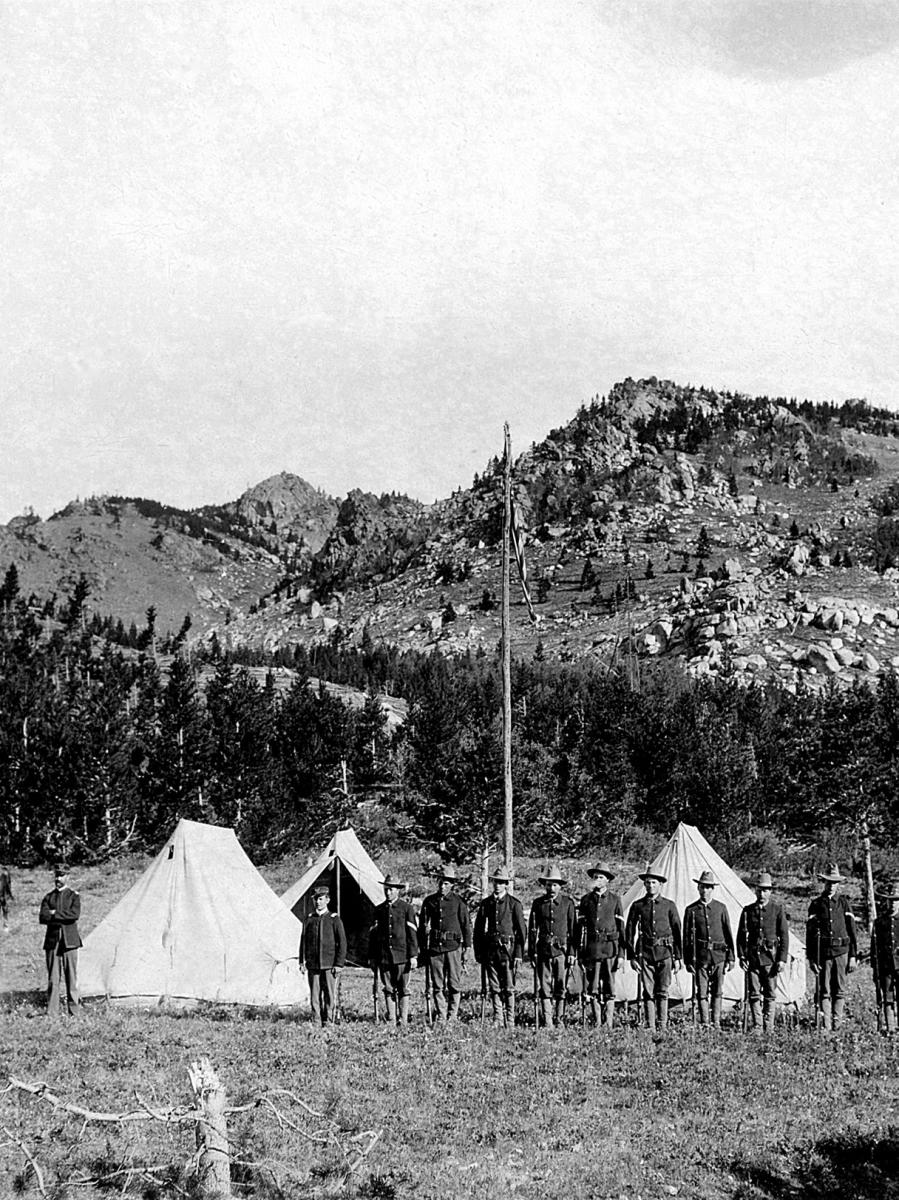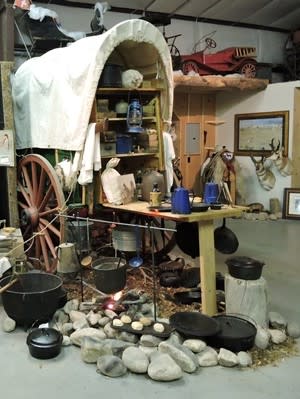 616 Crook Ave, Cheyenne, WY 82001; (307) 635-8959
FREE
This incredible private collection never fails to catch visitors off guard. Located in the main building of Cheyenne Storage, visitors get an up-close look at items that our ancestors would have used every day, as well as gorgeous taxidermy displays of wildlife from the region. Buffalo Bill Cody even used to own one of the carriages! Yet another free attraction in Cheyenne, this family has gone out of their way to carry the Old West spirit to the 21st century.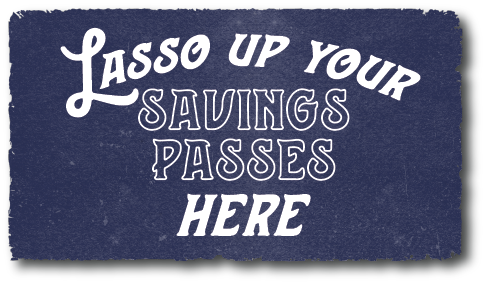 ---
Want some pre-built plans? We have you covered there too...
So many choices can be overwhelming! Let Visit Cheyenne help you narrow your scope and make that trip customization piece a little bit easier. Stop in at the Visitor's Center in the Cheyenne Depot Building or check out the articles below to perfect your next vacation.