Vedauwoo Recreation Area
We call it "rock-reation," but the name Vedauwoo (vee-da-voo) is actually a version of the Arapaho Indian word "bito'o'wu" meaning "earth-born." This extraordinary area features vast otherworldly rock formations of 1.4 billion year-old granite.
Scenic beauty and wildlife flourish here, but for those who love to climb, it's all about the rocks! Climbing comes in all forms: bouldering, belaying, scrambling, and rappelling. This is world-class mountaineering featuring dozens of climbing routes with varying levels of difficulty. Most of the routes are cracks, but climbers will also find areas for face climbing. There are several climbing guide books for this area.
Those who love to bike will find more than 20 multiple-use trails, some of which link to Happy Jack Road. There are single-track, double-track and fire roads. This network includes the popular Turtle Rock Trail, where bikers will find rocky technical sections, huge rock formations, and spectacular views.
Wildflowers are abundant during the spring and summer months at Vedauwoo; then fall ushers in spectacular displays of yellow-gold and red. With an average snowfall of 50 inches, the diverse landscape is a perfect winter playground for sledding and snowshoeing.
For visitors who wish to play and stay, there are almost 30 campsites with tables and fire rings. These areas are usually open from May 15 through November 1, and overnights are limited to 14 days. Primitive camping is permitted outside the designated campgrounds.
Horses are allowed on many of the hiking trails at Vedauwoo, making it a great place for horseback riding. Dude ranches and outfitters in the area offer trail rides and pack trips.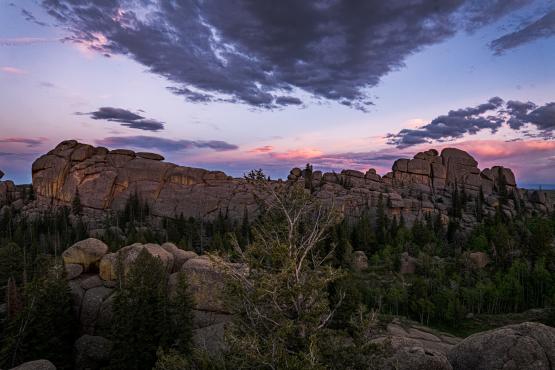 Location: 31 miles west of Cheyenne, WY.
To get there: Travel west on Interstate 80. Take exit 329 to the entrance of Vedauwoo. A more scenic route is on Happy Jack Road (State Highway 210) to Vedauwoo Glen Road (unpaved).
When to go: Opening day at Vedauwoo is generally around May 15. You are allowed to park outside of the gates and walk-into the park (weather permitting) prior to the opening date.
Fees: No fee to enter the area. A $5 vehicle fee is required to use the various picnic areas.
Elevation: 8,200 feet
More information:
USDA Forest Service
Medicine Bow National Forest
(307) 745-2300  • www.fs.usda.gov/mbr