Cheyenne Street Railway Trolley
A trip to Cheyenne is not complete without taking a ride on the Cheyenne Street Railway Trolley. Offering 90 minute "Wild West History Tours" year round, the trolley is the easiest way to immerse yourself in the rich history of Cheyenne. Learn about the city's most interesting sites and historic buildings with lively storytelling from the engaging drivers.
In October, learn about the haunted history lurking in the shadows with our Frightseeing Tours. You might even see ghosts. During the holiday season, the best way to see all of Cheyenne's light displays is by hopping aboard and letting them do the driving.
Have a group outing to plan? Chartering a trolley or bus is a great solution as well. Reach out to Sue James (the trolley manager) for more information. (307) 772-7265.
The Cheyenne Street Railway is handicapped accessible and offers a fun, historical time for all ages.
Booked a charter?
To pay by credit card, please have your contract handy.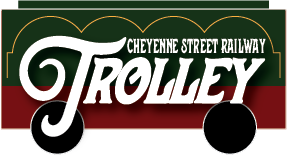 Seven Days a Week Departing at 11am and 1pm through October 31st.
Saturdays and Sundays at 11am and 1pm November 1st-March 31st.
Departing from the Cheyenne Depot Plaza
*Times subject to change*

Three tours nightly December 8-14th at 6, 7 and 8pm
Four tours nightly December 15-27th at 6, 6:30, 8 and 8:30pm

121 W. 15th St.

(307) 778-3133
A trip to Cheyenne is not complete without taking a ride on the Cheyenne Street Railway Trolley. Offering 90 minute "Wild West History Tours" year round, the trolley is the easiest way to immerse yourself in the rich history of Cheyenne. Learn about…