About Cheyenne's Destination Marketing Organization
Visit Cheyenne's Mission
Visit Cheyenne develops, promotes, and protects the Cheyenne-area travel industry, thereby creating memorable experiences for visitors and economic impact for Laramie County.
For the 2022 Annual Report, click HERE.
Cheyenne Tourism Master Plan (2021)
A roadmap to the future of our community, the Cheyenne Tourism Master Plan synthesizes the research from community organizations to create a viable, growth-based movement forward. Click HERE to learn more.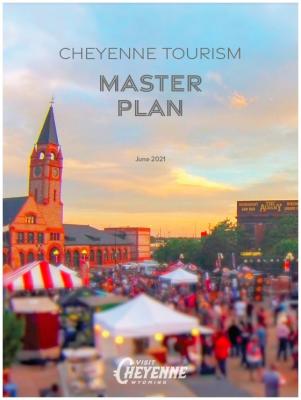 Why tourism? 
In 2020, Cheyenne and Laramie County welcome an estimated 1.97 million overnight visitors.
Visitors spent $284.6 million in the Cheyenne area (Laramie County) in 2020, providing 2800 local jobs.
Visitors paid $16.8 million in state and local taxes in 2020.
Laramie County has the 3rd highest level of traveler spending among Wyoming counties, behind Teton & Park Counties.
If the travel industry were a single business, it would rank as the county's third largest employer behind F.E. Warren Air Force Base and the State of Wyoming.
Without the tax contribution of tourists, each Laramie County household would pay an additional $678 in taxes to maintain existing government services.
What does Visit Cheyenne do?
Upcoming Board Meeting
Visit Cheyenne's Board of Director's meeting will be held December 20th, 2023, at Little America (Room TBA), at 11:30am. The public is invited to attend the meeting.
Marketing Grants 
The Visit Cheyenne Marketing Grant program is a competitive process whereby the VISIT CHEYENNE Board of Directors awards marketing grants and assistance to deserving events that increase travel to and overnight stays in Laramie County. Click here to apply
Applications for 2024 due by 11:00 p.m., November 29, 2023.
Sponsorships
For information on sponsorship, contact Domenic Bravo of Visit Cheyenne at 307-778-3133 or domenic@cheyenne.org
Certified Tourism Ambassador Program
The International Certified Tourism Ambassador ™ (CTA) program is industry-recognized certification that drives visitor spending through in-depth knowledge of the tourism 'product', gives destinations a competitive advantage, and strategically aligns stakeholders to deliver a positive brand experience. Click here to learn more!
Influencer Partners
---
The Staff
Domenic Bravo, CTA, CDME
President & CEO
Jim Walter, CDME
Vice President / Director of Sales and Marketing
Laura Levi, CTA
Office and Visitor Centers Manager
Lisa Maney
Senior Convention Sales Manager
Amber Trevizo, CTA, PDM
Events & Special Projects Manager
Aaron Brown, CTA, PDM
Experience and Marketing Manager
Jenna McCormick, CTA
Content and Special Projects Coordinator
Sue James, CTA
Transportation and Trolley Manager
Haylee Chenchar
Director, Special Projects - Tourism Development
Bill Hein, CTA
Customer Service Specialist
Nanci Sanford, CTA
Customer Service Specialist
Shani Anderson, CTA
Customer Service Specialist
2023 Board Members
Chairman- Andrea Allen
WY Dept. of Transportation
Appointed by Laramie County
Vice Chairman - Chad Brown
Pine Bluffs Distilling
Appointed by City of Pine Bluffs
Secretary/Treasurer - Dallas Tyrrell
Tyrrell Chevrolet Company
Appointed by Laramie County
Wendy Volk
#1 Properties
Appointed by Laramie County
Anthony Ortiz
State Farm
Appointed by City of Cheyenne
Heather Foster
Little America
Appointed by City of Cheyenne
Judy Johnstone
Council member
Appointed by Town of Burns
Stephanie Reece
Black Tooth Brewery
Appointed by City of Cheyenne
Open
Albin City Council
Brian Lovett - ExOfficio
Laramie County Commissioner
Liaison from County Commissioners
Jeff White – ExOfficio
City of Cheyenne Council Member
Liaison from City of Cheyenne