About Cheyenne's Destination Marketing Organization
Visit Cheyenne's Mission
Visit Cheyenne develops, promotes, and protects the Cheyenne-area travel industry, thereby creating memorable experiences for visitors and economic impact for Laramie County.
Cheyenne Tourism Master Plan (2021)
A roadmap to the future of our community, the Cheyenne Tourism Master Plan synthesizes the research from community organizations to create a viable, growth-based movement forward. Click HERE to learn more.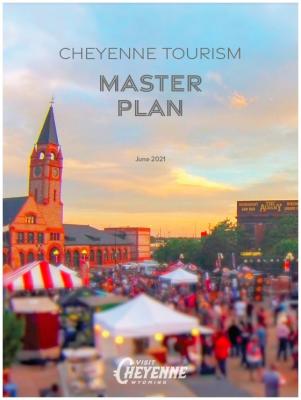 Why tourism? 
In 2020, Cheyenne and Laramie County welcome an estimated 1.97 million overnight visitors.
Visitors spent $284.6 million in the Cheyenne area (Laramie County) in 2020, providing 2800 local jobs.
Visitors paid $16.8 million in state and local taxes in 2020.
Laramie County has the 3rd highest level of traveler spending among Wyoming counties, behind Teton & Park Counties.
If the travel industry were a single business, it would rank as the county's third largest employer behind F.E. Warren Air Force Base and the State of Wyoming.
Without the tax contribution of tourists, each Laramie County household would pay an additional $678 in taxes to maintain existing government services.
Marketing Grants 
The Visit Cheyenne Marketing Grant program is a competitive process whereby the VISIT CHEYENNE Board of Directors awards marketing grants and assistance to deserving events that increase travel to and overnight stays in Laramie County. Click here to apply
Applications for 2023 due by 11:59 p.m., November 30, 2022.
Sponsorships
For information on sponsorship, contact Domenic Bravo of Visit Cheyenne at 307-778-3133 or domenic@cheyenne.org
---
Board Members
Chairman- Wendy Volk
#1 Properties
Appointed by City of Cheyenne
Vice Chairman - Andrea Allen
WY Dept. of Transportation
Appointed by Laramie County
Secretary/Treasurer - Chad Brown
Pine Bluffs Distillery
Appointed by City of Pine Bluffs
Tyler McLachlan
Little America
Appointed by City of Cheyenne
Tony O'Brien
Little America
Appointed by City of Cheyenne
Brittney Lewis-Webber
Bison Beverage, Dir. of sales and marketing/ VP
Appointed by Laramie County
Judy Johnstone
Council member
Town of Burns
Stephanie Reece
Black Tooth Brewery
Appointed by City of Cheyenne
Anthony Ortiz
State Farm Insurance
Appointed by City of Cheyenne
Katie Brady
Mary's Mountain Cookies
Appointed by City of Cheyenne
Craig Kerrigan
Cheyenne State Bank
Appointed by City of Cheyenne
Bruce Heimbuck
Appointed by City of Cheyenne
Open
Albin City Council
Linda Heath - ExOfficio
Laramie County Commissioner
Liaison from County Commissioners
Pete Laybourn - ExOfficio
City of Cheyenne Council Member
Liaison from City of Cheyenne