With artificial intelligence being prominent in our culture, we thought we would see if AI could make us an itinerary for a day in Cheyenne that was not only fun – but also correct! We hopped over to ChatGPT and put in this prompt: "Please plan us a day in Cheyenne, WY", and quickly we had our itinerary for our Monday!
Our morning agenda started with breakfast. AI wanted us to start with breakfast at the iconic Albany Restaurant which sadly is not open for breakfast, so we asked AI for a second option, and we were sent to The Luxury Diner. The Luxury Diner used to be an operating trolley on the streets of Cheyenne. Now, instead, it's an operating diner where the meals are still prepared from scratch with some recipes that are decades old. Between the French toast, pancakes, bacon, eggs, and delicious diner coffee, we were ready to head off to our next adventure, happy and with full stomachs!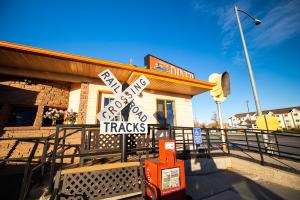 The next stop on our AI adventure day was the Wyoming State Capitol. The Wyoming State Capitol was built between 1886 and 1890 and is one of only 20 state Capitols that has the National Historic Landmark designation. This stunning building stands out in downtown Cheyenne with its beautiful gold leaf dome. You can take a self-guided tour through the entire building and learn about its history while admiring the architecture. Visitors frequently remark on how surprising it is that you can freely walk through the Capitol building and how it is very uniquely Wyoming. If you know what to look for, you may run into some very important Wyoming politicians. In fact, we ran into Wyoming Governor Mark Gordon himself while exploring!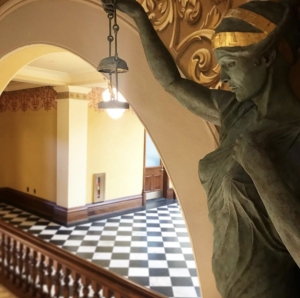 When we were done at the Capitol, we headed around the corner to the Wyoming State Museum. Admission to the museum and its programs are free, with permanent exhibits covering Wyoming's past and temporary exhibits including a changing gallery that features Wyoming artists. Currently, there is a wonderful paleontology exhibit with a full triceratops skeleton on display. The triceratops just so happens to be the official state dinosaur of Wyoming! We had a blast exploring all the exhibits and would recommend this museum to people of all ages!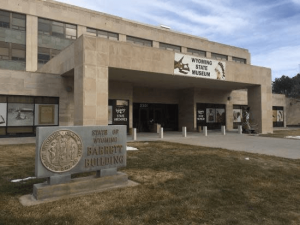 Now we moved into the afternoon portion of our day. AI sent us back to The Albany Restaurant for lunch. The building was built in 1905 and went through many different changes before it came the Albany we know and love today. Since 1942 it has been a family-owned business that is a favorite of locals! We ordered our regular meals, a chicken Caesar salad for me and a BLT with French fries (and a side of ranch) for my coworker. If I hadn't been slightly full still from breakfast, I would have gotten the prime rib sandwich which is their top-selling menu item!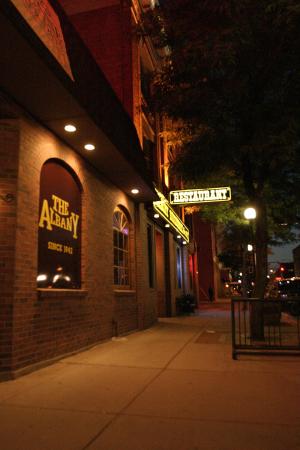 From The Albany, we headed further north in Cheyenne to the Cheyenne Botanic Gardens. Sadly, the gardens are closed on Monday. We were going to explore the outdoor portion of the Botanic Gardens which are open seven days a week, but in true Cheyenne summertime fashion, we got caught in a hailstorm, so we hunkered down in our car to wait out the storm and counted our loss!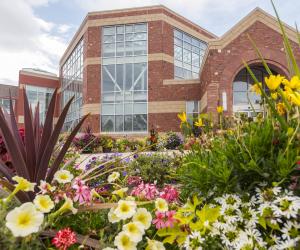 Luckily, our next stop was the Cheyenne Frontier Days Old West Museum which is located just across the street from the Botanic Gardens. This museum, which was founded in 1978, sits behind the grand Cheyenne Frontier Days Arena and has a multitude of exhibits to learn about the history of Cheyenne Frontier Days. The museum also hosts multiple art shows every year, so we were happily surprised to get to browse the CFD Western Art Show while visiting.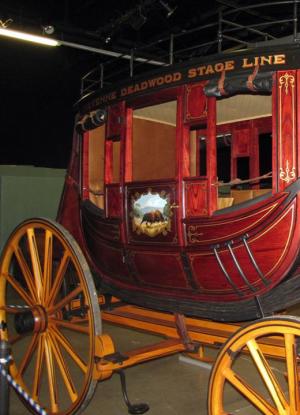 Our next stop sent us back to downtown Cheyenne to visit the Cheyenne Depot Museum. The museum gives a detailed history of the historic Depot that the museum resides in, as well as the history of Union Pacific in Cheyenne and how integral it was to the building of Cheyenne. On the second floor of the museum, you will find an area where you can view the train tracks as well as the Union Pacific steam shop and roundhouse where Big Boy 4014 lives. You won't be able to see Big Boy 4014, but if you want to see one of the remaining Big Boy Steam Engines, a quick drive to Holliday Park to see Big Boy 4004 up close! At the museum, however, you can also find an incredible miniature train display that takes up the remainder of the second floor!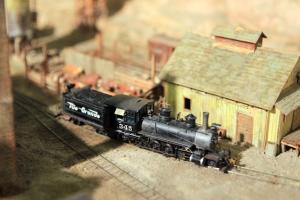 For dinner, we were sent to The Metropolitan Downtown. The Met sits in downtown Cheyenne and opened its doors in 2019. This elegant but cozy restaurant is a great way to wind-down from a day of adventure! We were still stuffed from our delicious breakfast and lunch, so we settled on drinks and appetizers in lieu of a full dinner. For drinks, we had a Paloma and a Black Tooth Saddle Bronc Brown Ale, and we shared crab cakes and crispy Brussels sprouts (they are topped with fresh apple and Thai chili vinaigrette and are so tasty!). All in all, we found The Met was a great place to relax from our long day.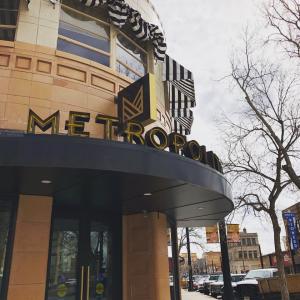 While we hit some bumps in the road during our day, artificial intelligence planned a decent (albeit busy) itinerary for a day spent in Cheyenne. However, we are now challenging ourselves to come up with a few itineraries that are not only better planned but will have some unique places that only locals would know to recommend! For more ideas or to choose your own adventure in Cheyenne, don't forget to check out the Visit Cheyenne website to learn about all the restaurants, attractions, and things to do around Laramie County!