I'm going to make an argument here about Americana. Everyone says baseball and apple pie is about as American as you can get. I'm going to disagree. I'll argue that slow cooked brisket in a chuck wagon dinner and rodeo is really what America is about!
I travel all over the country to watch rodeos, Denver, Dallas, Fort Worth and Las Vegas are just a couple of stops Stacie and I have made over the past few years, but the best rodeo action for my money is always right here in Cheyenne. Of course Cheyenne Frontier Days, is and always will be the Daddy of em All, but if you don't want to wait until the last full week of July to get your Cheyenne rodeo fix, the Hell on Wheels Rodeo and Chuck Wagon Dinner is a great bet.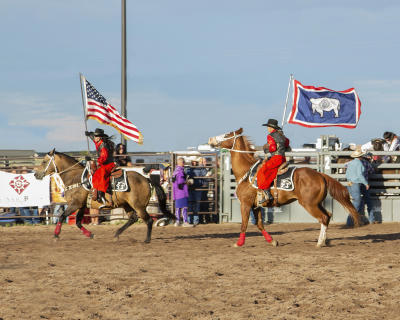 This is the 3rd year of the series and it kicks off Friday June 10th at the Laramie County Fairground in Archer. The event began during the summer of 2020 when Visit Cheyenne partnered with the DeLancey family to produce three socially distanced rodeo events. The summer of 2021 brought seven rodeos in the series and more than $36,000 in prize money and buckles won by athletes.  The event attracted 1,800 attendees over the seven dates, and more than 650 chuck wagon dinners were served to local community members and guests from across the county.
This year's series features six rodeos, two each in June, July and August. Rodeo athletes from across the west will participate in timed roping events and rough stock events. Each Friday will also feature a Chuck Wagon Dinner from award winning cook Fred Wood and his family.
It really is rodeo up close and personal and I can't stress enough how delicious the chuck wagon dinner is. Fred has been winning awards for his slow cooking magic for year and his 3 Lazy R set up is something to behold. Just remember to leave room for the cobbler.
Tickets are going fast, so make sure you get yours today at HellonWheelsRodeo.com