Rodeo is the official sport of the state of Wyoming, and as spring blooms in the Mountain West we are all excited for the upcoming rodeo season. From the best athletes in world competing on the pro rodeo circuit, to local ranch hands earning some beer money, you can find fun, accessible rodeo action all summer long in Cheyenne.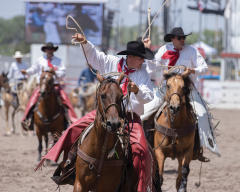 The Daddy of 'em All, Cheyenne Frontier Days is great place to start when talking about rodeo. Featuring 9 days of PRCA rodeo action, the best human and animal athletes perform for a purse worth north of $1 million. Throw in the fact that it is the world's largest celebration of Western Heritage and you have 10 days of can't miss fun at the end of July. It is the big leagues of rodeo for sure!Looking for something a little more grassroots, or down home.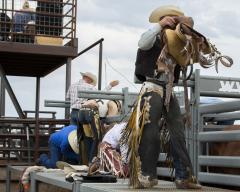 On select Fridays in June, July and August you'll want to check out the Hell on Wheels Rodeo and Chuck Wagon Dinner. Held at the county fairgrounds, this rodeo features cowboys and cowgirls of all ages and backgrounds competing under the big Wyoming skies. The tickets are super affordable, and you are up close and personal with the action. For the full experience come early and buy the Chuck Wagon dinner. Slow smoked brisket paired with potatoes, coleslaw and rolls, finished off with cast iron baked cobblers will fill your belly and give you a taste of some old fashioned cooking.
The cool thing about the sport of rodeo is that it is a competition derived from actual skills cowboys and cowgirls need on the open range. Team roping is one of those skills that is essential. When its time to brand the cattle, administer medicines or check on their welfare, cowboys will rope those cattle so the can do their job. When it comes to rodeo, team roping is a fast paced, precise event where two riders work in tandem. The header ropes the head and the heeler ropes the feet. These timed competitions are a lot of fun and very competitive. DeLancey Team Roping hosts events all summer long out on their ranch and its a great way to experience rodeo at its basic best.
Find all of your chances to watch our athletes compete this summer on our local rodeo page.