In Cheyenne, WY, rodeo is a big deal, the official state sport in fact. You'd be hard-pressed to find places where it is a bigger part of the culture than in the state's capitol, Cheyenne, home to the world's largest outdoor rodeo and celebration of western heritage, Cheyenne is the birthplace of rodeo in Wyoming, and its history is forever tied to it.
Why Cheyenne Is a Must-Visit for Rodeo Fans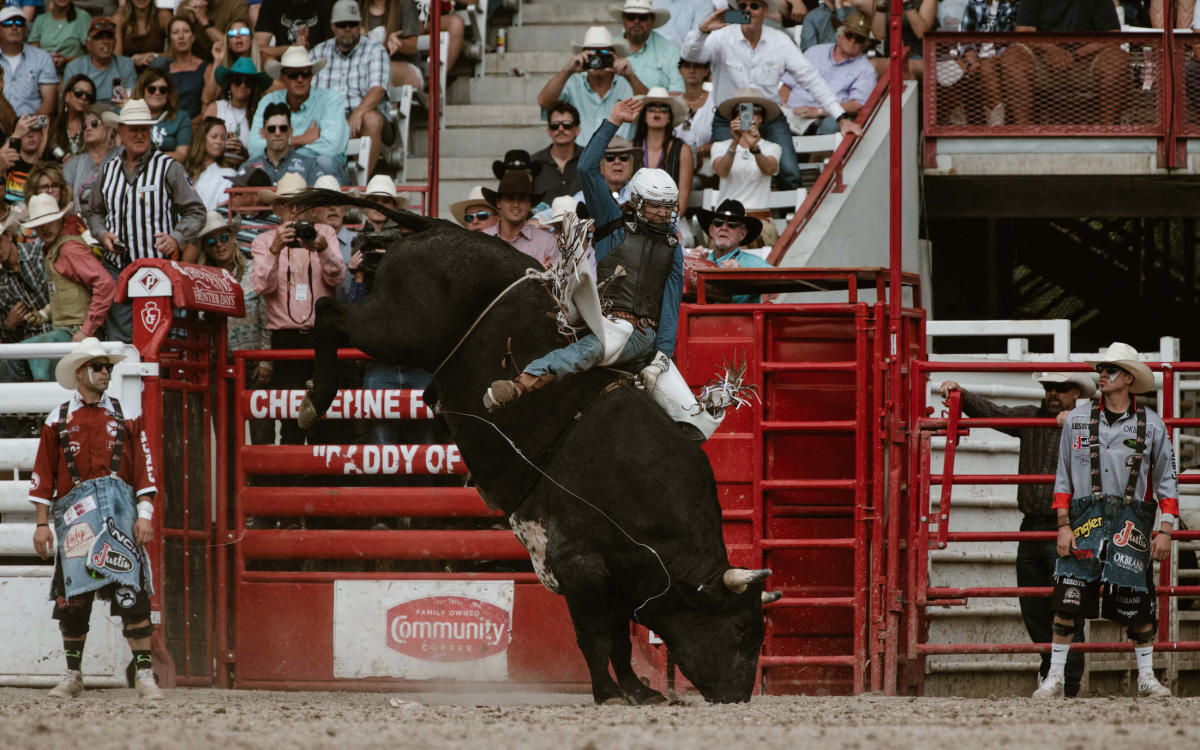 If you're going to visit a rodeo in Wyoming, or anywhere else for that matter, Cheyenne is a must-visit for rodeo fans. There are two different rodeo events in Cheyenne you can attend - let's take a look!
 
Cheyenne Frontier Days
If you think you already know what happens at a rodeo, then Cheyenne Frontier Days is guaranteed to blow you away. Cheyenne Frontier Days has been a fixture of Cheyenne rodeo for more than 125 years, starting in the 1890s and evolving into one of the biggest rodeo events in the nation.
Taking place in the last full week of July, Frontier Days is a rip-roaring experience that attracts visitors from all over the country.
What to Wear at Cheyenne Frontier Days
One question that's often asked, though, for this multi-day event, is what to wear to Cheyenne Frontier Days (CFD). A cowboy hat and a good pair of jeans go a long way, but it's a good idea to check out local stores like Wild J Trading and The Wrangler in Cheyenne to get your CFD swag on.

Hell On Wheels Rodeo and Chuck Wagon Dinner Series
The Hell on Wheels Rodeo and Chuck Wagon Dinner Series is one of the fastest-growing open rodeo events in the West. This hometown Wyoming rodeo is smaller than Frontier Days but offers a more intimate and grassroots rodeo experience.
The Hell on Wheels rodeos are spread out across six Fridays throughout the summer at the Archer Event Center. For this rodeo event, order or purchase tickets at the door or you can get a chuckwagon dinner with it too - either way, Hell on Wheels is growing in popularity every year, and you won't want to miss it!

What to Expect When You Attend a Rodeo near Cheyenne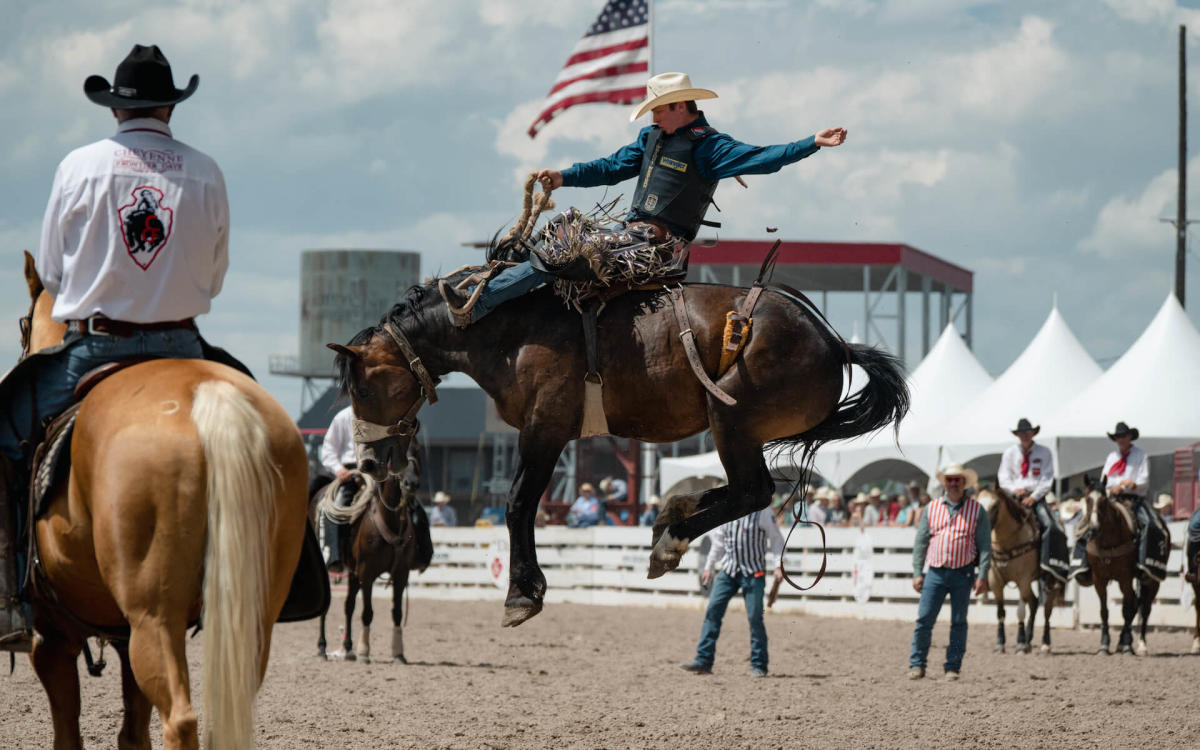 Courtesy Brendan Byrne Photography
When you attend one of these popular Cheyenne rodeo events, there are a few things you'll want to know. 
What happens at a rodeo in Cheyenne?
In a Cheyenne rodeo, cowboys and animal athletes compete in various events to earn cash prizes and ranking. There are Rough Stock events like saddle bronc riding and bull riding, and then there are Timed Events like Barrel Racing and Steer Wrestling. In all, you can count on around 7 to 9 rodeo events in any order.

How long does a rodeo last in Cheyenne?
Generally speaking you're looking at around 2 and a half to 3 hours total for a full Rodeo. Even so, if you're ever asking yourself how long a rodeo lasts, just know it will always feel too short as the time just flies by.

Rodeo Terms & Facts to Make You an Expert
Before we get into the details of the various events or the rodeo event order, let's get some rodeo terms you need to know out of the way.
These are some of the terms you'll want to know before heading out for the arena.
Chute:  A small enclosure where animal athletes are loaded before they are leased into the arena for events. Another similar rodeo term is Bucking Chutes, used for rough stock like bucking horses and bulls.
 
Rodeo Clown / Bullfighter: These brave individuals provide protection to fallen riders by distracting bulls and leading them away.
 
Pick-up Men: On horseback, they assist riders after a ride and help them get to safety. 
 
Flank Strap: A leather strap wrapped around the bucking horse or bull's flank to encourage bucking. 
 
Re-ride: If a rider's animal doesn't perform well during the rodeo, they may be granted a "re-ride" for another chance to score. 
 
Rodeo Royalty: This includes the rodeo queen and her lady-in-waiting. They are crowned as a representative of the rodeo and the Western way of life at events and in the community.
 
Header and Heeler: Terms used in team roping. The header ropes the head of a steer, while the heeler ropes the steer's hind legs. 
 
Bulldogger: Anther rodeo term for a steer wrestler.
 
Barrier Line: A spring-loaded rope that releases after a certain point, allowing calves and steers in timed events a clean head start. If riders break a barrier before it is released, they are given a "no-time" or a penalty.
 
No-Time: Essentially a no-score in timed events. Improper roping and breaking of the barrier line are examples of things that can result in a no-time. 
The Rodeo Event Order: The Backbone of Every Rodeo
Now that we have some of the basics down, let's talk about the real show: the rodeo order of events. Here we will review the order of events, and show you what it's all about.
The order of events will differ for every rodeo, but here are some of the most popular ones to look out for.
1. Bareback Riding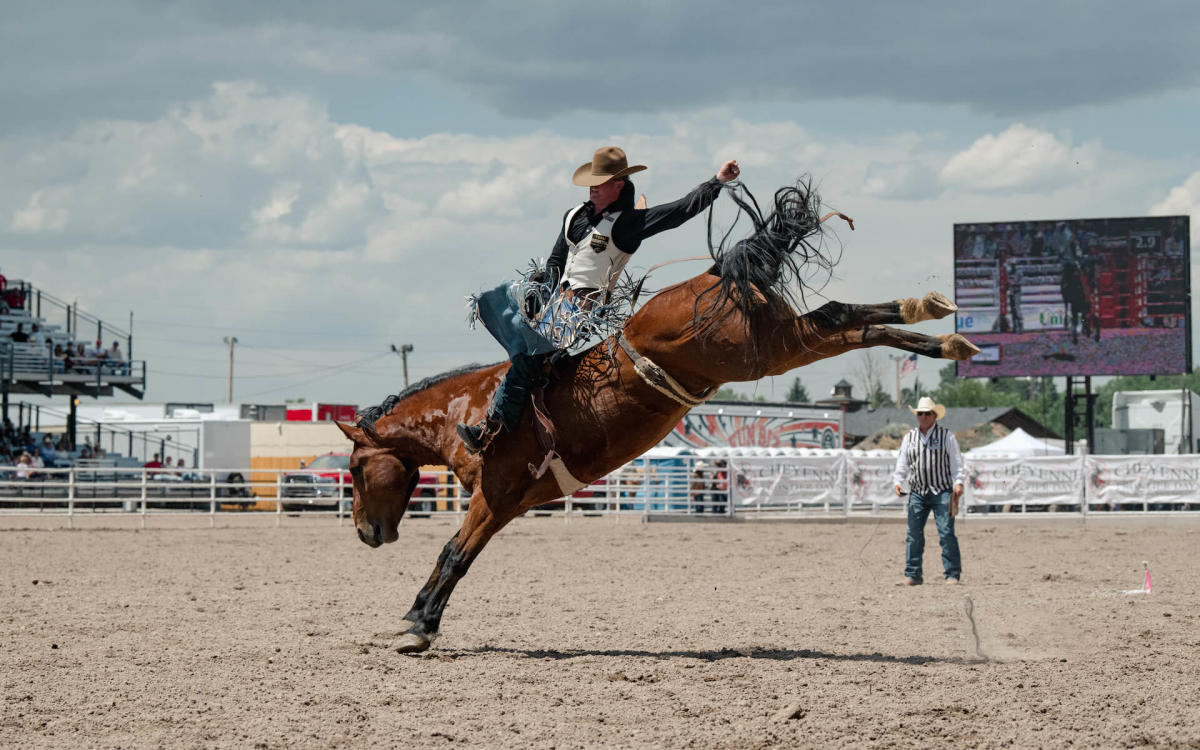 Courtesy Brendan Byrde Photography
For many, this is considered the most physically demanding event in rodeo. Cowboys use one hand to grip a rigging to stay on the horse. They are judged on their spurring technique and the bucking action of the horse. Being a rough stock event, the rider has to stay on for 8 seconds for the ride to count. 
The physicality, fast-paced action, and intense rides make bareback riding a crowd favorite for what happens at the rodeo. 

2. Steer Wrestling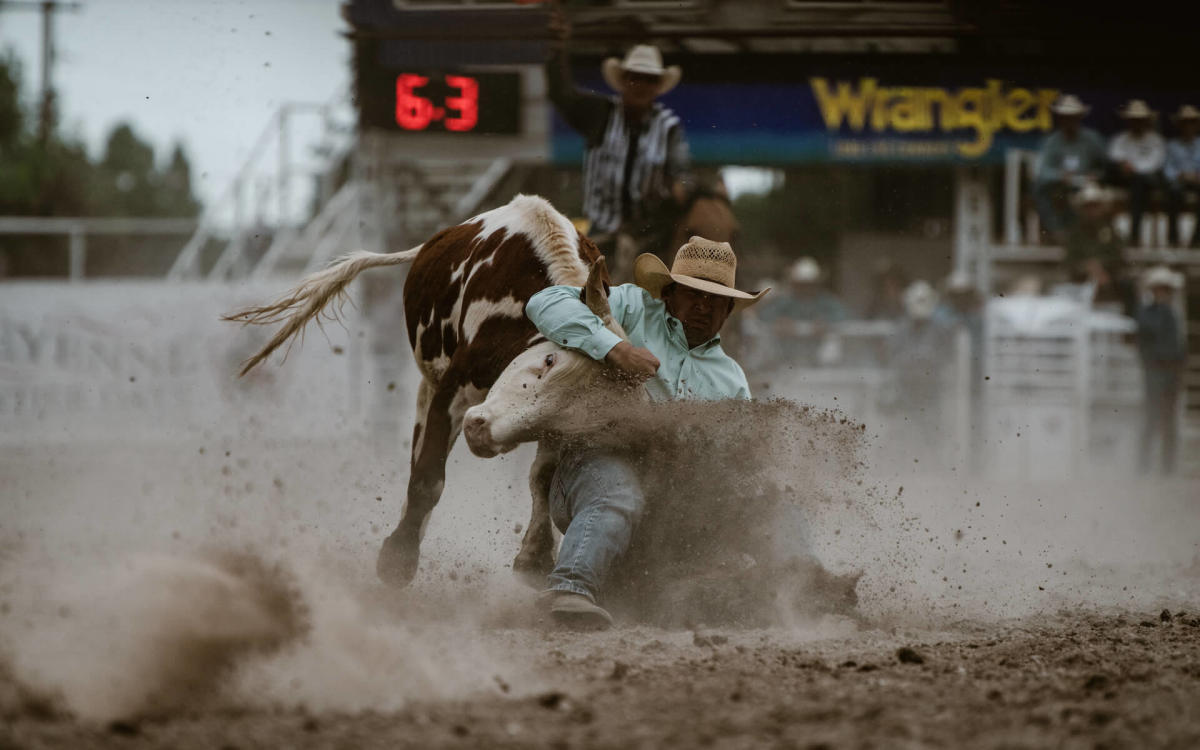 Courtesy Brendan Byrne Photography
Steer Wrestling requires the steer wrestler, or bulldogger, to ride up alongside a steer, jump off the horse, grip the steer, and toss it onto its back.
The goal is to get the steer on its back in the fastest time possible. Look for speed and clean starts - the steer gets a head start, eventually breaking a rope barrier, marking when the bulldogger can start his chase. When done right, the effort takes only 3 - 5 seconds. 

3. Breakaway Roping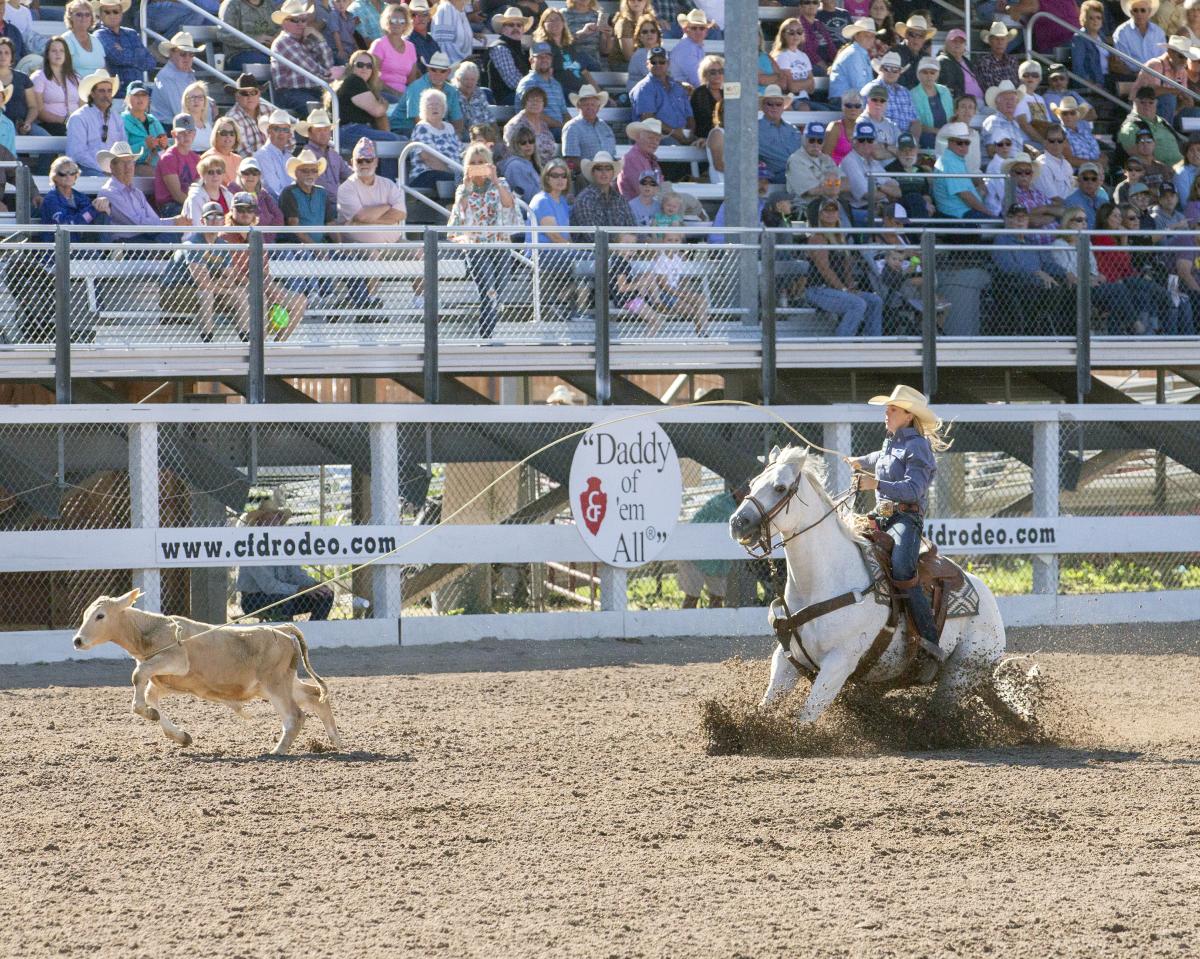 Breakaway roping, traditionally a women's event, got its start in the 1970s. Women had been competing in tie-down and team roping since the 1940s, but Breakaway Roping has become a mainstay in rodeos across the country as a popular women's event. 
In Breakaway, a calf is given a head start before the rider, getting a clean start, chases the calf down on horseback, roping it and catching it by the neck. When the rope goes tight it snaps a small string on the horn of the saddle, indicating time to the judges.
How long does this rodeo event last? Better not blink – This fast-paced rodeo event can happen lightning quick - as fast as 2 seconds!
4. Saddle Bronc Riding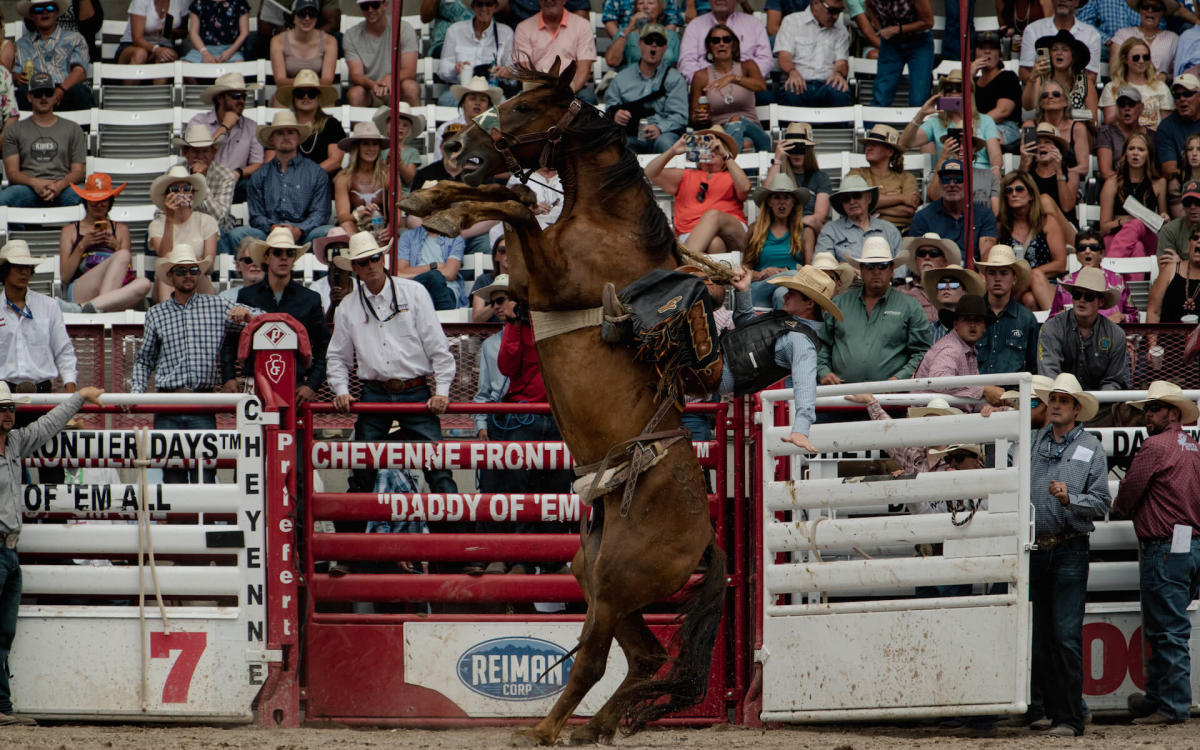 Courtesy Brendan Byrne Photography
Another must-see rodeo event in Cheyenne, Saddle Bronc is another exciting rough stock event. Unlike bareback, the cowboy holds on to a rein attached to the horse's halter. The rider has to synchronize his spurring movement with the horse's movements and is judged on spurring action and body control.
That's only half the score though, as the other half comes from the bucking performance of the horse! This is another 8-second rough-stock event. 
H4: 5. Tie-Down Roping

Courtesy Crystal Dotzler
Tie-down Roping is a timed event that started as a typical ranch-hand chore on the range when cowboys would rope calves for branding and doctoring. Today it's a mainstay at rodeos. It all starts like other timed events, with the calf getting a head start and the roper and horse needing a clean start.
The roper chases down the calf, ropes it around the neck, then jumps off his horse (as the horse skids to a stop) and then races to the calf, throwing it on its side and tying three legs together with a small rope.
The roper throws his hands up to signal time, but then the calf needs to stay tied for 6 seconds for the effort to count. 

6. Team Roping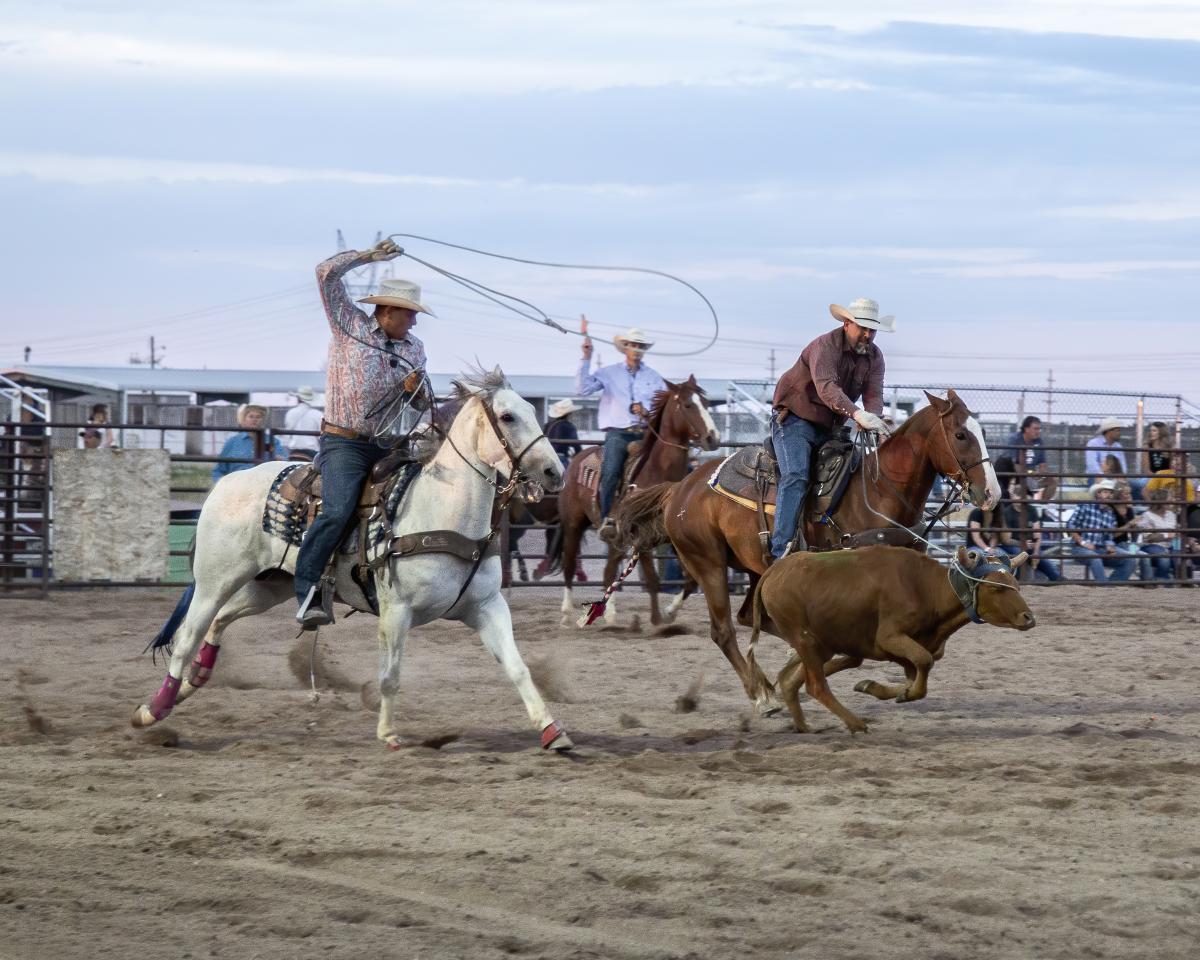 Courtesy Judy Meyers
Team Roping is another timed rodeo event, this one involving a pair of ropers rather than just one. In this event, the team gives a steer a head start before chasing the steer down.
The "header" ropes the steer's head about the horns before the "heeler" ropes the steer's back feet. If the heeler ropes only one foot, that's a 5-second penalty.
This team event requires coordination, accuracy, and clean roping to accomplish. 

7. Barrel Racing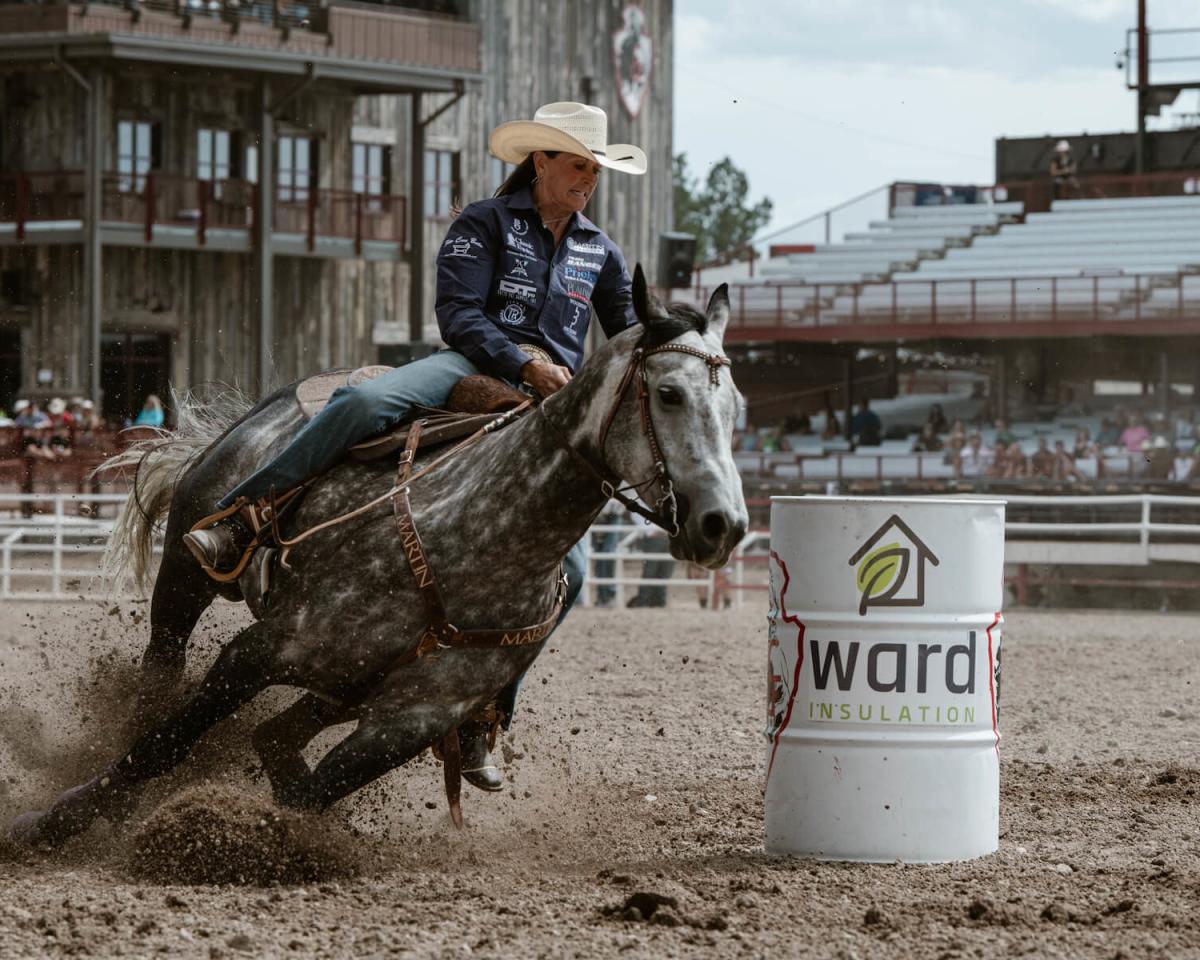 Courtesy Brendan Byrnes Photography
Barrel Racing seems straightforward - race around three barrels in the fastest time - but this high-speed event is unique and thrilling. The rider is to run a clover-leaf pattern around three barrels.
The horses pivot at high speed and each turn needs to leave only inches to spare between the barrel and the rider. A knocked-over barrel results in a 5-second penalty.
Traditionally a women's rodeo event, you can see both male and female riders in some open rodeos, like Hell on Wheels.

8. Bull Riding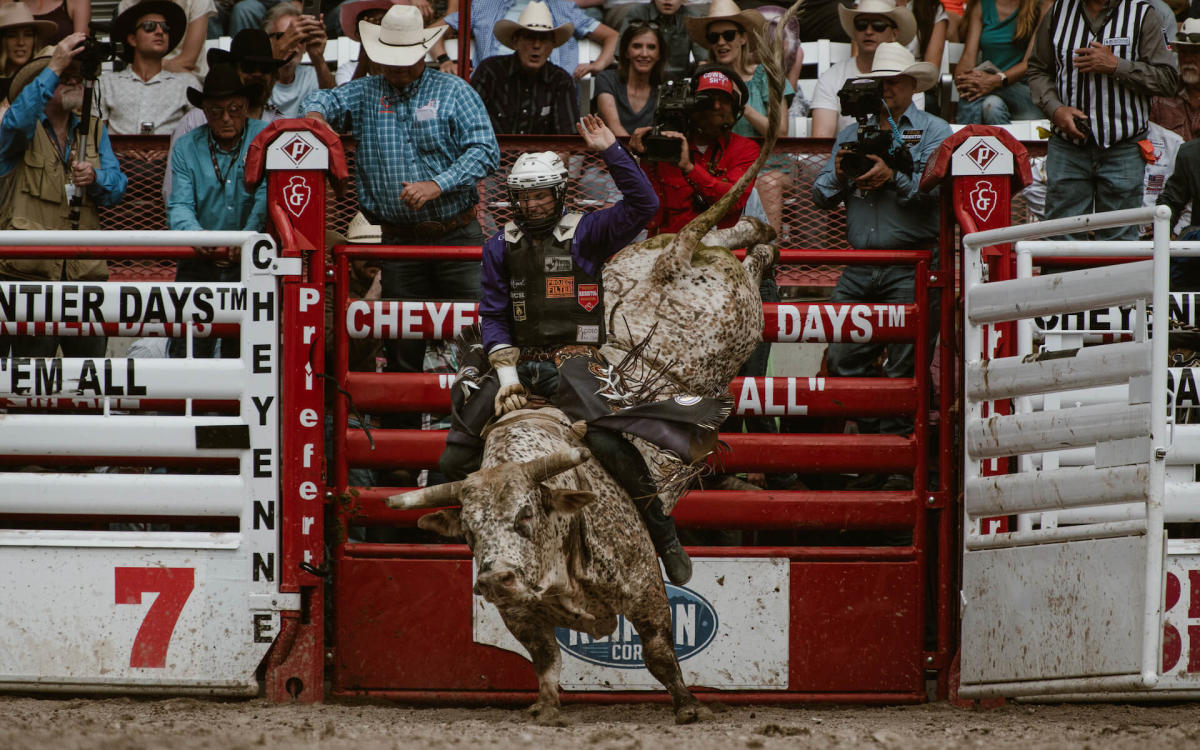 Courtesy Brendan Byrde Photography
Now we come to what some may call the main event of any rodeo's roster. This is one of the most dangerous and thrilling events.
The rider atop the bull holds on to a flat braided rope in his gloved hand. He tightens and secures the rope as he gets on, before signaling he's ready and being let loose on the bull. 
The cowboy uses his free hand to keep his balance on the bull while not touching the bull with that hand.
The cowboy's control and the bull's bucking both account for half of the score. Again, the rider has to stay on for 8 seconds to earn a score. 

Get Ready for Your Rodeo Adventure in Cheyenne!

Now that you've got the details on rodeo terms, what to do, and what to wear at the rodeo down, you're ready to attend any rodeo in Wyoming! Both Cheyenne Frontier Days and the Hell on Wheels Rodeo promise to excite and entertain while giving you a full dose of wholesome Western culture. For thrills, fun, and an unforgettable experience, you can't beat a rodeo in legendary Cheyenne.