As the first day of school approaches rapidly, it might seem like there's little time left for summer fun, but fear not! Cheyenne offers a variety of delightful activities for families to enjoy before the new school year begins. Let your family soak up the fun in the remaining weeks of summertime with these handpicked family-friendly activities!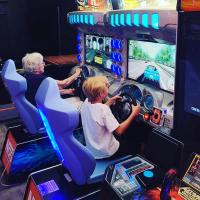 Flippers Family Arcade opened in 2016 and has been operating since as a unique and exciting destination in downtown Cheyenne. This arcade caters to visitors of all ages, from games suitable for younger children to a vast collection of pinball machines that will delight any pinball enthusiast, ensuring hours of entertainment. Beyond the impressive selection of arcade games and pinball machines, you can also get food and drinks, so Flippers is a great stop for an afternoon or evening of fun for the whole family!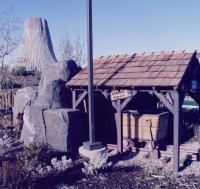 Discover the perfect summertime escape at the Cheyenne Ice & Events Center! Situated on the west side of Cheyenne, this fantastic venue offers a vast array of activities that will entertain the entire family. Engage in a round of Wyoming-themed mini-golf, immerse yourself in heart-pounding laser tag battles, enjoy the excitement of bumper cars, and glide along the roller-skating rink. With a diverse range of options, everyone in the family is guaranteed to find something they love.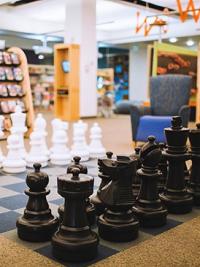 The Laramie County Library has been a staple in Cheyenne for many years. From winning Library of the Year in 2008 to making the list of 6 Best Children's Libraries in the United States, our library is a great place for all ages. The library has monthly programming for youth and adults, but if you're looking for a great place to visit with children, the second floor of the library is the place to go. Not only is there a great selection of free-to-rent books accessible with a library card, but there is also a multitude of hands-on activities and events throughout the week for kids of all ages to enjoy! For families with a few green thumbs, be sure to check out the seasonal Seed Library on the third floor, too!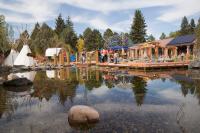 Nestled alongside the Cheyenne Botanic Gardens, the Paul Smith Children's Village stands as an enchanting and must-visit destination for children of all ages. The garden offers an expansive space for exploration, complete with captivating attractions such as a mesmerizing wetlands area, an authentic sheepherder wagon, a charming secret garden, delightful tipis, a farmer's windmill, and so much more! Luckily, the adventure doesn't have to end there! Once you've explored the children's village, you can continue your journey into the Botanic Gardens Grand Conservatory. Featuring a lush, tropical plant collection, you can spend your time enjoying the unexpected tropical paradise, relax on the rooftop, or use the conservatory's one-of-a-kind Navy submarine periscope for views of the city!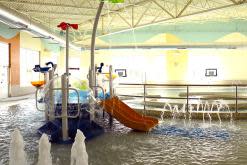 Located within the picturesque Lions Park, the Cheyenne Aquatic Center is an oasis in Cheyenne to beat the end of summer heat! This fantastic facility boasts an array of attractions, ensuring a thrilling and refreshing experience for visitors of all ages. Dive into the excitement with two pools, lap lanes, a diving well, and adrenaline-pumping diving boards. For those seeking a challenge, there's a thrilling rock wall to conquer. Looking to unwind? Float along the lazy river or have a good time at the spray park. Basketball enthusiasts can shoot some hoops in the water, and thrill seekers can plunge down the water slides. With something for everyone, the Cheyenne Aquatic Center is the perfect spot to beat the summer heat and create unforgettable memories during these final weeks of the season. Come and relish the joy of aquatic fun in this delightful oasis!
We know summertime is quickly ending, but there is still plenty of time to enjoy all these fun activities that Cheyenne has to offer! For more information on these 5 places as well as other fun attractions and events happening around Laramie County, keep an eye on the Visit Cheyenne website year-round to keep your days filled with fun!