<<Read Time: 1.5 Minutes>>
I promised my 8-year old daughter this year that I would take her on her first overnight backpacking trip. I rediscovered my love for back packing last summer and she has watched with interest as I upgraded all of my camping equipment with a less is more philosophy. In order to prepare her and I for the trip I decided that we needed to start doing some day hikes locally.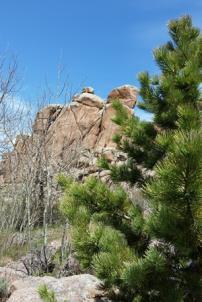 On Memorial Day we took off and headed to the Vedauwoo Recreation Area, which is part of the Medicine Bow National Forest. It's a quick 35 minute drive up I-80 from Cheyenne and provides ample opportunities for hiking, wildlife watching and some of the most amazing rock formations you will find. We decided to take the Turtle Rock Trail, which is a 3 mile long loop trail.
The trail is fairly flat with a few small inclines. It is perfect for families and dog are allowed on the trail as well with a leash. My daughter enjoyed viewing the wild flowers, the crazy rock formations and the giant puppy cumulus clouds in the sky. It was a perfect location for a family hike. The rocks give lots of side places to explore, and the four or five beaver ponds that you pass along the trails are a haven for wild life. We saw several piles of Moose droppings, so keep an eye out, you never know what you'll find.
There is a $5 daily use fee that is paid at the entrance to the day use area. Please pay it, the parks don't take care of themselves (and the day we were there, the forest rangers were ticketing people who did not pay.)
For more great ideas of where to explore the west, visit the outdoors section of our website.