A Fun, Affordable Sport Is Growing in Cheyenne
Now is the time to get outside, explore Cheyenne's parks, and have some fun throwing a disc!
There is niche sport making its way more and more into the realm of popularity. It's relatively affordable, easy to get into, and, with an attitude of fun and a little competition thrown in, very addictive. It's active enough that the youngest player can give it a shot without getting bored, yet easy enough on the body that players continue well into their golden years. It's one of the few games that families can easily play together and makes a great pastime year-round (yes, there are certainly die-hards who play in the middle of winter!). It's a game that lends itself to group play as easily as it does playing on your own.
Disc Golf, or Frisbee Golf, is not new but it isn't old either. Nevertheless, it is growing in popularity, with more than a million people playing it annually in the United States.
It makes sense. Beginners can get started in the sport for minimal cost, most courses are free to use and many cities have at least one course. In Cheyenne's case, it's five, with a sixth course just to the East in Pine Bluffs.
Disc Golf: New Sport with a Classic Idea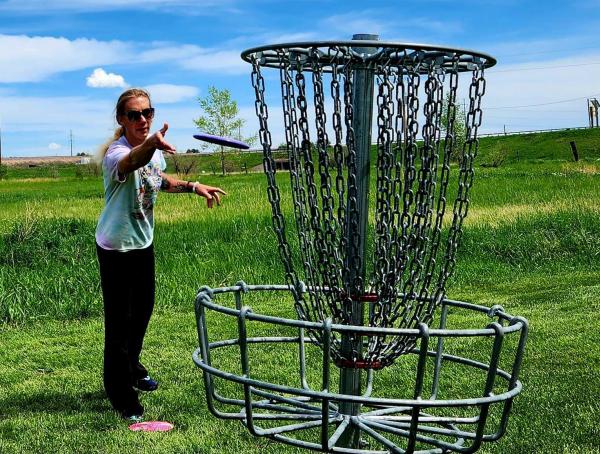 Disc Golf, as an official sport, got its start in the 70s when it was invented by Ed Headrick, the inventor of the Frisbee. Headrick came up with the patent for the chain-laden disc golf pole hole in 1975 and the rest is history. Since then disc golf has taken the shape of a hobby and a professional sport. The goal of the game is the same as the actual game of golf, but instead of hitting a ball with a club to a small hole, players throw a special disc into a basket. Just like in golf, today there are drivers, mid-range, and putter discs galore, with thousands of discs being made to do different things. For the basics, though, if you're starting out, a few stable discs will do just fine.
Whether you're new to the game or a crafty, hyzer-throwing veteran, a sporty family passing through or a long-time local, you can play this addictive game with ease in Cheyenne. New or experienced, if you love the game and want to play in your visit to Wyoming's Capitol City, read on as we take a look at what these courses and locations have to offer.
Where to Play Disc Golf in Cheyenne
While Cheyenne may not be a big city with countless parks, the Capitol City does offer some disc magic on the plains. There are four courses located in public parks alone in the city and a few more opportunities beyond that. 
Mylar Park: The Central Quick Round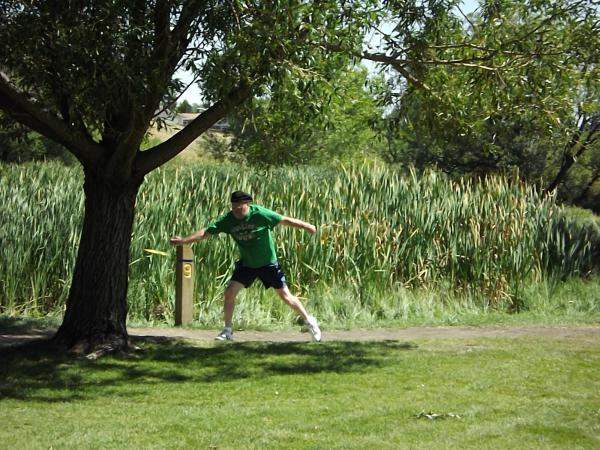 Mylar Park, located on Seminoe Road just north of the Cheyenne Airport, is the most centrally located course in town. Established in 2008 with 9 holes, all of them par 3, it is the shortest of the courses in Cheyenne. The longest hole is around 430 feet, the shortest less than 200, which means you can play through this course in a short amount of time. But don't let the size fool you. There are some tricky shots in this beginner-friendly course, including a shot directly over the Mylar Park pond (don't worry, there's a dry alternative if you aren't sure you can make it.) Easy to find and fun to play, this is a great spot for beginners and veterans alike.
Dry Creek Parkway: The East Side Challenge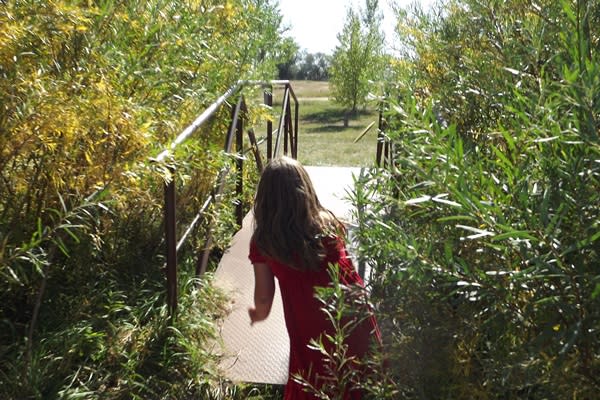 Despite the name, this park is anything but dry and is often lush and green from late spring to early fall. The course was set in place in 1996, making it the oldest disc golf course in town. Dry Creek has a reputation for being fun, friendly and challenging. As you toss your way through this 18 hole course, you'll zig zag your way across and over Dry Creek multiple times, finding shots that challenge you to stay in the fairway and stay out of the water. Dry Creek's course also has a few fun elevated tee shots where you can let loose and crank that disc as far as you can. On the flip side of things, parts of Dry Creek's course is a flash flood area used to keep the surrounding neighborhoods safe. So if there's been a lot of rain, be prepared for a wet game.
Romero Park: Pride of the Southside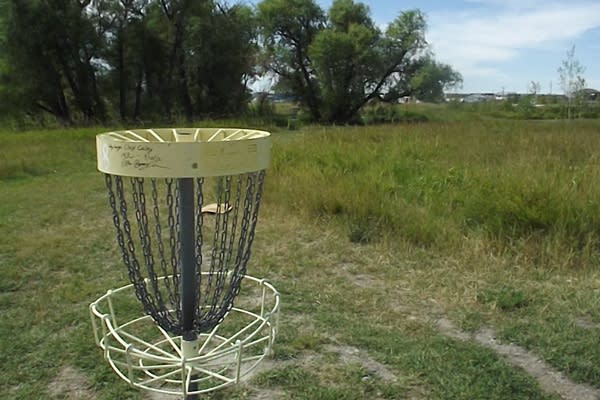 Located in the vibrant Romero Park, this course involves mild elevation changes and switches between the lush green of the park grass and Crow Creek to the mix of prairie, dust, and cactus of the prairie. Romero Park's course was designed by members of the Laramie County Disc Golf Club, and established in 2008. The course is fairly straightforward, with some water features that are more of an accent than a threat to your disc. While all 18 holes are par 3, you can count on a good mix of shots along the course, including a pair of long holes at 11 and 16, both of which are 400+ feet in length. 
Clear Creek Park: The New Kid on the Block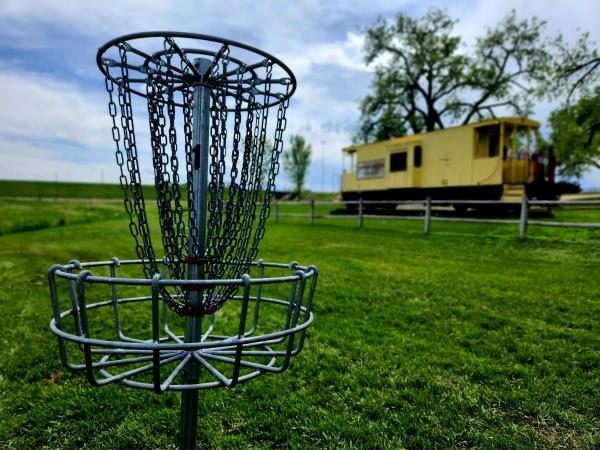 Clear Creek is not often mentioned in the talk of disc golf in Cheyenne. Much of this is due to the fact that it is a new course – established in 2022. Clear Creek came about after Laramie County moved the course from the fairgrounds in Archer. Today the course is still a work in progress but is very much open to play. Located south of Lincolnway off of Southwest Drive in Clear Creek Park, this 18-hole course has some beautiful holes to play, both open and technical, including a mammoth 891-foot Par 5 at Hole 8.
Little America: Westside Class
Little America Resort sports one of the newer courses in town, and one of the best reviewed. This is the only pay-to-play course in Cheyenne, and is referred to as a hidden gem. The front 9 holes are open year-round, while all 18 are open from October to April. Located just west of I-25 on Lincolnway, Little America's course is known for being fun, well-designed, and challenging with a few blind shots on the tee.
The Canyons at Leaning Rock: The Pine Bluffs Pioneer
According to multiple reviews from disc golfers The Canyons at Leaning Rock is loads of fun, but also the most challenging course by far. Missing the top-review spot by a decimal point, this course in Pine Bluffs, WY is highly praised for its fun and challenging, technical course. From the brilliant view from the tee on Hole 1, to the intense elevation changes, this course is part disc golf course and part hiking trail. Folks who reviewed The Canyons is fun, beautiful, and deserving of respect. They also remind other disc golfers to bring plenty of water!
Where to Get Started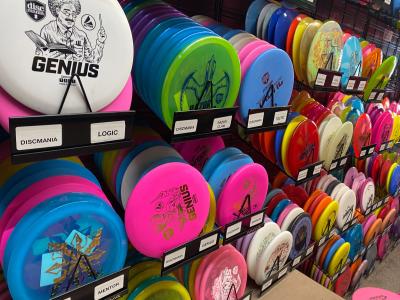 So you've found the courses and want to get started, but don't know where to go? Maybe a bad throw has a disc at the bottom of Mylar Park pond (I speak from experience on that one). There are a few places to pick up the gear you need right here in Cheyenne. One spot to try out is Jax Farm and Ranch. The chain store located in Frontier Mall offers a few disc golf discs from multiple brands.
On the local level, and with a much bigger complement of gear, is Rock on Wheels on Lincolnway. This store specializes in bikes and disc golf, with disc golf taking up two full rooms in the store! The helpful staff will help get you set up, whether it be a beginner set or your newest distance driver. To top it all off, everything they sell can be found online as well. Beginner sets are a great place to start, and tend to be less expensive. Expensive might by a relative term, as disc golf is far and away cheaper than its namesake.
Get Outside and Toss Some Plastic!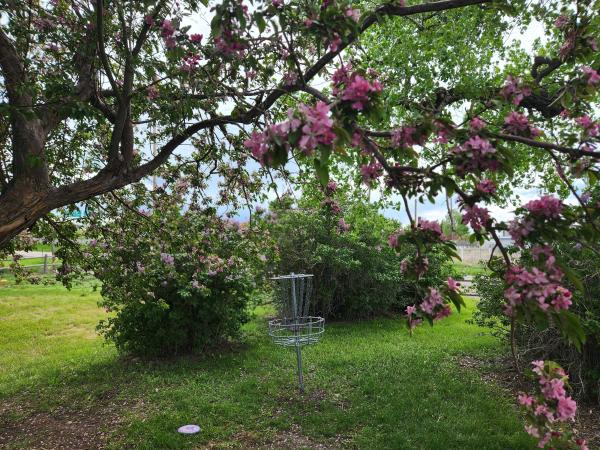 With many courses free to play and located in city parks, Disc Golf is a sport that can be enjoyed year-round. Diehards play in the snow, in the wind, and in the rain. But for the casual player, late spring to early fall are the best times to get out and play in Cheyenne. In May you'll find fruit trees, like crab apples, in bloom. Hole 2 at Clear Creek (seen above) is planted in lush, green grass and surrounded by blooming lilacs and apple trees in late May. June and July offer beautiful mornings and warm days, though mid-afternoons and evenings can give way to prairie thunderstorms. August and September, for many locals, are some of the best outdoors months in Cheyenne, as stormy afternoons are tapering off and temperatures are still very warm. 
Regardless of when you choose to go, Disc Golf offers the chance to get outside, get some exercise and do it without going too far out of your way. If you've never tried it, it may be worth giving it a shot. If you're a player planning on traveling to our through Cheyenne, we invite you to bring those discs along and have some fun! Maybe drop a line at the local Disc Golf Club's Facebook page and grab a game with some locals.