Newest Venues in Cheyenne Offer Ways to Beat the Heat During Frontier Days.
Cheyenne Frontier Days means rodeo, parades, the world's largest western celebration and tons of fun. It also means it's July in Cheyenne – and while the rodeo can be counted on to turn up the heat, so can the Wyoming weather. It's going to be a blast, but it's also going to be hot – and knowing where to go to beat the heat can add a bit of fun outside Frontier Park.
We're going to take you Downtown to three new venues that are guaranteed to cool you off and put a smile on your face. First up, we hit the CFD parade route at 17th and Carey, with The Boardroom.
Cool Off with Style at The Boardroom
First, don't worry, no boring meetings in here! The Boardroom's moniker comes from a play on words. You see, they specialize in charcuterie – cheese, meat and crackers often served on a wooden cutting board – hence the name "The Boardroom." There is far more to this little shop than just cheese and crackers. This clean, bright little shop offers coffee, ice cream, shakes, malts, and floats.

The Boardroom storefront on Carey Ave
 A Modern Take On a Golden Oldie
The Boardroom came to be because of a pharmacy – next door is another new shop in town, the City Drug Pharmacy. City Drug, a local pharmacy founded by Cheyenne local Kelsey Mulbach, with a focus on personalized customer service. Connected to City Drug – in the same building – is The Boardroom, owned by Kelsey's sister-in-law, Jamie Horsburgh. The idea between the in-laws was to harken back to the old days when drug stores often doubled as soda fountains. Enter Jamie and The Boardroom.
The Boardroom sits right along the Frontier Days Parade route, and they will certainly be open when the crowds are out to watch. Normally they are open from 8-5 Monday through Thursday and 8 AM – 8 PM on Fridays and Saturdays. During CFD they will have special hours, opening and hour earlier and closing at least an hour later!
What The Boardroom Offers
Expect to find ice cream from local makers, great coffee, and of course charcuterie! If it's a hot day at CFD and you find yourself Downtown, I highly recommend dropping in for Fannie's Root Beer Freeze – a root beer float in shake form and absolutely delicious.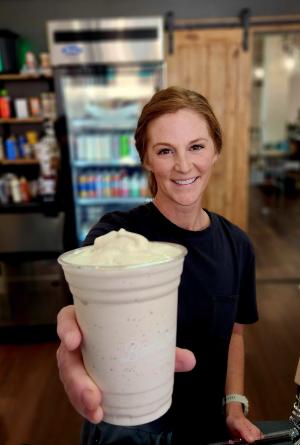 The Boardroom founder Jamie Horsburgh hands you a cold shake
The Boardroom is a perfect stop during or after the Grand Parades for a pick-me-up, or for some more coffee after a pancake breakfast. With ice cream involved, it's also a great stop to cool down after the rodeo.
Find Cold Drinks and Some Elbow Room at Westby Edge
Next up is literally the newest watering hole in Downtown Cheyenne – Westby Edge. Westby's Edge Brewing on 20th Street and Bent Avenue offers freshly baked pizza, cold beer, and a massive, family-friendly atmosphere.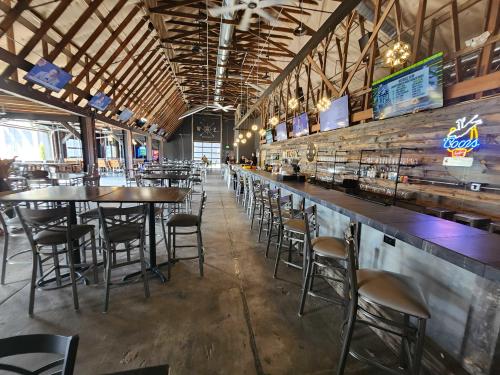 The vast interior at Westby's Edge
Roots in The West Edge
Founded by the Westby family, Westby Edge is located in a 100-year-old warehouse in an area known as Cheyenne's West Edge (See what they did there? The wordplay is strong with this batch!). The Westbys completely reworked the old warehouse – strengthening the structure, improving the acoustics for conversation, and more.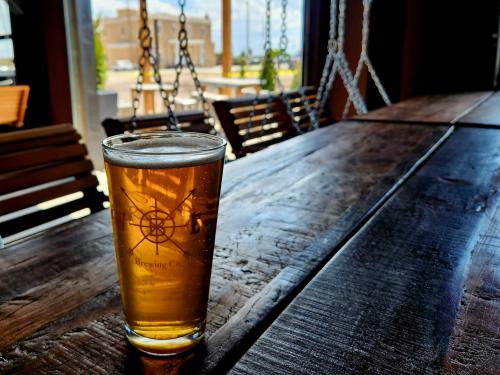 A fresh, cold beer at Westby's Edge
 What You'll Find On The Edge
When you step inside Westby Edge, the first thing will notice is, indeed, the size. This venue is massive – space for 250 people plus an event area that can host another 120. The bar – arguably one of the longest bars in the entire state – is built to match with 21 beers and three wines on tap. You can expect to find everything from the standard fare like Coors, to smaller operations like Great Divide. And yes, you read that right – they have three wines on tap, a white, a red, and a sparkling white.
If you've been cheering in the summer heat at the rodeo, Westby Edge is a great spot to drop in and cool off with a cold beer and get your fill on some fresh baked pizza.
Celebrate All Day at Railspur
Our last drop-in for beating the heat, directly south of Westby's at Lincolnway and Bent, Railspur. Like Westby Edge, 2023 will be the first Frontier Days for Railspur. Here you can count on craft cocktails, local spirits and regional beers – but there is a lot more to this modern hotspot.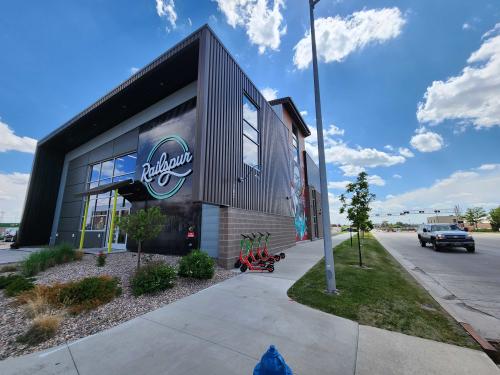 Two Chefs, One Idea
Founded by a pair of intrepid entrepreneurs Juan Coronado and Seth Stefanik, Railspur strives for a reputation of being well-crafted yet completely unexpected. It's a quadruple threat - a coffee stop, a bar, a restaurant (Juan and Seth are both professional chefs as well), and a nightclub!
What to Expect When You Hop Onboard
Railspur is open bright at early at 7 in the morning every day but Sunday (when it opens at 9 AM). In the mornings you can grab a cup of delicious coffee like the Bananas Foster Latte. For lunch, you'll find a concise but varied menu of deliciousness, including some of the best pierogis you've ever had.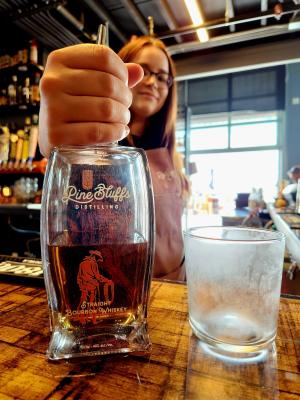 Frosted glass for a hot day. Railspur is one of the growing number of spots serving whiskey out of the local Pine Bluffs Distilling.
Finally, in the evening, Railspur shifts gears and transforms from a relaxed food and drink joint to a hopping nightclub. Fridays and Saturdays Railspur stays open until 2 AM for dancing late into the evening.
Railspur is the spot for it all – grab a coffee in the morning before a Grand Parade, get some lunch before the Rodeo, get a cold beer in the hot afternoon. If you're going to a Friday or Saturday Frontier Nights show, swing back into Railspur for some late-night dancing after the concert.
More Spots to Beat the Heat
If you're looking for more spots to beat the heat, there are plenty of opportunities out there. Staying in Downtown, you can head to 17th Street and Warren Avenue for a cold, custom soda at Beach Please. Beach Please, with its tropical aesthetic and plethora of flavors can craft a thirst-quenching soda for your thirsty gullet!
If beer is your thing, try one of the other four breweries in town, including Blue Raven at 18th and Warren, Black Tooth Brewing Company at 19th and O'Neil, Freedom's Edge at 15th and Pioneer, and Accomplice Beer Company at the historic Cheyenne Depot.