<<Read Time: 4.5 Minutes>>
As a perpetual Pollyanna, it's not often that I meet someone that matches my "we could DO that!" level of enthusiasm. Such an entrepreneur entered my world recently on a day trip out to Rabou Farms in Albin, Wyoming.
The published author, public speaker, and organic farmer Ron Rabou knocked me over with his open mind and creative thinking. A working farm that hosts corporate retreats? Hunting excursions? Farm life experiences for visitors? Yesssss! My mind continues to replay snippets of our adventure with the Rabou family: Tasting the freshest wheat I've ever had, toasted and seasoned by a budding chef; Sitting dwarfed behind the wheel of the giant John Deer combine like a kid pretending to drive my daddy's truck; My hair, whipping around my face in the front seat of a souped up golf cart, bumping along unpaved county roads and cattle pastures; Scrambling down sandstone formations to discover an unexpected world of ferns and moss. As Experience Strategist at Visit Cheyenne, I felt like Laramie County hit the jackpot with this family farm!
The Rabou Family
I always find touring a farm refreshes perspective to those of us who only speed by grain elevators on the highway at 65 mph and buy our flour all ground up off the shelf at the local grocery store. Tucked into the northeast corner of Laramie County, this family-run certified organic farm isn't average for Wyoming at all. In a state well known for ranching, Ron breaks stereotypes, producing organic wheat, lentils, millet, chickpeas, yellow peas, mustard, and flax. In fact, his 8,000 acres earned him one of three finalist spots in Farm Journal's 2019 Top Producer Award. Selection is based on entrepreneurial originality, financial and business progress, and industry and community leadership. Ron was one of the top three in the entire country… from tiny Albin!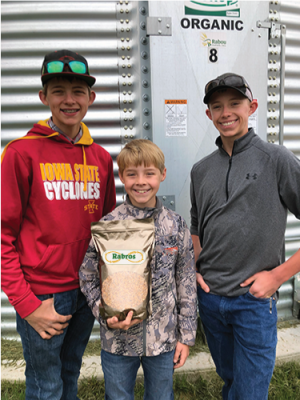 The awesome doesn't stop at Ron. A fifth (and sixth) generation of Wyoming farmers, the entire Rabou family invests in the business. Ron, his wife of 20 years Julie, and their three sons Carson (16), Spencer (14), and Mason (9) ensure the day-to-day operations are completed, in addition to their expanding ventures. The boys spearheaded "Rabros" (Rabou Brothers), the newest division of the farms. Dabbling in direct-to-consumer production, the boys are starting in the form of raw wheat and toasted wheat snacks. The middle brother Spencer creates his own recipe combinations for the snack line (the foodie has won the Chugwater Chili contest several years as well, so he certainly has a knack for this!) While the foundations of the business are still being established, the boys seek to ask future consumers, "What's in your pantry?" and encouraging the purchase of local grains, directly from the farmer, "making a difference one kernel at a time." In turn, the family plans to donate a portion of their profits to benefit children in Wyoming, potentially in partnership with the Wyoming Hunger Initiative run by First Lady Jennie Gordon. Watching this family raise community-minded (not to mention polite and good-natured) young men makes me excited for the future generation of Wyomingites.
The Farm

Exploring the property revealed more and more potential. The "hunting lodge" (seasonally used for groups that come to hunt with Black Canyon Outfitters) sleeps 9 guests and would be ideal for a small team-building or leadership training trip (which Ron happens to able to facilitate). There is a commercial kitchen where cooking classes or group meal prep can take place (or meat processing, if you are on a hunting excursion). And let's not overlook the game room, complete with a pool table, foosball table, a bar, and comfortable seating. A quick tour of the farm facilities allowed us to see equipment up close and tiny chicken-herding dogs!
Hidden Treasure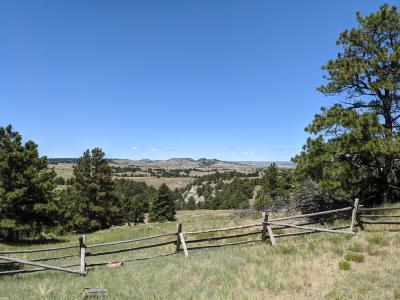 The true gem of Rabou Farms, however, was the pastureland for the cattle. Expecting more of a spin on my previous Bovine Experience, what lay ahead took me completely by surprise. Driving up, flat farmland stretched on and on, until, without warning, pine trees, rolling hills, canyons, and a crystal-clear view of Laramie Peak appeared out of seemingly nowhere. A startled whitetail deer bounded out of site as we drove into this little slice of Wyoming heaven. Our collective Visit Cheyenne jaws dropped open.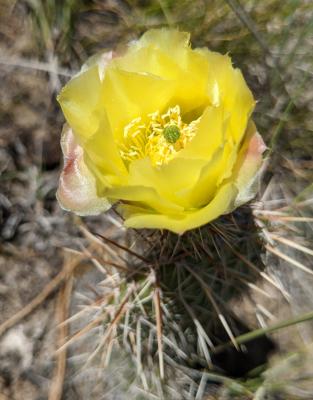 Climbing out of the side-by-side at the edge of a drop off, we gingerly dodged the prickly pear cactuses, blooming with yellow, orange, and pink ruffles perched like fascinators. The cactus - and the sheer drop in front of me - were motivation not to reenact Chris Farley's tumble down the unending hill in Black Sheep. But the absolute astonishment of the moment overtook us; Visit Cheyenne promotes the entirety of Laramie County – and we had NO IDEA this was here! 
The Adventure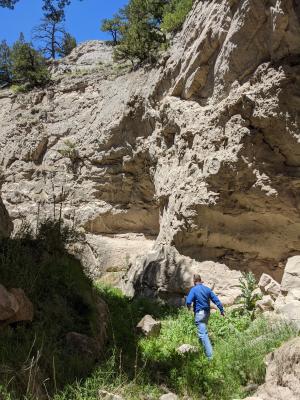 The next hour was spent scrambling down a sandstone draw that went deeper and deeper into the land. What started out looking like a simple walking path rapidly developed into a canyon, towering over our heads. Lack of a rope stopped us short from getting all the way down to the natural spring at the end, but the child inside, full of adventure and determination rose to the surface of our personalities as we worked together to get in and out of the canyon. Adding adventure excursions to the list of offerings is well within reach for the Rabous.
More to Come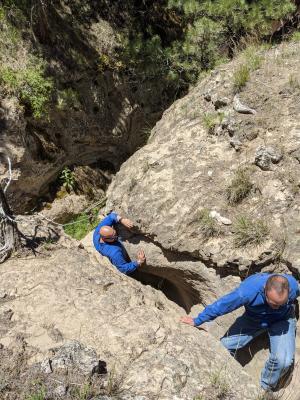 Rabou Farms has the potential to develop into one of our best experiential tourism assets in the entire county. Within an hour of Cheyenne, soon we will have customizable experiences for groups with connections to volunteer and agricultural tourism. This landowner with a heart for entrepreneurship is well-poised to accommodate day trips for many types of travelers passing through the region as well as build relationships and educate local residents about food production in an up-close, relatable, hands-on way. I can't wait to see what Rabou Farms develops next!
---
For more information on Rabou Farms and the latest on what they are offering, visit www.RabouFarms.com
For other Cheyenne trip ideas, check out our Legendary Road Trip page!