Cheyenne Frontier Days is here, and so are you! Whether this is your first CFD or your 50th, it's always good to know where the best spots to visit are – especially when they are new.  In this article, we'll show you around Cheyenne and look at a few of the newest spots to drop in on during your visit during CFD!
 
1 – Railspur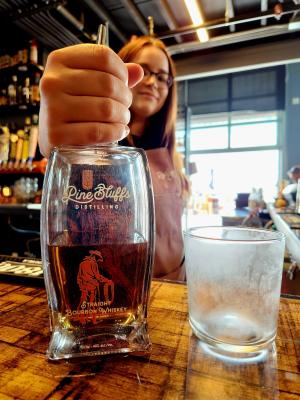 Railspur is one of two new watering holes on the West Edge of Cheyenne. Offering everything from coffee to craft cocktails to delicious food, this special spot on Bent and Lincolnway transforms into a nightclub late in the evening on the weekends.
2 – Catz and Coffee Connections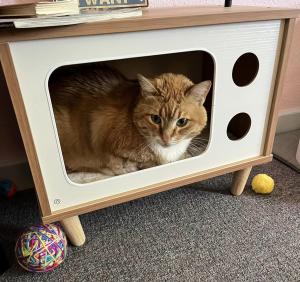 Cat Cafés are a growing trend in the United States and internationally. Catz and Coffee Connections is the first and only cat café in Cheyenne. Sit back, sip some coffee, have a snack, and enjoy the company of multiple adoptable cats in this charming little spot on 20th and Bent. Cats and Coffee Connections opened in late 2022, and this will be their first Cheyenne Frontier Days. Pay a small entry fee and then explore the two-story café, or pour yourself some fresh, pour-over coffee among the many friendly felines! Who knows, you might just leave with your new best friend.
3 – Moody's Rock Stop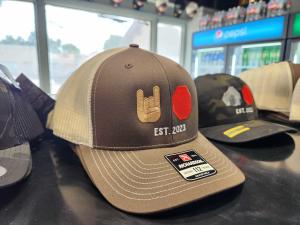 Founded by Five Finger Death Punch frontman Ivan Moody, Moody's Rock Stop is breathing new life into an otherwise shuttered gas station in Downtown Cheyenne. This private gas station is focused on community impact and serving patrons with convenience. For our military members, the Rock Stop offers a 5-cent discount on gas and a 10% discount on merchandise inside the store.
4 – Westby Edge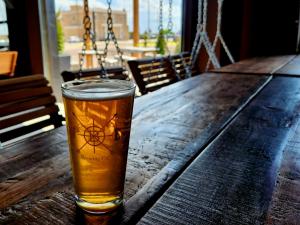 Westby Edge is the newest brewery in town. Freshly opened this summer, Westby Edge offers a huge venue, and a great variety of on-tap beers and makes use of an old warehouse that has been refurbished into a wonderful spot to grab a drink and a bit of pizza.
5 – Chute 10 Mercantile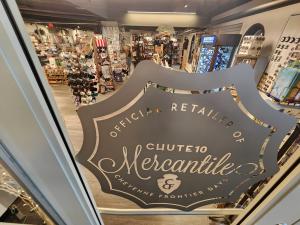 When you're visiting for Cheyenne Frontier Days, it's always a good idea to drop by the CFD Old West Museum. Inside, the mercantile store has been moved and rebranded. The new, bigger store is the best place to get official Frontier Days merch!
6 – Twinkle Twinkle Little Store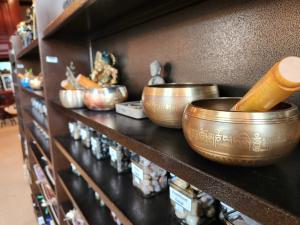 One of the newest stores in Cheyenne in 2023 is located in one of the oldest buildings. The beautifully decorated Tivoli building is now home to Twinkle Twinkle Little Store, a New Age shopping spot. The Tivoli was a bar and even a brothel in its early days in the late 1800s in Cheyenne. Today, it's Western meets Bohemian style makes for a beautiful shopping venue. From crystals to sculptures, books to readings, Twinkle Twinkle Little Store is a spot to drop in on for any curiosity or New Age needs.
7 – Wild J Trading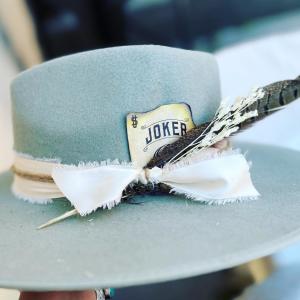 Just in time for Frontier Days, Wild J Trading is opening its doors at a new storefront. Getting a new cowboy hat is a fun way to commemorate your trip to Cheyenne Frontier Days, getting your own customized hat can be even more fun! Wild J Trading offers hats and ways to make that hat your own. Wild J offers hat bands, feathers, and playing cards (plain or burnt!) to add to your personalized hat. For anyone wanting to get a new, personalized piece of the West, this spot is a must!

Cheyenne Frontier Days is a blast to experience, and you can add to your fun and thrills by exploring outside the Frontier Park area. From Frontier Mall on the north side of town to all the new things happening in Downtown, you're bound to find something you'll love. As always, remember to keep tabs on the Visit Cheyenne website for information on the newest spots and attractions in Cheyenne!