When we go about shopping, often it is the way a product makes us feel that determines if we buy or not. In that regard, few words have as big of an impact on many local and visiting shoppers as "Made in America." But what if that was not only true, but the producer took it a step further?
"Made right here! Wanna see?"
 That would be an apt phrase for the products of the local phenomenon known as Alexis Drake. Nestled between 15th Street and Lincolnway on Carey Avenue, Alexis Drake offers jewelry and accessories for every day, along with their wheelhouse offering – leather handbags, purses and accessories handmade in store daily. From large totes of black and teal leather, to classic brown men's satchels made from bison leather, to everyday helpers like wallets and coin pockets, the Alexis Drake store has just about anything you can think of when it comes to handbag fashion. If they don't have it, they can probably make it. Best of all, customers have a good chance at saving some money at this unique location as well – more on that later in the blog.
Alexis Drake has its roots spread across the globe, from Chicago to Greece (the "Drake" in Alexis Drake comes from the owner's Greek roots), but trust me, it's 100% pure Cheyenne. Founder and owner, Lexie Garrett is a Cheyenne native who launched Alexis Drake back in 2007 while living in Chicago as a jewelry line. After a brief break from the business, and finding herself back in Cheyenne wither family, Lexie launched Alexis Drake – the one we know today – in 2013. In 2015 all handbag production switched to in-house and the rest is history.
I visited Alexis Drake to see it all for myself. Now, I'm no expert when it comes to fashion. I can barely color coordinate on a good day. But even with my lack of fashion knowledge, it became very clear as soon as I came in that these bags were made with anyone and everyone in mind. Some bags have a western flare, others giving off a classy urban vibe, while others still looked like they were ready for whatever adventure you are tackling next.
I spoke with project manager Sammy Geyer about the products. According to Sammy, Alexis Drake is all about the experience.
Did she mean the experience of shopping for a new bag? Well, perhaps. Maybe the experience of finding a bag just right for you? But of course! Maybe it's all the above and then some? Bingo. Customers get the chance to buy a handmade bag, but they also have the option to go a step further and be a part of the process. One can choose from leathers and materials Lexie provides, but one can even bring some of their own materials as well to see if they can be used. To top it all off, first time customers can get 15% off their first purchase through the Buck Off Savings Pass.
Alexis Drake carries multiple lines and styles they keep in stock, but customers also have the option to customize their own bags. Among the items I looked at, Sammy pointed out the Belt Bag Clutch hanging on the wall. I may not be fashion forward, but I am a sucker for utility and usefulness. The Belt Bag is all that and a bag of chips… er… a bag of very good-looking leather, rather. It's simple but varied style was inviting, the bright colors available made it stand out, yet its design made it abundantly clear it was meant to be both shown off and used.
So what goes into making these utilitarian, fashionable bags, and all the other bags at that? I was able to find out right away. Walking into the store, there is an open doorway to the right that invites you to see various items on sale. Another door at the end of that room, however, opens to the manufacturing room where the leather-bound magic happens. On this particular day there were four people working: Head Seamstress Jenn, Seamstresses Joanna and Rachel, and Leathersmith Frank. All were busy, working away and making their respective bags and straps, but all were happy to talk to me, welcoming, and quite obviously proud of and loving what they do. As she worked on making her bag, a custom piece with western tassels, Jenn told me it takes a seamstress an average of about an hour and a half to make one handbag, sometimes less, like with the Belt Bag, and other times, like with the tough Bison leather Tyler Messenger Bag, up to 4 hours. Each bag is carefully stitched with on an industrial sewing machine. The shop has several, all of them have names.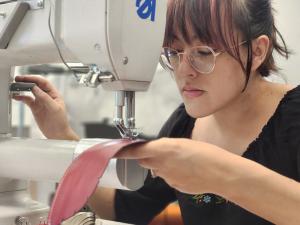 Head Seamstress Jenn Cueves works her industrial sewing machine at Alexis Drake
Rachel told me as she worked on her bag that customers can customize their bags, and the shop has seen many different materials come through. Rachel told of customers asking a bag to be made from a pair of cowboy boots, and another asking the inside lining to be sewn from her mother's wedding dress.
Meanwhile, Frank, the Leathersmith, works on belts and straps for the bags. Frank, a retired career military man, says his work with Alexis Drake is not just enjoyable, but keeps his arthritic hands limber. Starting with a whole piece of uncut cow leather Frank will cut strips of all widths and sizes. He carefully treats them and edges them before expertly installing buckles and clasps. The final touch comes with an indented mark of the Alexis Drake Brand on the strap.
The entire crew puts pride in their work, and it shows, not only with the consistency of their creations, but with the durability of it all.
"They last." Frank told me when I asked what customers get when they buy an Alexis Drake bag, "I've seen bags from ten years ago come in and they look great."
They all look great, to be honest. The store expertly shows off its bags and makes it clear the company makes bags for everyone for every occasion. From casual everyday use to black tie luxurious, it's all fashionable and functional. Above all, every last stitch of those bags, wallets, purses and folders are made right here in the Capitol City.
Of course, don't take my word for it. Walk into Alexis Drake and see for yourself – and don't for get your Buck Off Pass for some savings – you just might walk out with your newest fashion statement.