Cheyenne's Historic Walking Tours have long been a chance to see history come alive in the Capitol City. From the large buildings of the Wrangler and the Hynds to the mansions that once dominated the city's neighborhoods, like the Nagle-Warren or the Whipple. Depending on how far you are willing to walk, the first two tours offer plenty to see, with option 1 being the shortest, and the 2nd option a medium walk. But if you're willing to go the extra mile, so to speak, the third option, Tour #3, will take you to a spot in Cheyenne as fun and unique as it is historical.
                It's called the Corson Queen Anne Cottage – it's item #55 on the tour, and sits near the corner of 18th Street and Warren Avenue. The cottage was build by the man who lived there, Samuel Corson. Corson, a Scotsman and eventual Wyoming State Representative, used plans of famed architect George Rainsford to build his own home where generations of his family stayed.
                Today one of Cheyenne's oldest houses is home to one of Cheyenne's youngest breweries: The Blue Raven. The main house is now the bar and taproom, while the carriage house out back is now the brewery. There is a patio that's open when the Raven flies free of winter's clutches, and a brand new front porch area meant strictly for those 21 or older.
                Formerly known as DanielMarks Brewery in recent years, the house has been a go to for many beer coinsures in Cheyenne. The regulars loved the unique spot – a brewery with good, local beer housed in a charming, historic spot in Downtown. When the owners of DanielMarks made it know they wanted to move on, it was the folks who loved the brewery who stepped up to keep the beer flowing. Three men – Rick Hart, a regular customer, Ryan Willson, a bartender at the brewery, and Kevin Tighe, a brewer for DanielMarks, banded together to make it happen. DanielMarks would put up for sale and six months later Rick, Ryan and Kevin bought it and established the Blue Raven Brewery.
                The brewery is named after one of the beers DanielMarks was known for, and they still serve that brew today along with four other flagship originals and five others that rotate. Since 2021, the brewery has operated under the Blue Raven title.
                The current owners tell me one of their goals was to create a "Cheers" vibe, citing the theme song for the 1980's sitcom – "Where everybody knows your name."
                As I walked into the brewery on an ordinary, cold winter Wednesday I was greeted by the bartender, Monkey. He had a long goatee and a relaxed vibe about him. I never found out just where the name Monkey came from – I didn't ask – but as I took a seat and waited for the owners I was there to talk to, two more people came in.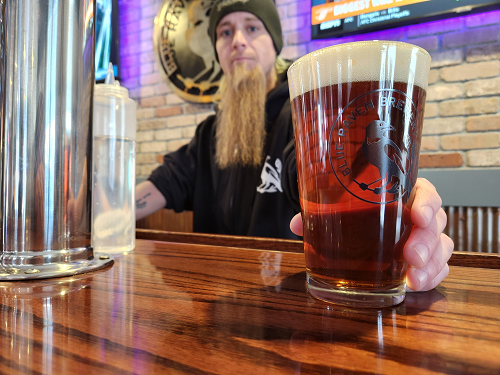 Monkey the Bartender presents a beer for the camera
                "Hey, Barry!" Monkey said, greeting the next person by name as well. Three more people came in over the next few minutes, and every one of them Monkey knew the name of. That "Cheers" vibe they wanted? Mission accomplished.
                I took the brewery in from the bar, noting how the relatively smaller space afforded by the house was well used, and offered a cozy, welcoming feel. I was greeted by friendly patrons who talked to me about their experience at Blue Raven. This included Jon, a cowboy hat and duster sporting man who works the lumber industry. A woman recognized me from across the bar and said hello – but not in the normal way I get recognized by folks.
               "Hey, that's Linda's son!" she said. Her name was Mary Rose and my mother, a former teacher at Central High School, had been one of her teachers. That friendly welcome, the acquaintances, the warm and open feel to the place – topped off with the pet friendly policy of the establishment – it felt like it was welcoming me home even though I'd never actually been there before.
               Let's be honest, you can pick any brewery in Cheyenne and you won't go wrong. We have four here – all of them are excellent and all of them have something different to offer. Freedom's Edge is a small brewery with a lot of personality and excellent, ever creative beer. Black Tooth Brewery is the industrial powerhouse in town, and their beer is known far beyond just Cheyenne. Accomplice Beer Company at the Depot is one of the old hands in Cheyenne, and on top of very good original beer, they offer some of the best burgers and pizza in town. Blue Raven, for its part, prides itself on being the family and pet friendly brewery in Cheyenne.
              "We wanted it to be a place for everyone," co-owner Rick told me as we – Rick, head brewer Ryan, and myself – sat at a table.
              "We wanted to be pet friendly too." Ryan added.
              "We actually had our first cat the other day." Rick said with a humorous smirk.
              Monkey would join the conversation and add that the crew and customers alike get excited when folks bring their well-behaved big dogs as well.
              They also like to keep busy.
              From Poker Night to Open Mic Night to live music on Friday's, there's something nearly every night of the week at Blue Raven. Meanwhile, you can expect ten brews on tap here, five regulars and five rotating. The flagship beers in this roost include the smokey and smooth Irish Stout called "Iron Badger", the original "Blue Raven", an Indian Pale Ale. "Corson", named for the original owner of the house, is a German Pilsner, and Copper Heart is an American Amber Ale. Finally, there is the Fizzy Willy, a drink unique to Blue Raven – the only in-house hard seltzer in town, which changes up in flavor. When I visited last, it was a Passion Fruit seltzer, with Peach on deck to be next.
              Bring your love of beer, music and comradery – and well behaved, leashed pets too – to Cheyenne's newest brewery. Personally, I love all four of our breweries here in Cheyenne. You won't find a friendlier bunch anywhere than in the taprooms of Cheyenne, and Blue Raven, where many locals have come to roost, is no exception.