Andy here! Today I want to show you the best playground I know of... it doesn't have a swing set, but boy, does it have a jungle gym! Come on!
<<Read Time: 3 Minutes>>
Vedauwoo Recreation Area is a part of Medicine Bow National Forest, less than 45 minutes west of Cheyenne. The name is a bit hard to sound out – the "w" sounds like a "V," pronounced "VEE-dah-voo." The word comes from an Arapaho Indian word "bito'o'wu" that means "earth-born." The area has been around for a very, very long time – some scientists estimate that the formations could be as old as 1.4 billion years old!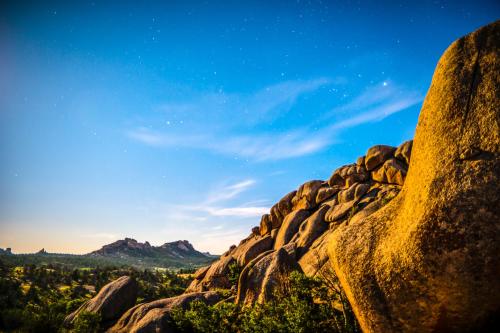 The formations are made out of granite – The rocks are very rough and there are many different colors and types of minerals in the igneous rocks. From far away, the rocks look pinkish-tan, but close up, you can see many speckles of grey, white, and black too! The formations were shaped by wind and water long ago, leaving huge boulders balancing on the tippy tops of huge piles of stone – sometimes I think they are held up by magic! The U.S. Forest Service says, "The general area was once used as a hideout for outlaws. Native Americans thought playful spirits piled up the boulders." Vedauwoo sure triggers the imagination!
One of Anne's and my favorite hikes is Turtle Rock Trail. The easy, 3.75-mile trail hikes all the way around the large formation (Turtle Rock – keep an eye out for the turtle shape!) and takes you through areas with beaver ponds, huge boulders, and shady trees. Anne is convinced there are fairies that live in the aspen groves. What do you think?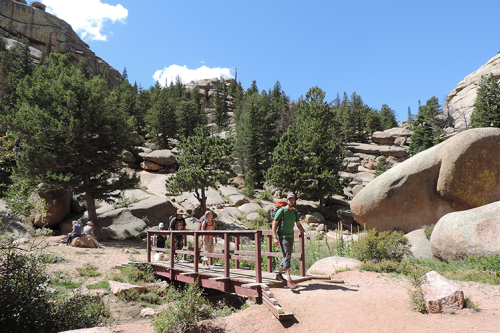 My very favorite activity at Vedauwoo is definitely rock climbing! Scrambling over the rocks (my dad calls it "bouldering") and exploring, seeking little caves and tunnels, and working my way to the very top of the rock piles is a great way to burn off all the energy I have. I like to watch the technical climbers too, with their ropes and harnesses – Vedauwoo is one of the best areas for technical climbs. Someday I want to learn to do that too! For now, I will stick to bouldering, an activity good for kids of all ages with good supervision!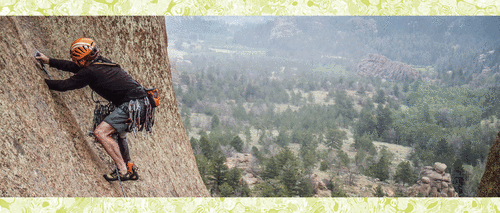 Nature has splashed this area with beauty – tons of wildflowers in the summer, golden aspen leaves in the fall, and snow drifts in the winter. Mom always brings her camera to capture snapshots of us having fun and to take pictures of the gorgeous area too!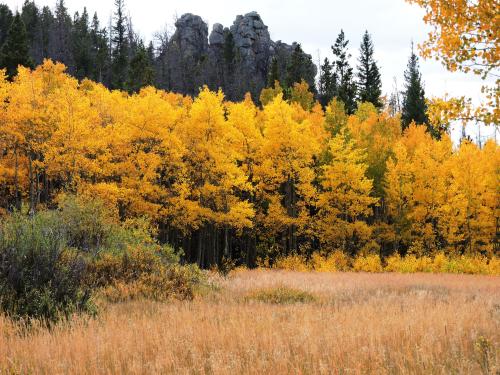 When not closed for winter and early spring (due to snow, mud, and the wildlife birthing season), the forest roads in the area make for a beautiful drive – watch out for moose and deer (as well as free-range cows and antelope!) These roads give access to various climbing areas, so if you'd like to avoid crowds, this is an option. The area nearest to i-80 has a campground with a $10/night use fee and a picnic area with a $5 daily use fee. Tables, fire pits (when there isn't a fire ban!), and vault toilets are available for use in these areas. The 28 camping sites also have access to potable water and trash service. Areas off the forest road do not incur a fee, but please take any garbage out with you!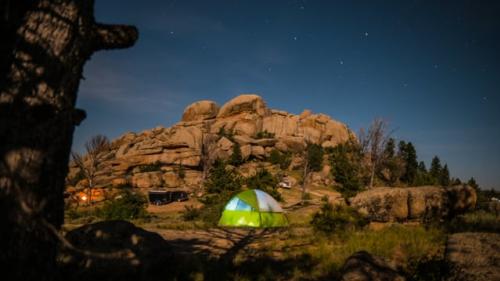 I hope you get to go play at Vedauwoo soon – keep an eye out for us. I'd love to explore with you!