Walking into L'Osteria Mondellos Italian Cucina, you can close your eyes, take a breath and know exactly what you're getting into. The smell of fresh baked pizza fills the air. Various cheeses, meat toppings like pepperoni and sausage, fresh tomato sauce and herbs like oregano and basil – it all inundates your senses and you know you're in for a delicious treat. Opening your eyes you can see the different pizza pies waiting to be served New York style by the slice. In the back of the kitchen, the hot oven – you can feel the heat from the entry way – opens up, revealing several baking pizzas. Using his faithful paddle, owner Joe Mondello skillfully pulls a baked pie from the oven and sets it on a clean prep counter to be packed or sliced. Joe greets you with a smile, his warm and fast Italian accent, combined with everything you see, feel and smell, transports you to another place - perhaps a kitchen in Italy, or a pizza parlor in New York City. Regardless of where it takes you, you just know it's going to be good.
               Over time Cheyenne has seen good Italian food come and go. One fixture in Cheyenne, present and serving Cheyenne since the mid 1980's, is L'Osteria Mondellos Italian Cucina, roughly translated to "The Mondellos Tavern and Italian Kitchen." Most locals who know of the spot on Stillwater Avenue, just south of Dell Range, call it simply "Mondellos" and know them for their delicious pizza.
A Legacy of "Yum!"
                 Founder Joe Mondello is as authentic as they come: born and raised in Italy, before emigrating to the United States in the 1970's. In 1986, bringing his know how and his love for Italian cooking, Joe opened the first Mondellos in Frontier Mall before trying other pizza ventures around town, including on Lincolnway and downtown Cheyenne. Joe eventually opened the current Mondellos location on Stillwater Avenue, where patrons were offered an affordable pizza parlor experience up front, with a full restaurant, complete with more in depth Italian options, in the back.
                 For more than 35 years Mondellos has been serving Cheyenne with delicious pizza and authentic Italian food. Things have changed over time – only one Mondellos location exists today on Stillwater Avenue. The restaurant in the back is closed, and Mondellos focuses mainly on that famous pizza. Currently, as of this blog's writing in February, 2023, Mondello's still offers hot and cold subs along with their famous New York style and Sicilian style pizzas. But after a lengthy career making pizza's Joe is looking hang up his apron and pizza paddle and retire. But what would become of the restaurant? Would it be sold to become a different store or diner? No – Joe wanted the Mondellos legacy to continue, and it looks like he got just the folks for the job. As we are all familiar, all good things must come to an end – but like a good movie, Mondellos is getting a sequel.
Same Pizza, New Owners, Bright Future
                Jasmin "Dave" Agovic and his wife Anika love food, and they love Mondellos. Anika has lived in Cheyenne since she was 7 years old, and grew up on Mondellos pizza. When she and Dave were dating, she introduced him to Mondellos when he was craving New York Style pizza (he'd lived and worked in New York for a time). Mondellos authentic pizza did the trick, and he was in love.
When the chance to buy Mondellos was presented to them, they jumped on it. Dave knows what he's doing, and Anika knows what Mondellos is supposed to be. Both respect Joe, and both love the restaurant – neither wanted to see it disappear. Dave and Anika intend to continue Joe's legacy, and perhaps even add to it.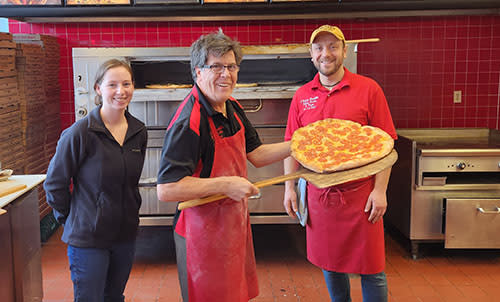 Anika Agovic (left), Joe Mondello (middle) and Dave Agovic (right) pose with a fresh pizza in the Mondellos kitchen.
                "We're going to be bringing new levels of gastronomy to Cheyenne," Dave told me, "I love how people in Cheyenne have treated me. I want to give back to this community through my experience."
Dave, a native of Montenegro, has experience in fine dining and Italian restaurants -- from luxury dining on cruise ships to working at Napoli's, another local Italian joint in Cheyenne. Now he and Anika intend to carry on run their own restaurant using the foundations Joe Mondello established three decades ago.
Carrying on the Legacy, Making Their Mark
                Dave says Joe, for his part, is very particular about how things are done and made in the restaurant. While he sold Mondellos to the Agovics, he is sticking around, for a time, help smooth the transition out. In the meantime, Dave and Anika intend to keep the recipes that made Mondellos successful the same. As we sat down for a conversation, Dave and Anika told me they intend to keep Mondellos the same as its always been – maybe adding a few things, but taking nothing away. The same pizza dough, the same ingredients, and the same food they've become well known for. There's the New York Style pizza to be had by the slice in various flavors. My personal favorite is called "Joes Favorite", made with sausage, plum tomatoes and olive oil. There's also the ever popular pepperoni rolls – pizza dough baked with cheese and pepperoni inside and a few slices of pepperoni on top. The rolls are simple enough but utterly delicious.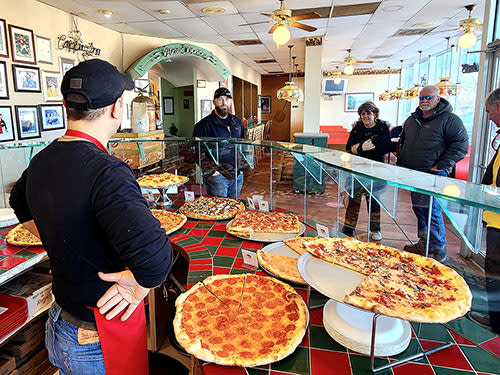 Jasmin "Dave" Agovic greets customers as they look on at the choices of pizza at Mondellos
                Perhaps one big change they do hope to make is reopening the restaurant in the back. Filled with dining room tables and offering a finer dining experience, Dave and Anika want to bring back the larger Mondellos experience. Dave also wants to bring his love for Mediterranean food to the forefront. While the restaurant will focus on Italian food like lasagna, pasta dishes and others, the couple are looking at possibly adding specials over time that highlight other Mediterranean foods – Greek, French, Spanish, and others.
                Dave and Anika intend to hire more workers, create a positive, welcoming work environment and create a fun and delicious spot for customers. They also hope to open the restaurant dining room by summer. Cheyenne residents and visitors alike can expect the same, reliably delicious, authentic pizza experience we've all come to know and love while looking forward to the new things the Agovics plan to bring to the dinner table. You can count on the same sights and smells that you've always had when you walk into Mondellos, but this time, keep your eyes out for something new and exciting coming in the future.