Hey y'all! Andy here, writing from one of Cheyenne's best-known attractions, Terry Bison Ranch! Follow me and I'll show you around a bit to help you plan your visit.
<2 minute read time>
This ranch has been around since the 1880s, although it was filled with cows and sheep in the beginning. The ranch was owned by the state's first governor, Francis E. Warren. He was good friends with President Teddy Roosevelt, inviting him to stay on the ranch several times in the early 1900s.
Today, the ranch is home to many types of animals, including camels, ostriches, peacocks, goats, and of course, bison! There are approximately 3,000 bison living on the ranch, spread out across almost 43 square miles in both Wyoming and Colorado, giving the huge animals plenty of place to roam. There are often wild elk and pronghorn antelope that migrate through the land too. Keep an eye out!
  
Terry Bison Ranch is free to visit – and has plenty of areas to explore. Climb the catwalks to see a bird's eye view of the animal pens, go pet the huge draft horses, or see if you can spot one of the kitties that guard the grounds. Depending on what time of year you visit, there are frequently baby animals to ooh and ahh over – that's Lil' Shy Anne's favorite reason to go!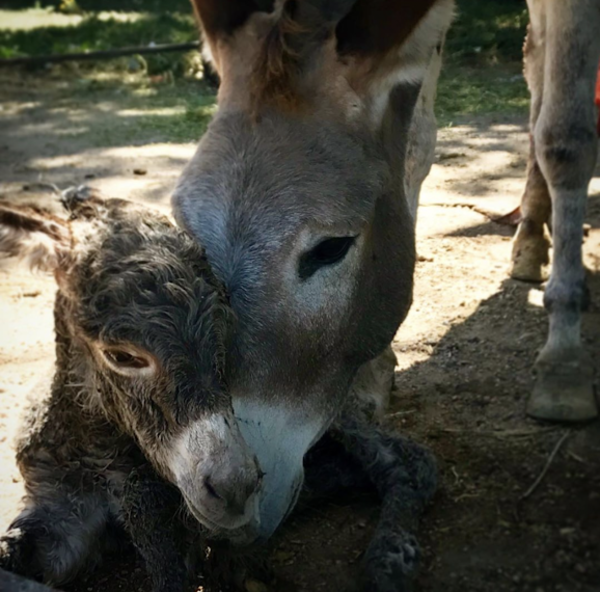 Many families enjoy splurging for tickets to ride on the Bison Train. The 45-minute adventure takes you past the critters, gives you background on the ranch, and delivers you right to the middle of the herd to hand-feed the bison! Get up close and personal with these huge beasts and feel their sand-papery tongues take the treats from your fingertips, all from the safety of the train (the only place in the world you can safely feed bison!)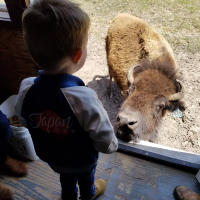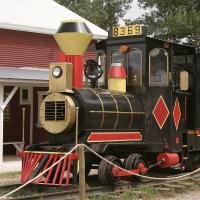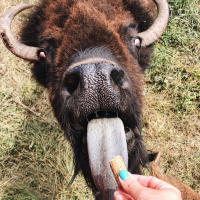 Terry Bison Ranch also offers horseback trail rides, ATV tours, a trick pony, draft horses, free wagon rides in the warm months, a trading post with plenty of souvenirs, as well as an RV park, tent spots, and cabins for rent, if you'd like to make a whole trip of it. They have the Tombstone Café available in the mornings and Senator's Steakhouse opens for lunch and dinner at 11 a.m., in addition to a drive-in movie theatre/concert venue that adds to the wealth of fun the roadside attraction offers.
No matter the season, make sure to check the Buck Off Cheyenne Savings Pass and the Legendary Pass for additional savings on your trip to Terry Bison Ranch – they can't wait to host you!