Being so close to Downtown, it's easy to find food and drinks during Cheyenne Frontier Days that everyone will love.
It's Frontier Days – the rodeo is giving everyone afternoon thrills, you're experiencing the sights, smells, and fun of the Carnival Midway, you've been entranced by the dances in the Indian Village, and you've maneuvered through the crowds and shops of Frontier Town. You may even have a night show to get to later! You've experienced the fun of Frontier Days, but what about those all-important meals during your adventure?
The Carnival Midway offers some awesome food and drinks, but there is even more to experience outside of the park. Just head south to Downtown Cheyenne, and experience it yourself. This year, along with reliable classics, there are some new venues worth dropping in on during CFD.
Frontier Days has two big events that happen multiple times outside of the park area: The Grand Parade and the Pancake Breakfast. Both of these happen in the Downtown Area in the mornings, and both are great opportunities to experience the city of Cheyenne, where your next treasure may very well be waiting. Dive in with us as we guide you through a few spots to visit in Downtown Cheyenne while you take a breather from the CFD excitement.
Downtown Dining: From Classic to Unexpected
Exploring Downtown Cheyenne means shopping, food, and never knowing exactly what you may run into. While the downtown area may surprise you, navigating the area shouldn't. It is a flat area spread out in a standard grid style, making it very accessible, easy to walk, and not get lost. No matter where you want to go, there is a good chance you're just a couple of blocks away.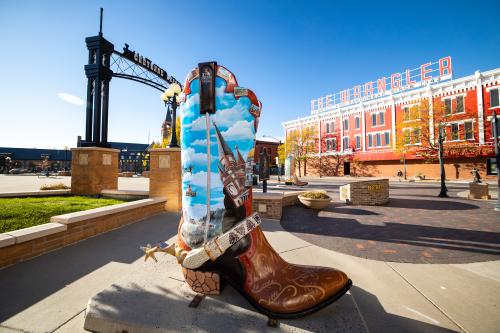 How to Get There
Parking in downtown Cheyenne can be a little tricky during Frontier Days if you are looking for standard streetside parking. However, there are two parking garages in Downtown and a parking area south of 15th Street from O'neil Avenue to Thomes Avenue. If you'd like to avoid parking or driving altogether, try renting an electric scooter or taking a rideshare.
Grab a Bite, Sip a Beer, and Get Energized
Downtown Cheyenne offers plenty of opportunities to find food and refreshments. From coffee to beer, steak to gumbo, you can find something for everyone when it comes to food.
Start Off the Day Right with Coffee
Start off the day with some coffee! The Paramount Café on Capitol Avenue, and The Crooked Cup on Carey Avenue both offer unique drinks and premium coffee. Try a honey and cinnamon-laced Crooked Bumble Bee at the Crooked Cup or a Butter Beer at The Paramount.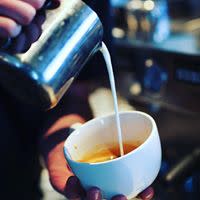 One of the newest spots to find a morning brew is at Railspur on 15th and Bent. Railspur will be on here more than once, as it's a venue with many faces. In the morning, however, drop in and enjoy some fresh coffee, like their Banana Foster Latte.
Another new spot to find coffee in Cheyenne is The Boardroom. Here you'll find everything from hot lattes, nitro cold brews, and even kombucha!
A Hearty Western Breakfast: The Omelet House and The Good Egg
If you'd like to take a little more time enjoying your morning routine and get some breakfast, The Omelet House on 17th Street is a historic venue with delicious breakfast food. Try the Strawberry French Toast and some locally roasted Snowy Elk Cold Brew coffee.
The Good Egg, at the Cheyenne Depot, also offers great breakfasts, from classic to classy. Try the Smoked Salmon Bennie (a classy twist on Eggs Benedict).  
Lunchtime? Downtown Has Your Jam
For lunch, you have multiple options. Sanford's Grub and Pub has huge servings and a spicy Cajun twist – try their delicious jambalaya!
Something a Little Different: Nipa Hut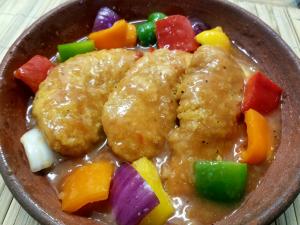 First, let's start closest to Frontier Park – just down the block to the east of Frontier Park is a spot called Nipa Hut. This fun little restaurant specializes in Filipino food, including steams buns fills with pork or chicken and egg – perfect for a quick lunch. For either lunch or dinner try the spicy comfort food, Pork Sisig.
The Corson Combo: Tortilleria La Paz and Blue Raven
Heading into Downtown, find authentic Mexican food at Tortilleria La Paz on 18th and Warren – here you'll find delicious carnitas, barbacoa, and more. They advertise they are the best burritos in town – you'd be hard-pressed to prove them wrong. If you grab your food and walk over to the brewery across the street, Blue Raven, to eat your meal and have a beer, that's what we call the Corson Combo (after the historic house Blue Raven is located in).
 Depot Delicacies: The Albany and Accomplice
The Albany, next to the Cheyenne Depot, is a great spot to find classic America and Western fare, including their famous Prime Rib Sandwich (that horseradish has some serious punch!)
Another spot at the Depot is Accomplice – we mentioned the Good Egg already, and at noon the Good Egg switches over to Accomplice, a great place for American-style food, pizza, and house-brewed beer.
Big Downtown Burgers: Two Doors Down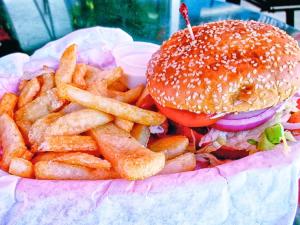 If you love burgers, find plenty of food and lots of value at Two Doors Down, where burgers are king. The Peppercorn Burger is the author's personal favorite. Half-pound burgers and all-you-can-eat fries? Yes, please!
Cool Off and Refresh
Cheyenne Frontier Days is in July – and Cheyenne Julys can get plenty hot. Make sure you bring plenty of water to stay hydrated, but when you want something a little extra, just head Downtown!
Tropical Drinks and Icey Treats: Beach Please, Choo Choo Moo and The Boardroom
With the summer heat beating down cool off and refresh at Beach Please, over on 17th and Warren. Beach Please specializes in custom sodas, energy drinks, and smoothies with a tropical flavor focus. The Barracuda will put a spring in your step, or try a Cheyenne Beach for some root beer-based refreshment.
If ice cream in the heat of the summer if your jam, we've got that too! Head over to Depot Plaza, and right next to The Albany you'll find another gem: Choo Choo Moo ice cream. This little ice cream truck sells locally made ice cream crafted with milk from Wyoming cows. Love Potion #9, with a vanilla base, strawberries, and cheesecake chunks is a real crowd-pleaser!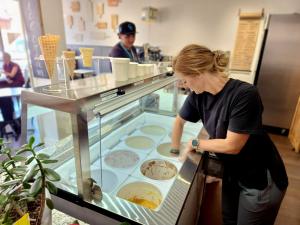 Going back to The Boardroom, you'll be able to find an energizing snack or delicious ice cream. Personally, I highly recommend Franni's Root Beer Freeze for a delicious, cold shake.
Cold Beer on a Hot Day
For some folks, cold beer is just the best way to go. In Downtown Cheyenne you'll find multiple spots to find locally made beers. From dark porters to crispy IPA's, you can find it all at one of Cheyenne's five breweries.
The Old Guard: Black Tooth, Accomplice, Freedom's Edge, and Blue Raven
We already told you about Accomplice – this is a great place to find beer and a bite to eat.
As we said before, Blue Raven on 18th and Warren is right across the street from Tortilleria La Paz. Blue Raven is located in an old Queen Anne-style cottage known as The Corson House. Try their signature Blue Raven IPA.
Freedom's Edge on Pioneer and 15th Street. This brewery is on the smaller side, but you won't find their beers anywhere else. The High Noon Chile blonde ale is a consistent favorite here.
Black Tooth Brewing Company is one of the larger breweries in town and offers a vast selection of beer as well as plenty of room at the bar. At Black Tooth, the Saddle Bronc brown ale is their most famous beer, but with a big menu, you can count on finding something you like.
The New Kid on the Block: Westby Edge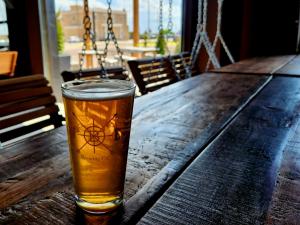 Speaking of plenty of room, that's what you'll find at Cheyenne's newest brewery, Westby Edge. With 21 beers on tap and one of the longest bars in Wyoming, this spacious venue is a great spot to cool off and kick back on a swing chair. The new lawn area is a great spot to eat some food, drink a beer and play games outside as well!
Delicious Downtown Dinners
Dinner in Downtown can be as varied as you'd like it to be. Places we've talked about already – Nipa Hut, Two Doors Down, La Paz, Accomplice, and the Albany all offer great dinner options. But there are a few more spots really known for their dinners you can hit up as well.
Keeping it Classy: Wyoming's Rib and Chop House and The Metropolitan
When it comes to beef, Wyoming's Rib and Chop House knows their way around steak. Known in shorthand to many as "Rib and Chop" the classy spot off Lincolnway and Thomes is a popular one for its classy menu with lots of variety. Try the pork chop or the cedar plank salmon for something special!
The Metropolitan Downtown is the place to go for a classic menu with some fancy twists and an elevated, polished atmosphere. Among some of their most popular dishes are a fun Brussel sprout appetizer and a bison sausage pasta.
 Cheyenne's French Connection: Paris West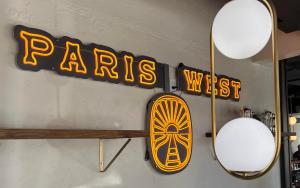 Paris West is one of the newest spots in town and offers something different – bringing a hint of French cuisine into the Cheyenne downtown. Paris West boasts a varied menu including burgundy beef, a Dijon-based Pork Paillard, and Steak and Potatoes. The restaurant has been in Cheyenne for a few years but is navigating Cheyenne Frontier Days under new ownership and a delicious, French-inspired menu that has something for everyone.  
Grab A Slice of Downtown: Bella Fuoco, Napoli's, and Bronx Pizza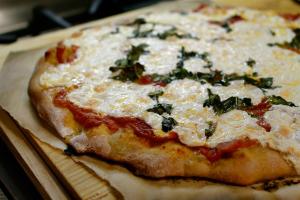 Italian food has a popular presence in Downtown Cheyenne. Bella Fuoco is a family-owned pizza restaurant known for their wood-fired pizzas and calzones. This smaller spot can get busy fast, but the rush is worth it and well known in the area. Try the Meatball Pie or classic Margherita pizzas!
Napoli's, located on Central Avenue, is a small but classy location that offers delicious takes on Italian food. A full bar and delectable dishes make this a prime spot for an Italian dinner downtown. A personal recommendation is to try the Frutti Di Mare – a seafood-based pasta in a garlic white wine sauce.
Sometimes you just want a slice of pizza. One of the best places to get just that – for lunch or dinner – is Bronx Pizza on Central Avenue. The New York-style pizza and pepperoni rolls are sure to please and hit the spot for any pizza lover.
Drink Up Downtown
After dinner, perhaps even after the Frontier Nights show you just attended, you may want to head to a local watering hole to cap off the night. Downtown offers multiple spots where you can grab a cold beer or a cool cocktail.
Hit up the Breweries
We mentioned most of our breweries already, but these are all popular evening hangouts in Cheyenne. Blue Raven, Black Tooth Brewing Company, Freedom's Edge, Accomplice, and Westby's Edge are all downtown, all open in the evening, and all ready to welcome you with cold, locally brewed beer.
15th Street Original: Chronicles Distilling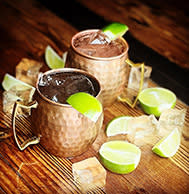 Opened in 2019, the 2023 Frontier Days won't be Chronicles' first rodeo. It will be, however, a fun spot to have some drinks and experience local spirits downtown. Chronicles distills everything on site in the historic Asher Building on 15th Street and Thomes, and offers whiskey, vodka, and flavored variations of the two. The Berry and Barb strawberry rhubarb whiskey and the Lemon Tart lemon vodka are both very popular. For a sweet cocktail, ask for a Lady Lavender, or for a bit of kick in your drink, ask about the Moscow on Fire Mule.
Fun Begins at the End of the Tracks: Railspur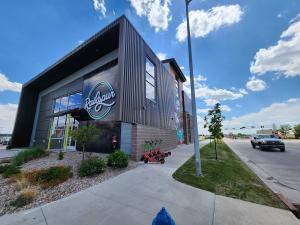 Railspur offers plenty of opportunities to enjoy the end of the tracks and find something unexpected. From coffee in the mornings to food for lunch (seriously, the best pierogis ever), Railspur shows off multiple talents throughout its open hours. Late nights on the weekends, however, the Railspur will really show off. The coffee stop by morning, bar and restaurant by day becomes a nightclub in the evening. Grab one of the house special cocktails and dance the night away at this new and very special venue!
We'll See You Downtown
Whether you are downtown shopping around, grabbing a bite to eat or a beer to drink, you can count on finding something you're going to love. You can also count on the Cheyenne local friendliness that we're famous for – along with some delicious meals! For more information on what to find Downtown and around Cheyenne and Laramie County, check out the rest of the Visit Cheyenne website at Cheyenne.org.