<<Read Time: 4 Minutes>>
To quote Ron Swanson (Nick Offerman's character in Parks and Rec), "There has never been a sadness that can't be cured by breakfast food."
If that is, indeed, the case, we ought to have a quite joyous city here in the Capital. A variety of breakfast and lunch hubs are spread across town like melting butter on toast, so you are sure to find happiness in any corner of the city. These aren't just any regular spots in Cheyenne, they are fun breakfast places where you can start your day with a smile.
Top Local Breakfast Places in Cheyenne
Cheyenne is home to a variety of breakfast restaurants in Cheyenne, WY that have shaped the town and its people. From traditional diners to innovative brunch spots, these local breakfast restaurants have become a part of Cheyenne's identity.
1. Diamond Horseshoe – The Local's Hangout

Address: 404 Central Ave, Cheyenne, WY
Hours: 6 AM - 2 PM Everyday
Not far off I-80, Diamond Horseshoe is a locals' breakfast hangout, perfect for the traveler who wants a piece of true Cheyenne as they are passing though. The comfort food served until 4 p.m. (2 p.m. on Sundays).
Ranch-Inspired Breakfast Classics
Drawing in the western elements of Cheyenne, the décor certainly pays homage to ranching life- and the breakfast aims to feed you like the cowboys coming in for breakfast after chores.
What the Locals Say:
"I eat here at least once a week. This is truly a local hang out and the place in the morning is mostly regulars. I personally love the great personal service, the food and the large portions they serve. The staff is always friendly and helpful to everyone. The menu has a very wide variety of choices with Breakfast, Lunch & Dinner. They serve mostly Traditional American fare with some Mexican choices as well." – Jose M.
Luxury Diner – The Quintessential Diner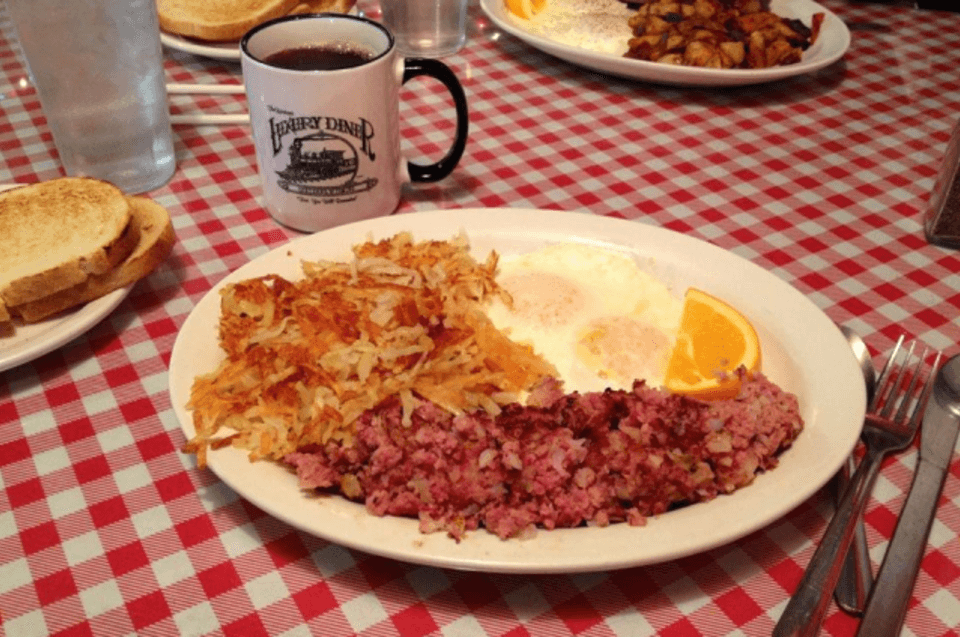 Address: 1401 W Lincolnway, Cheyenne, WY
Hours: 7AM - 2 PM Everyday
The quintessential diner on the West Edge of Cheyenne harkens to bygone days. As the regulars will tell you, the core of this local breakfast restaurant is an old Cheyenne Street Railway Trolley car shell. 
The Trolley carried passengers on the streets of Cheyenne at some point between 1887 and 1924, and was repurposed into a diner in 1926 and eventually expanded, out toward the old Lincoln Highway (Hwy 30), the first transcontinental highway in the U.S.
 
Classic American Breakfast Favorites
Today, this fun diner is a bustling greasy spoon where they bake cinnamon rolls as big as a dinner plate, still serve the same sausage gravy and green chili recipes they've used for decades, and their food is made from scratch. 
With a choice of counters to belly up to (including one that overlooks the kitchen where the staff squeezes past each other and tag teams orders) or a cozy booth or table in the midst of it all, locals and visitors alike have an unforgettable experience in this must-see Cheyenne staple.
 
What the Locals Say
"Second time in Cheyenne, I returned to The Luxury.  I can't visit Cheyenne without stopping!  Their cinnamon rolls are HUGE, and so delicious.  This morning I had eggs, link sausage and a biscuit.  HOLY LORD!  Best biscuit I've ever eaten!  Wish I had more time to go back before I fly out from Laramie tomorrow. This is a MUST when visiting the area. Oh, and the servers are all excellent!  Very friendly and accommodating." – Lena M.
 3. R&B Breakfast Club – The Home of the Breakfast Burrito
Address:  2102 E Lincolnway, Cheyenne, WY
Hours: 6 AM - 1 PM, Monday - Saturday
Named with a nod to owners Rose and Bill, Elvis Presley fanatics; pictures of "The King" adorn the walls both inside and outside the building. Bask in the retro 50s vibe as you enjoy breakfast or lunch. Generous portion sizes will NOT leave you hungry!
Savory and Spicy Mexican-Inspired Breakfasts
Well known by locals as "The Home of the Breakfast Burrito" ™, R&B Breakfast Club certainly has found their niche in a market that loves breakfast, fun, and Mexican food. 
What the Locals Say:
"We have visited R&B twice. The food is good. And the service is great. From the hostess seating us to meeting the owner out in the parking lot. The owner offered and took the time to help load my wheelchair.  Cheyenne is a city but this restaurant has all the class of a small town friendly atmosphere. This place is worth the detour off of I-80 or I-25 to have a great meal with great people." – Alex M.
4. Epic Egg – The Bright and Window-Filled Breakfast Spot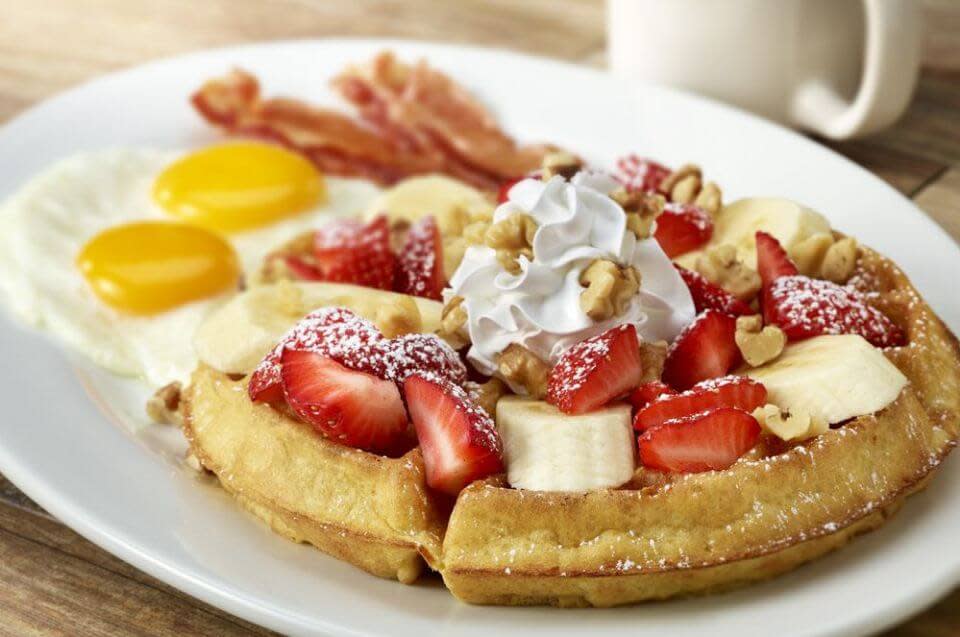 Address: 2300 Carey Ave, Cheyenne, WY
Hours: 6:30 AM - 2 PM Everyday
"Nested" between the Capitol Building and the Laramie County Library, the Epic Egg serves up breakfast and lunch daily in a bright, window-filled restaurant that smells like waffles, omelets, and heaven.
Creative and Brunch-Inspired Breakfast Dishes
The second of the regional three-restaurant chain hosts many-a business meetings, get-togethers, and chats over coffee – or mimosas! One of the only local breakfast joints in Cheyenne that serve alcohol, screwdrivers, bloody Marys, and mimosas are on the menu. 
Conveniently located for the government workers on the north end of downtown to walk, there is also a dedicated parking lot and ample street parking available.
What the Locals Say:
"The Epic Egg is a local and personal favorite. The food is high quality and consistent. The owners believe in quality products, and it is reflected in the meals. As for the staff, they are personable and friendly. Epic Egg is a weekly stop for me and several friends. I heartily recommend it!" – Steven G.
 
Down Home Diner - Home-Style Cooking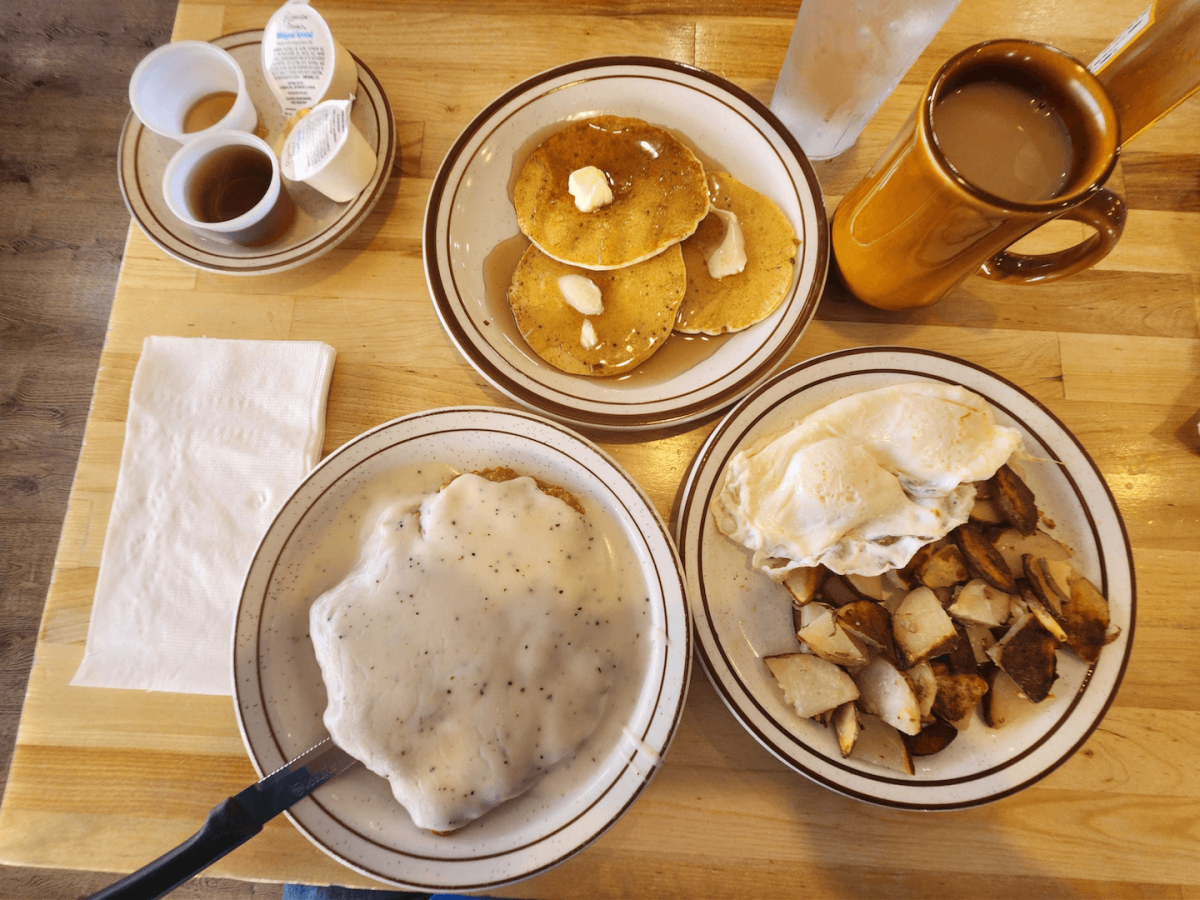 Address: 2310 W Lincolnway, Cheyenne, WY
Hours: 5 AM - 9 PM Everyday
Possibly one of the most overlooked breakfast spots in town, Down Home Diner is a favorite spot for folks hauling freight through Cheyenne, but you'll find a few locals who swear by it too. 
This little diner offers a lot in the best of classic breakfast fare in delicious fashion. Along with good service and food, Down Home has a reputation of never letting you see the bottom of your coffee cup, making sure your mug is always full. 
Farm-Fresh and Homestyle Meals
Popular dishes here include the Corned Beef Hash, Chicken Fried Steak and the many daily specials served for breakfast, lunch and dinner. One particular favorite is Down Home's "mini pancakes", which are smaller pancakes that work perfectly as a side rather than dominating your whole meal.
What the Locals Say:
"The service is top notch! The staff are all very friendly people and very attentive to your needs. My coffee cup never reached the bottom. I loved the service. The portion sizes and prices are perfect! I did not leave hungry. The menu is full of great traditional food choices. The place is very much 'down home'." - Jason B.
Today Visit the Best Breakfast Places Near Cheyenne, WY
It probably goes without saying that these choices aren't the only spots to have a bite to eat in the morning. From bagels to omelets, you can find it all in Cheyenne on the local level. Take a gander at Cheyenne.org for a list of great breakfast spots, or try some of these fun breakfast spots for yourself. Here's to good eatin' - we'll see you out there!
---
In this series, we're highlighting some of the restaurants around the county that may be a bit off the beaten path, but are well-worth the stop. Check out the rest of the Off the Eatin' Path for more foodie delights!