Birdwatching, or Birding, has quietly been a popular hobby and outdoor activity for many people in the Cheyenne area. From various raptors to beautiful song birds to even a pelican or two, you might be surprised at what all you can see in our neck of the woods. 
Why Birding Near Cheyenne is a Must-Do
Birdwatching is a hobby that appeals to many people across various cultures, lifestyles and home towns. It is both exciting and relaxing - quiet, yet thrilling. Everyday you go out you never know what you're going to see. This was the case for one visiter to our lovely area. For just a sample of what you can see in the Cheyenne area check out this article by Brian Kluepfel on his adventure to the Wyoming Hereford Ranch.
As a whole, Cheyenne offers a unique area for birding. We sit on the very edge of the Great Plains, where buteo, or soaring, hawks like the Red Tailed Hawk reign supreme, and Western Meadowlarks, the state bird, thrive. In Laramie County alone you can visit local Cheyenne parks, the Pine Bluffs on the Nebraska border, or head west and see mountain and waterland birds in Curt Gowdy State Park. 
 
Cheyenne's Feathered Seasons: When to Go Birdwatching
There are multiple birding spots near Cheyenne area and Laramie County to see the various species of birds on hand. Common birds like robins, crows, ravens, pigeons, doves and others can be easily spotted, while there is always the chance - even in city limits - of seeing something a little more grand or rare, like an American Kestrel or a Snipe.
Spring and Fall offer the best times to see water fowl, while Spring and Summer see many songbirds flying about. Some of the common species, like Canadian Geese, crows, red tailed hawks, sparrows and pigeons can be spotted just about everywhere all year around. 
Prime Birdwatching Hotspots in Cheyenne, WY
While there is plenty of birdwatching out in the countryside of Laramie County and surrounding area, you can actually find some great birding right here in Cheyenne. A combination of parks, lakes, and trees make a perfect combination for drawing in birds of all kinds in the heart of the city. 
Lions Park

Your Bird's-Eye View:
With Sloan's Lake in the middle of the park, and another urban lake, Lake Absarracca, nearby, along with plenty of bushes and trees, there is plenty of cover, food, and water for various species of birds to visit. Obviously you can expect common mallards, canadian geese, sparrows and robins - but keep an eye out for spectacular sights. Bald eagles have been known to visit Lions Park, as have occasional White Pelicans. Keep your eyes peeled for various woodpeckers and flickers as well. 
In addition to Sloans Lake, make sure to check out the outdoor portion of the Cheyenne Botanic Gardens, where easy trails lead you through brush and trees and across a pond. In here there is always to chance to see even more birds amongst the well-maintained greenery. 
Wyoming Hereford Ranch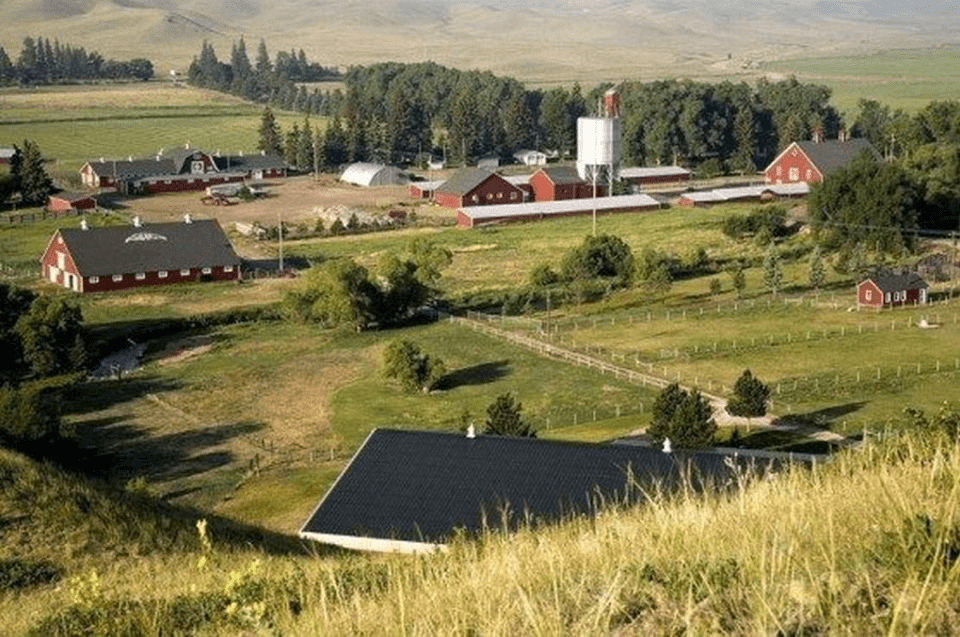 Your Bird's-Eye View:
The Wyoming Hereford Ranch has a pedigree of history that goes beyond just birding. The ranch was founded in the 1880's by one of the most prominent cattle barons in Cheyenne's history, Alexander Hamilton Swan. Swan, an immigrant from Scotland, decided that Hereford cattle would be able to thrive in Wyoming's climate. Along with the competing Black Angus breed, Hereford are among some of the most successful cattle on Wyoming's ranges today.
In terms of birding, the ranch is considered by the Audubon Society to be an Important Bird Area, or IBA, the Hereford Ranch is considered one of the best birdwatching places near Cheyenne to see various birds of all types. Common residents include geese, various waterfowl, blue jays, various warblers and many, many others. Watch for raptors, all kinds of ducks including a few different teals, and woodpeckers. 
One thing of note, there is a reservoir, Reservoir #1, along Burlington Trail Road, that can be accessed by visitors. The second reservoir, however, is on private land, and cannot be accessed unless given permission by the landowners. This goes for much of the Hereford Ranch. Stay within fences and make sure you're staying on roads and areas accessible to the public. 
 
Greater Cheyenne Greenway Multi Use Trail

Your Bird's-Eye View:
Why visit one spot when you can visit them all? The Greater Cheyenne Greenway Multi Use Trail is the pride of the city. This ten-foot wide path of concrete stretches for more than 40 miles, passing through urban countryside, cityscapes and multiple parks. While you can certainly expect to see different birds on this convenient path, it could be looked at as a sample platter of what you can expect to see all over the area. 
Watch for purple finches, meadowlarks and red-tailed hawks while you're on the Greenway. You can take this route by foot or, if you so choose, on a bicycle. If you're just visiting, check out a spot like Rock on Wheels in Cheyenne for bike rentals. 
 
Must-Visit Birding Spots Near Cheyenne
Let's take a deeper dive into some other good birding near Cheyenne. These are some of the best bird watching near Cheyenne to watch native and migratory birds in Wyoming. From the Western side of Laramie County in Curt Gowdy State Park, to the East and North in Goshen County, there are some great spots that can be explored in an afternoon - or morning, your choice. 
Curt Gowdy State Park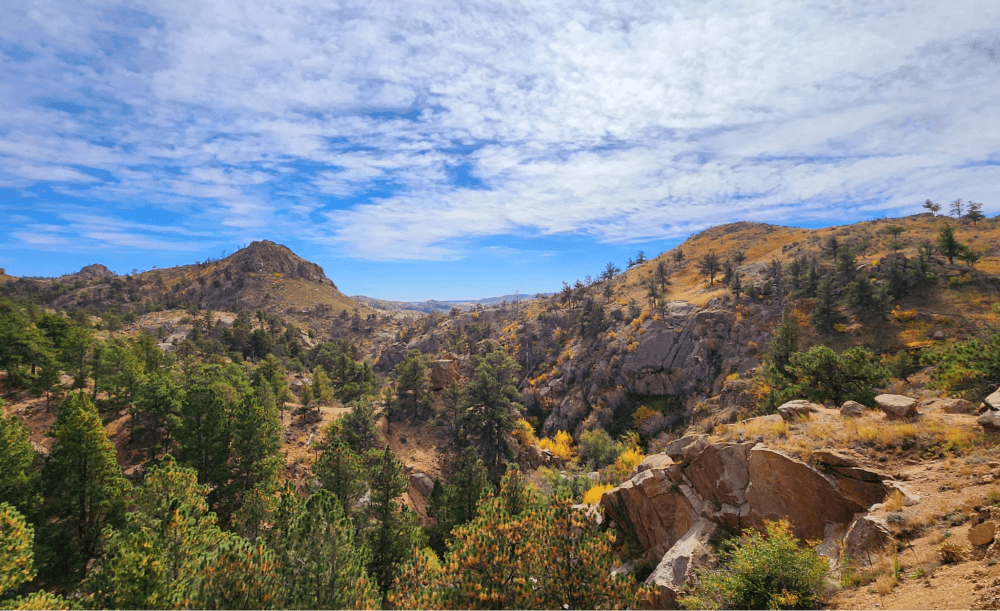 Your Bird's-Eye View:
Curt Gowdy State Park - the area is synonymous with Outdoors around Cheyenne. This state park is a big attraction for weekend anglers, mountain bikers and hikers, but it also is a great place for birding. 
The park offers several different habitats for birds to live in, as the park straddles the transition from Great Plains into the foothills of the Laramie Mountain Range. The western portion of the park includes the larger Granite Springs Reservoir along with forested areas surrounding Middle Crow Creek. Here you can expect to find all kinds of bird species, including Mountain Bluebirds and Goldfinches. 
In the center of the park is the Middle Kingdom, where granite-peaked hills surround meadows and another section of the Middle Crow. Look for various song birds like the Western Meadowlark, and for more rare sights like Black-Crowned Night Herons. 
To the Eastern side is Crystal Reservoir, surrounded by hills, prairie and granite stone. Crystal can tend to be the less visited of the two reservoirs. Bald Eagles are often seen in this area - along with other raptors like Turkey Vultures, Swainson's Hawks and Red Tailed Hawks. 
 
Vedauwoo Recreation Area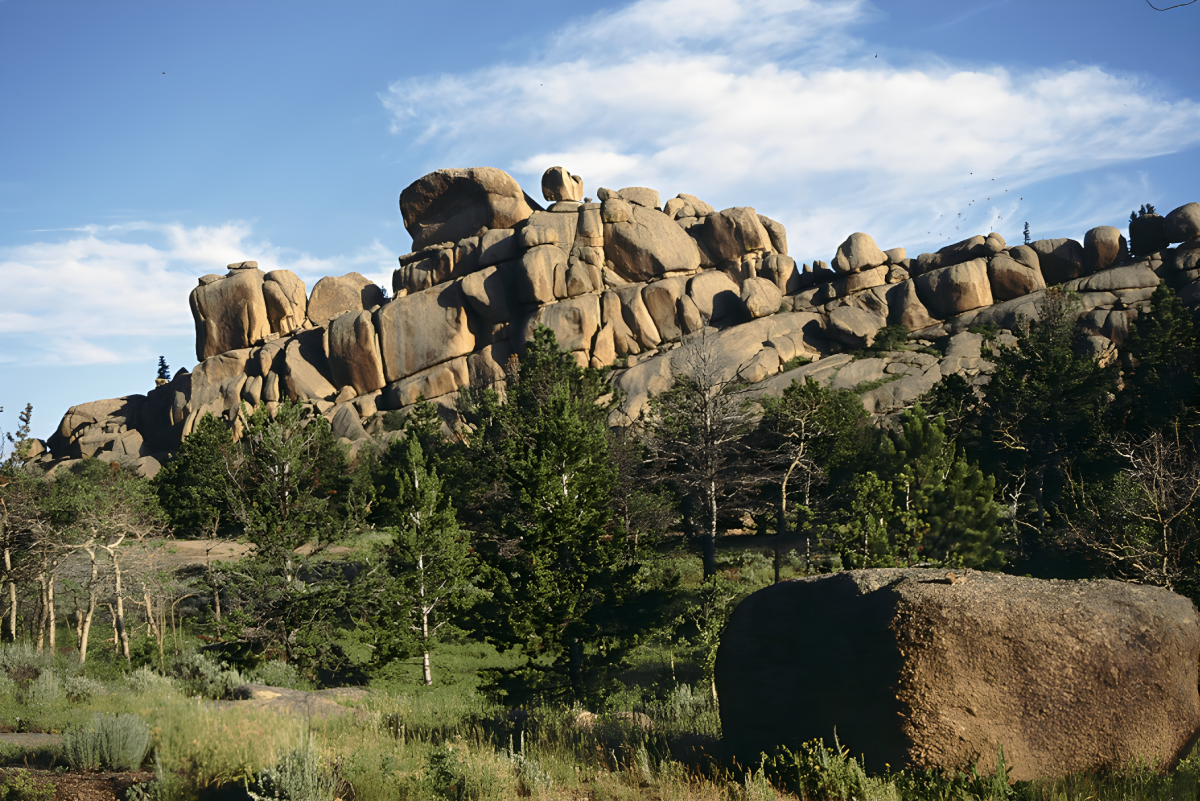 Your Bird's-Eye View:
Vedauwoo is known for its confusing spelling and incredible formations of granite. Turtle Rock is one of the biggest attractions here. As you walk the trails, you can expect groves of aspen, occasional beaver ponds and loads of pine, combining mountain terrain with wetlands. Watch for various birds including downy woodpeckers, juncos and chickadees, warblers and swallows, as well as several different kinds of raptor. 
As you trek through the area keep an eye out for other incredible sights, including coyotes and huge moose! 
 
Pine Bluffs Nature Trails 

Your Bird's-Eye View:
Pine Bluffs is one of those hidden gems when it comes to birdwatching. The nature trails offer easy parking, and a variety of hiking difficulties to choose from. You can expect many different birds out in spring and summer, but make sure you're watching where you step too - this is an area where rattlesnakes can be common. Make sure to bring plenty of water in the summer as well. 
As for the birds, watch for woodpeckers, owls, and migratory shorebirds like killdeer. As with many nature areas in Southeastern Wyoming, look for different kinds of birds of prey as well. 
 
Springer/Bump Sullivan Wildlife Habitat Management Area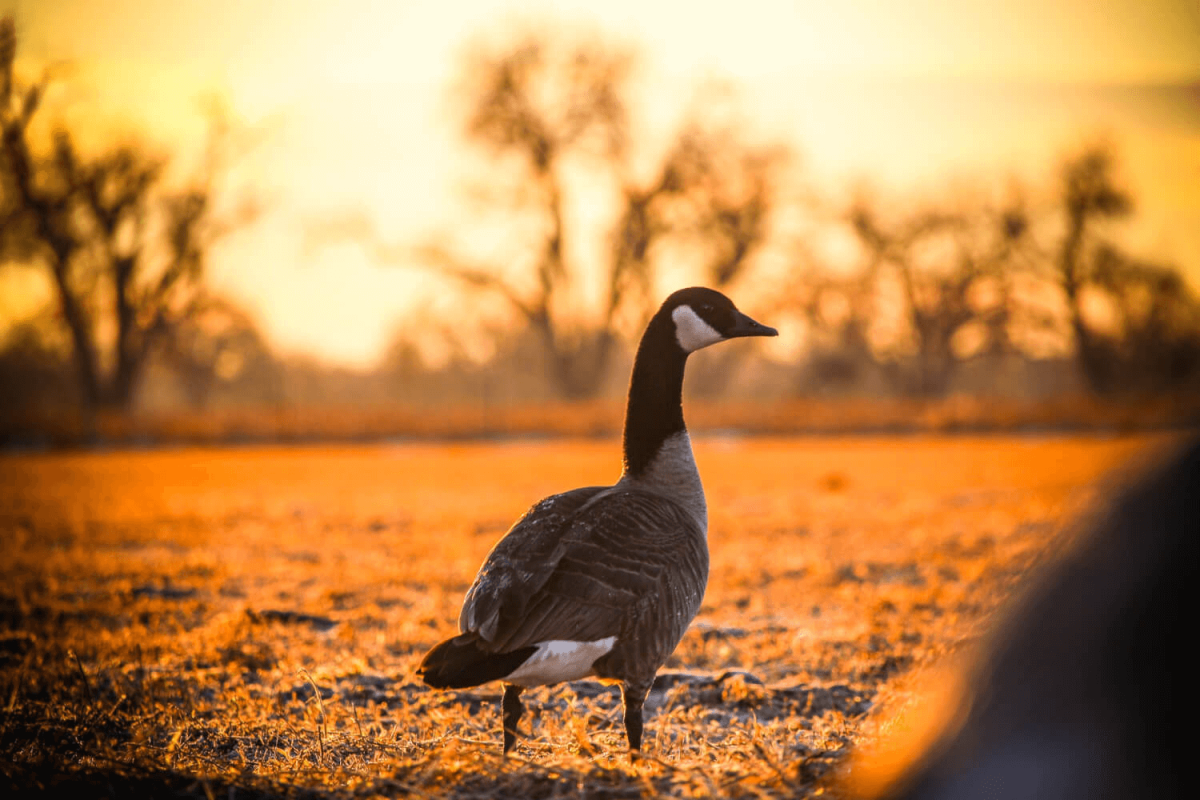 Your Bird's-Eye View:
Located just south of Torrington, Wyoming, the Springer/Bump Sullivan area features a pair of reservoirs and grassy meadows, along with various trees of Eastern Wyoming's grasslands. This area, surrounded by farms and ranches, offers easy hiking, free access, and excellent birdwatching. 
Out here, keep your eyes and ears out for Western Meadowlark, Yellow Headed Blackbirds, and other songbirds. This is also a popular hunting area in the Fall, so in your visit you may just see a few Ring-Necked Pheasant or native fowl like Sharp Tailed Grouse. Of course with the reservoirs nearby, waterfowl of all kinds are a good bet at different times of the year. 
 
Happy Jack Recreation Area & Pole Mountain Open Space

Your Bird's-Eye View:
Pole Mountain is just up the road from Curt Gowdy State Park. Being a National Forest, it is free to access as well!
The area sits off Happy Jack Road in neighboring Albany County. With an elevation of more than 8,000 feet it is one of the higher spots on the list, though there are others higher in the next listing. That said, you can expect to see many, many species of mountain birds, like bluebirds, Steller's Jays and goldfinches. 
 
Medicine Bow-Routt National Forest 

Your Bird's-Eye View:
The farthest we will journey in this list is the Medicine Bow-Routt National Forest. This vast area of mountain forest is known locally as the Snowy Range, or the Snowies. Many of the species of Birds we've talked about in our mountain areas like Pole Mountain or Curt Gowdy appear here. But within this massive area of forest, streams, rivers and peaks, you can expect to find many more. Local birding expert Barb Gorges says to look for rare birds like Brown-Capped Rosy Finches, Canada Jays and smaller seed eating birds like Mountain Chickadees. 
AllTrails.com lists several trails in the area, including many listed as great for birdwatching. The most popular, however, is the Lakes Trail Loop, a nearly 7 mile hike to Medicine Bow Peak. 
 
Must-Have Gear for Your Birdwatching Adventure

A few things you want to have with you for bird watching will crossover with hiking, while adding a few other items. Let's take a look at a few things you will most definitely want to take along in your birding adventures!
Essential Field Guides for Wyoming Bird Identification 
Alright, I'm not a bird expert - let's be real. But I know where to find the folks who are: The Cheyenne High-Plains Audubon Society. As it turns out, two of its foremost members are also the author of one of the best bird field guides to have on hand for Wyoming bird identification during your birding trips. It's called "Cheyenne Birds by the Month" by Barbe Gorges and Pete Arnold. 
Other recommended guides loved by the Audubon experts include Wyoming Birds, Second Edition, by Jane L. and Robert D. Dorn and Birds of Wyoming by Douglas Faulkner. 
 
Must-Use Equipment for Bird Enthusiasts
As you head out to spot all the birds out there, you probably want to make sure you have at least the basic equipment needed for Wyoming bird identification. First up is a good pair binoculars are a must. Not every bird is going to just land on a branch two feet from your face, so it's best to have something to zoom in on birds you spot. Next is a field guide of birds or checklist for birds in the area. Cheyenne Birds by the Month is a great example of what to take into the field. Some other things to bring along, or wear, include bringing plenty of water, sunscreen, and a good pair of shoes. Most of all, bring your eyes and a love of nature. 
 
Let's Take Your Cheyenne Birdwatching to New Heights
Now that you have an idea of what Wyoming birds you can find out there and where to go, it's time to hit the path and see what you can see. Grab a bird field guide, a pair of binoculars and hit Lions Park, or head down I-80 to Pine Bluffs, up Highway 85 to Springer or head west to Curt Gowdy. Wherever you go, make sure you stay safe, have fun, and enjoy our feathered friends.